Does Camilla Parker Bowles Have a Sister?
Camilla Parker Bowles, the Duchess of Cornwall has been a member of the British Royal family since she officially married Prince Charles in 2005. However, Parker Bowles has run in the same circles as the royal family since long before her marriage. The duchess grew up in a wealthy family on a luxurious country estate in Plumpton, Sussex. Her father, Bruce Shand was a successful wine merchant who was known as Vice Lord Lieutenant of East. As the Vice Lord Lieutenant, one of Bruce Shand's duties was looking after the royal family when they visited his assigned area in Sussex.
Though the world knows Parker Bowles for her affair with and subsequent marriage to Prince Charles little is known about her two younger siblings.
Does Camilla Parker Bowles have a sister?
The duchess has a younger sister, Annabel Elliot. She also had a younger brother, Mark Shand who passed away in 2014. The duchess' sister is the founder of Annabel Elliot Interior design and antiques, which is based in Dorset. Elliot has been running the company for over 30 years. She is the co-founder of Gillingham-based antiques and interiors emporium Talisman.
Are Camilla Parker Bowles and Annabel Elliot close?
The Duchess of Cornwall and her sister are very close. Though she is relatively unknown to the public Elliot is often seen with her sister and the royal family. In 2016, she attended the Duchess of Cornwall's 30th Anniversary Garden Party For The National Osteoporosis Society.
Not even two years apart, the sisters have remained close over the years bonding over motherhood, marriage, and everything in between.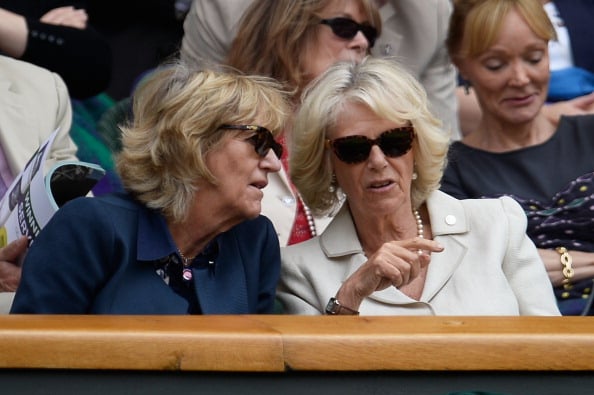 Does Annabel Elliot work for the royal family?
Camilla Parker Bowles' sister, Annabel Elliot actually works for the British Royal Family. Prince Charles hired his sister-in-law as the chief interior designer of his estates in the Duchy of Cornwall. The prince didn't simply hire Elliot to be nice. She's very good at her job. In 2014, Elliot was named the fifth most influential female interior designer in the United Kingdom.
In addition to working on all of Prince Charles' estates, she's also designed the interiors for 12 cottages on the Isles of Scilly, cottages at Restormel Castle and the Llwynywermod estate in Wales. Elliot also attended Wimbledon with the royals as well. The Duchy has paid Elliot £1.5 million since 2005.
What is the Duchy of Cornwall?
The Duchy of Cornwall is a private estate created for the male heir of the monarch to inherit, and it is estimated to be worth £647 million. Essentially, the duchy pays for all of Prine Charles' royal expenses and lifestyles and it also provides for Prince William, Duchess Kate Middleton, and their family as well as Prince Harry, Duchess Meghan Markle and their little one. When Prince Charles becomes the King of England, the Duchy of Cornwall will pass on to Prince William.
Check out The Cheat Sheet on Facebook!