Camilla Parker Bowles Will Have A More Important Role As Queen Than Kate Middleton
Camilla Parker Bowles and Kate Middleton are in the same boat when it comes to the throne: They will both be queen consort one day. But right now, Camilla is much closer to the throne than Kate, though people tend to overlook Camilla's future role. But that's why, when she does become Queen Consort, she'll have an even more important job to do than when Kate gets there.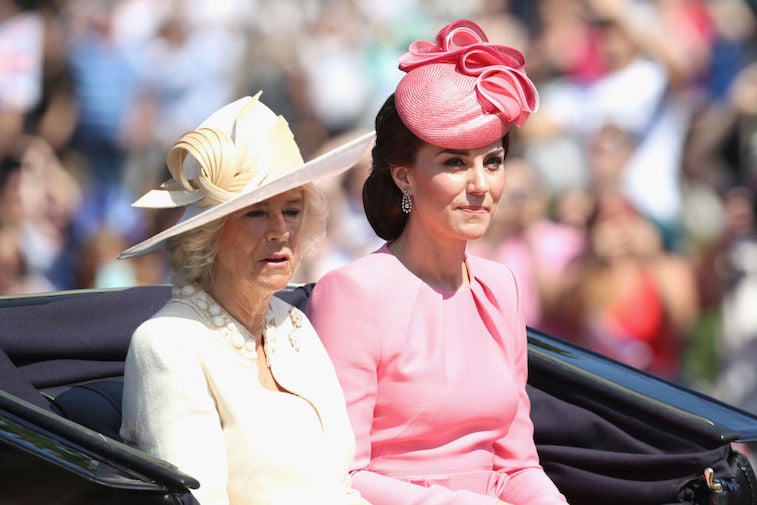 Camilla hasn't always had an easy time with the public
Prince Charles and Camilla's love story is one that rocked the royal family — and the scars still remain. Charles never wanted to marry Princess Diana; Camilla was always his true love. But while he was away in the Navy, she married someone else. And when he returned, his late age meant he needed to settle down quickly.
Charles married Diana out of convenience, though he never truly wanted to be with her. And the affair with Camilla continued into his marriage with Diana, and eventually, news broke. A messy divorce, plus Diana's tragic death, meant Charles and Camilla's love couldn't thrive. And when the two finally wed in 2005, the public still hadn't taken a liking to her.  
Kate transitioned to the royal family with ease
When Kate and William started dating in the early 2000s, people loved her before they even knew her. She exuded class and confidence, and when she finally married Prince William in 2011, she walked into the royal family with ease.
The public adored Kate, and they still do. The media put her on a pedestal, and she quickly acclimated to her royal role. Even when Meghan Markle joined the family, the media distanced Kate from her rather than bringing the two women together in their duties. 
Camilla's role as queen consort will be important to building her reputation
When Camilla takes on the role of queen (or queen consort, since she'll be married to the king), the role will be much more important to her reputation than it will be for Kate. It's Camilla's last chance to prove to the public that she is cut out for the role. For Camilla's entire royal life, she's been working to prove herself. And once Charles takes the throne, she'll become even more important (in royal terms) than she is now.
It will be hard to find success in the role if she doesn't have the public's support. And though her reputation has improved during the years, becoming queen consort means she is of the highest possible importance that she can be in the family.
Kate can do no wrong in the public eye
People want so badly for Kate to be queen that they seem to forget Camilla's turn comes first — that's how much they want Kate in the role. When William does become king, Kate will only flourish more at his side. She can do no wrong in the public eye, and people will applaud her for stepping into the role with such confidence and dignity.
Camilla doesn't have it so easy. She'll need to work hard, but that's why this role is more important to her than ever. She'll need to prove to the public once and for all that she deserves to be a member of the royal family.