Camille Grammer Shades 'RHOBH' Stars for Not Living in Beverly Hills and Lisa Vanderpump Jumps In
Camille Grammer is not a full-time castmate of The Real Housewives of Beverly Hills but still makes appearances once in a while. The former Bravo star continues to be in the middle of the drama and she recently took a jab at her former co-stars. When Lisa Vanderpump saw Grammer's dig she jumped in to poke fun at them as well.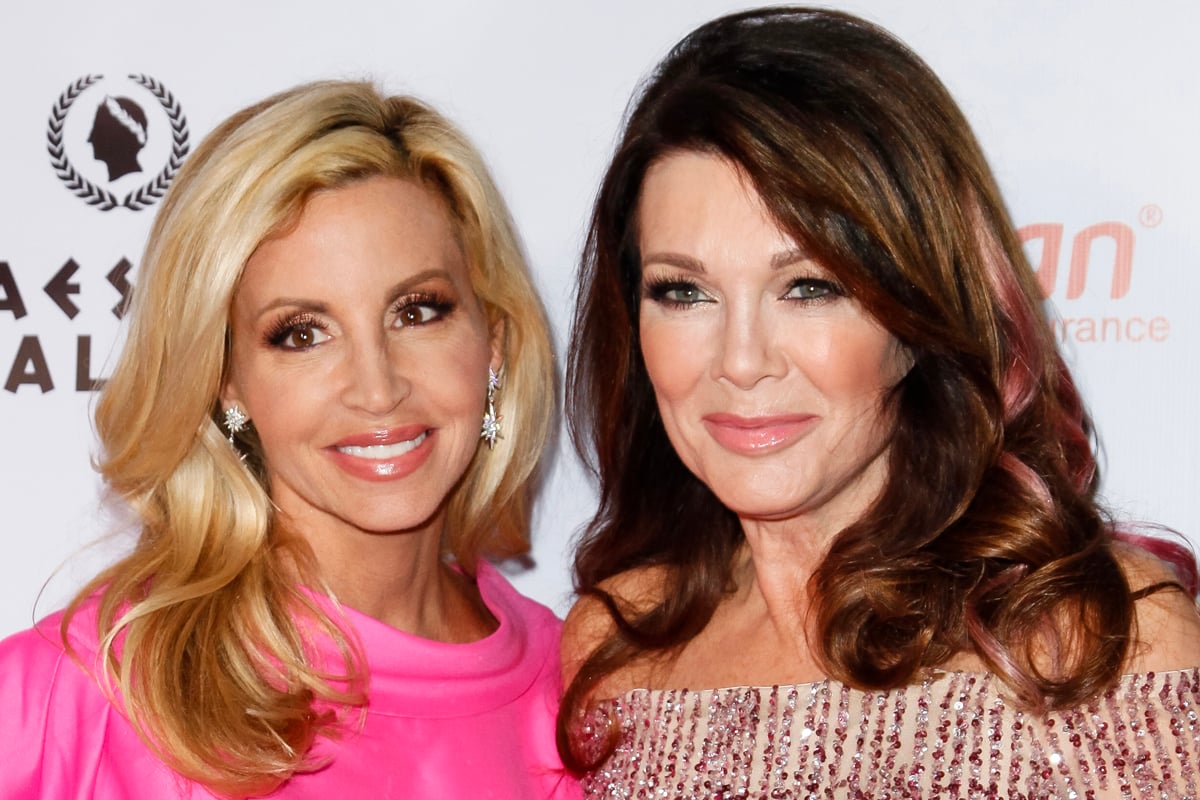 What did Camille Grammer say?
Grammer made several appearances on RHOBH Season 10 after she was invited to one of Kyle Richards's parties. The former diamond-holder tried to appease her relationships with Lisa Rinna and Teddi Mellencamp, but neither of them budged.
The reality TV personality gets shady on social media when there's a new episode of the show on giving insight to viewers. Grammer was supposed to appear on the season finale of the series but her scene was cut and only shown a snippet for context.
When Grammer read a tweet about Mellencamp's new home in Encino she could not help herself to throw a little bit of shade.
"So most of the cast now lives in Encino?" she asked. "They need to change the name of the show to The Real Housewives of the Valley."
Grammer was making fun that most of the ladies don't live within the Beverly Hills zip code anymore.
Moments later Lisa Vanderpump entered the conversation and did not miss the opportunity to poke fun at her former co-stars.
"Hello…from BH," Vanderpump tweeted.
Why is Lisa Vanderpump shading ex co-stars?
Fans may remember that Vanderpump ran away from filming the rest of RHOBH Season 9 when she was questioned about "puppygate." Some of the ladies believed she initially leaked stories to the press as her Vanderpump Dogs establishment was involved and wanted to get ahead of the story.
When Kyle Richards confronted her, Vanderpump was appalled that her closest friend would believe she was capable of something like that. The restauranteur fled the scene and stopped being involved with her castmates.
Richards recently made an appearance on Watch What Happens Live where she was asked if she regretted her confrontation with Vanderpump that ended their friendship.
"No, I feel bad about the result but I felt it was the right thing to do," Richards said. "Otherwise [Vanderpump] would've just seen it in the episode and I felt it was the right thing to go and tell her what was going on."
Lisa Vanderpump is still salty about her co-stars
Vanderpump is not one to apologize or forget and fans are seeing this in real-time, not just on the show. After the incident with Richards, she hasn't turned back to try and remedy things. Ahead of the debut of her new podcast, she joked about having her co-stars on the show.
"Oh, I'm going to have all the Housewives on of course… said no one ever," Vanderpump told Entertainment Tonight making use of her British humor. "Well, not from Beverly Hills."
However, she did mention that the only Beverly Hills housewife she would have on her podcast is Joyce Giraud. The latter only appeared in one season if RHOBH, but has remained close with Vanderpump since.