Camille Kostek Describes the Engagement Ring She Wants When She and Rob Gronkowski Get Engaged
Are Camille Kostek and Rob Gronkowski engaged? Not yet, but Kostek says she has her dream engagement ring in mind and she wants to keep it "simple." Find out what kind of ring Kostek hopes Gronkowski flashes when he pops the question.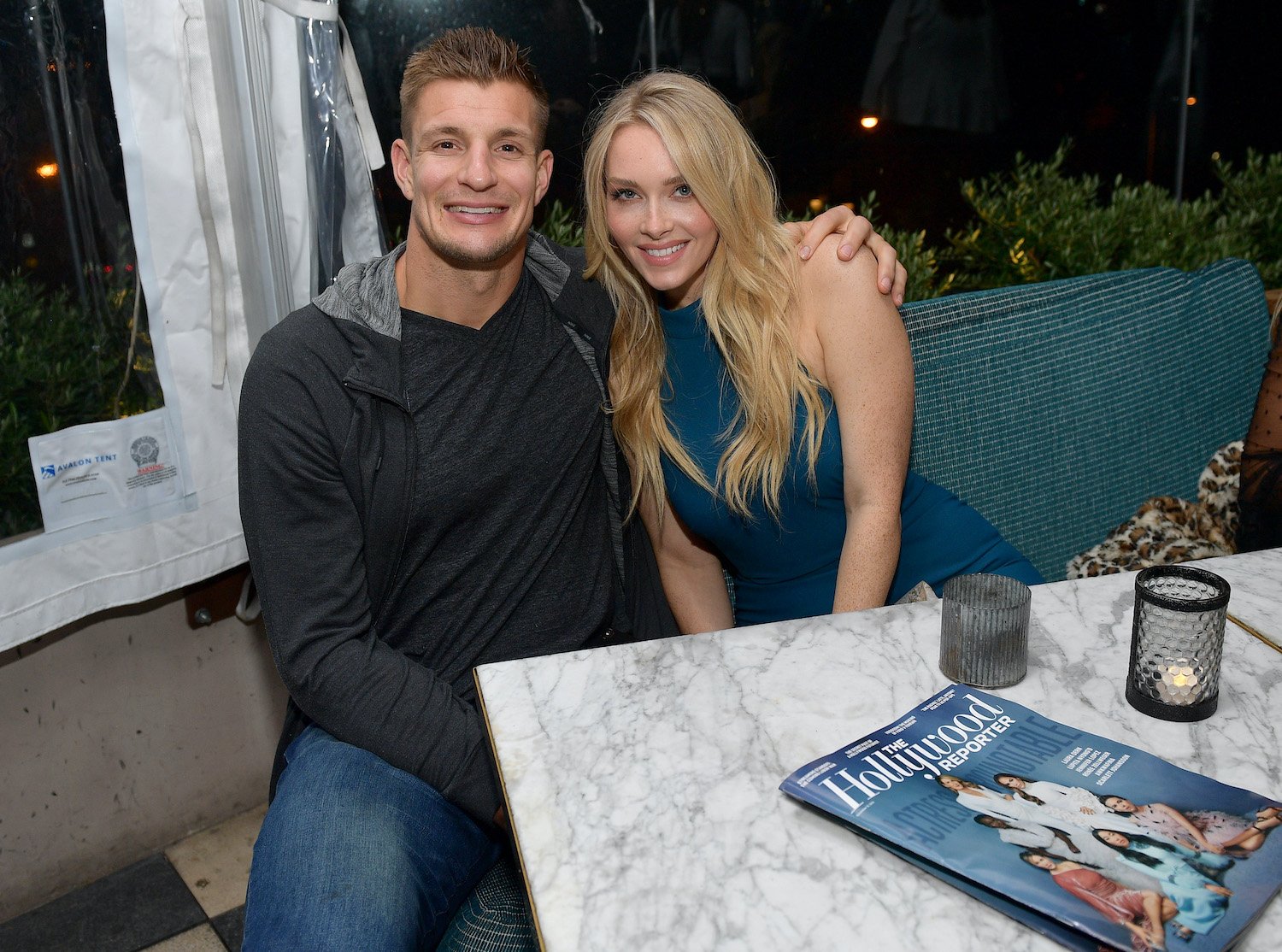 Camille Kostek knows the ring she wants when she and Rob Gronkowski get engaged
Kostek and Gronkowski first met in 2013 and reportedly started dating in 2015 but haven't yet gotten engaged.
During a 2020 interview with Extra, Kostek shared her thoughts on marriage and indicated she was in no rush. "People say all the time, 'When are you guys gonna get married?' I was like, 'I don't think there's a difference, I think just the ring on the left finger,'" she explained.
During an interview on SiriusXM's This is Happening with Mark Zito and Ryan Samps, Kostek was asked about an engagement ring and said she hopes Gronk checks in with her friends and family for ideas, but has an idea of the kind of ring she'd like.
"I do have one [in mind], I'm like a very simple, simple girl," Kostek explained. "I'm also one of those people, you know how like, people don't tell you what they're going to name their baby until their baby is born and they tell you? That's what it is for me. I'll wait until my ring is out. And then it can be like, 'This is what I always wanted.'"
"So I'm hoping that he's smart enough to ask my friends or my sisters or me. Right now we're focusing on the big [Super Bowl] ring," she added.
How did Camille Kostek and Rob Gronkowski meet?
During the interview, Kostek also shed some light on how she and Gronkowski first met and why she had some worries about dating the football star.
"So we were actually, it was November, 2013 and we were at a Goodwill event. It was right before Thanksgiving," Kostek recalled. "So we were filling turkey baskets for families who are less fortunate."
The Sports Illustrated model reflected, "I'm so happy that like, with my love story, we met in person at a charity event," versus using a dating app or social media. "I feel like it's very rare these days to meet at the library and the grocery store or wherever else, especially in this COVID world where you can even see half your face out. So I feel like it's made dating a lot harder."
Gronkowski had a teammate deliver his number to her. "He ripped off his 'Hi, my name is Rob Gronkowski' sticker on his shirt," she explained. "So he had written on the back of it his phone number and then he wrote 'Shhh,' because he knew it was, it was a secret."
Kostek didn't know if she should accept the number. "I was a rookie [cheerleader for the Patriots] and I was so scared," she recalled. "I was like, 'Oh no, no, no, I can't take this. I can't take his number.'"
"And then [Gronk's teammate] was like, 'Just take it,' and I was like, 'Okay,' and I put it in my pocket," she continued. "And I, I never spoke about it again. I didn't make it locker room talk. I never spoke about it."
When she finally FaceTimed him, Kostek said, "He was beaming. He was like, 'Oh my God, I never thought you'd call me.'"