Can Rob Gronkowski Dance? He Contradicts Himself When Tom Brady Asks Him What Everyone Wants to Know
When Rob Gronkowski entered the league in 2010, he teamed up with the great Tom Brady. Since then, the two of them have decimated defenses over the course of their careers, winning four Super Bowls together. Their rapport extends off the field as well. Together, the NFL stars have an easy-breezy friendship complete with jabs and ribs at each other — most noticeable in one of their silly interviews with each other. In a recent "Tommy & Gronky" video, they addressed a commonly-asked fan question: Can Rob Gronkowski dance?
A 'Google It' YouTube video features Brady and Gronkowski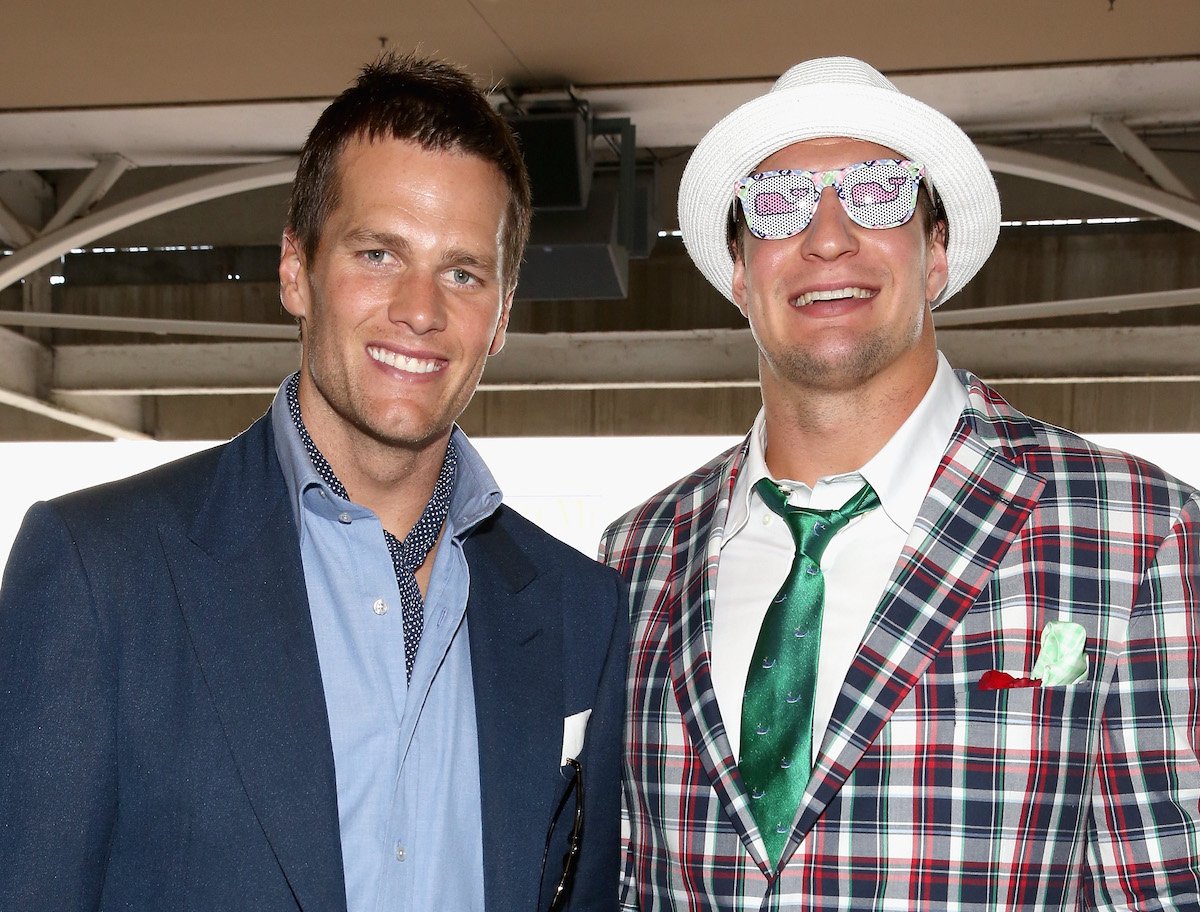 When people have burning questions about their favorite celebrities or athletes, they often turn to Google for the answer. The Tampa Bay Buccaneers decided to capitalize on this by having both Brady and Gronkowski ask each other popular questions the public wanted to know. The resulting "Google It" YouTube video turned into pure comedic gold.
The two look like a couple of retirees, sitting around in their Adirondack chairs with a kiddie pool of rubber duckies in front of them. Brady looks like he's ready to grab the tackle box and head out fishing — he's donning a lightweight bucket hat and mirrored sunglasses. Gronkowski's wearing a muscle tank, flip-flops, and a ridiculous pair of oversized reflective shades.
Before getting into the questions, the two joke around with each other, and it's clear they have a good-natured relationship. This is a pair that's been together for over 11 years. In fact, many speculated that Gronk came out of retirement to play for the Bucs simply because that's where Brady ended up. Either way, the duo certainly have a special relationship together on and off the field.
Can Rob Gronkowski dance?
In the video, Tom Brady asks Rob Gronkowski one of the internet's most searched questions about him: Can he dance? Without hesitation, Gronk quickly assures Brady, "I can sure dance, that's no question about it." Brady takes it a step further and asks him if he can twerk. He's Rob Gronkowski — of course he can!
He gets up, turns around, and proceeds to try and shake his booty, but the whole internet can easily assess that Gronk's best moves are on the football field, not the dance floor.
Brady wasn't finished interrogating Gronkowski. Another burning internet question was whether Gronk could dunk? The big guy found the question laughable. He quickly explained that, of course, he could dunk! He said his first time occurred during a JV basketball team game, back in ninth grade. He was at mid-court cherry-picking when his teammate got the ball and lobbed it to him. Gronk finished it off with his first official dunk.
Brady couldn't believe he was only a freshman when this occurred and figured he must've dominated play. He even coined him "the Polish Freak," a nod to basketball star Giannis Antetokounmpo's "Greek Freak" nickname.
Here's the sweet reason Gronkowski headed to Tampa
People were shocked when Gronkowski announced his retirement in 2019. He was only 29 years old but said all the injuries he suffered affected him mentally, and he didn't find joy in football anymore. His retirement didn't last long. In April of the following year, Gronkowski signed with the Bucs, reuniting him with his old pal, Brady.
That's when the speculation started that he came back to play simply because Brady was at the helm. However, although that certainly didn't hurt, there were other reasons for his move to Tampa — namely, to spend more time with the most important lady in his life, his mother.
Gronkowski appeared on The Ellen Show and told her that the move made sense. His mother lives two hours away, and she could make all the home games. He also figured it'd be much easier to visit her now that they're in the same state.
RELATED: How Did Rob Gronkowski and Camille Kostek Meet and Are They Married?