Can You Buy Lizzo's Hilarious Hershey Bar Dress?
Lizzo cannot stop topping herself. Ever since her career really took off last year, the public can't stop talking about the plus-sized superstar. Her size itself has sometimes been a topic of conversation.
Lizzo doesn't let any traditional taboos on what a larger woman should and shouldn't wear stop her. She rocks what she wants and when she wants. And that attitude often makes heads turn. 
Lizzo isn't done making fashion headlines. She recently rocked the 2020 Brit Awards in a dress that looked like a Hershey's chocolate bar.
Lizzo's dress is not available in stores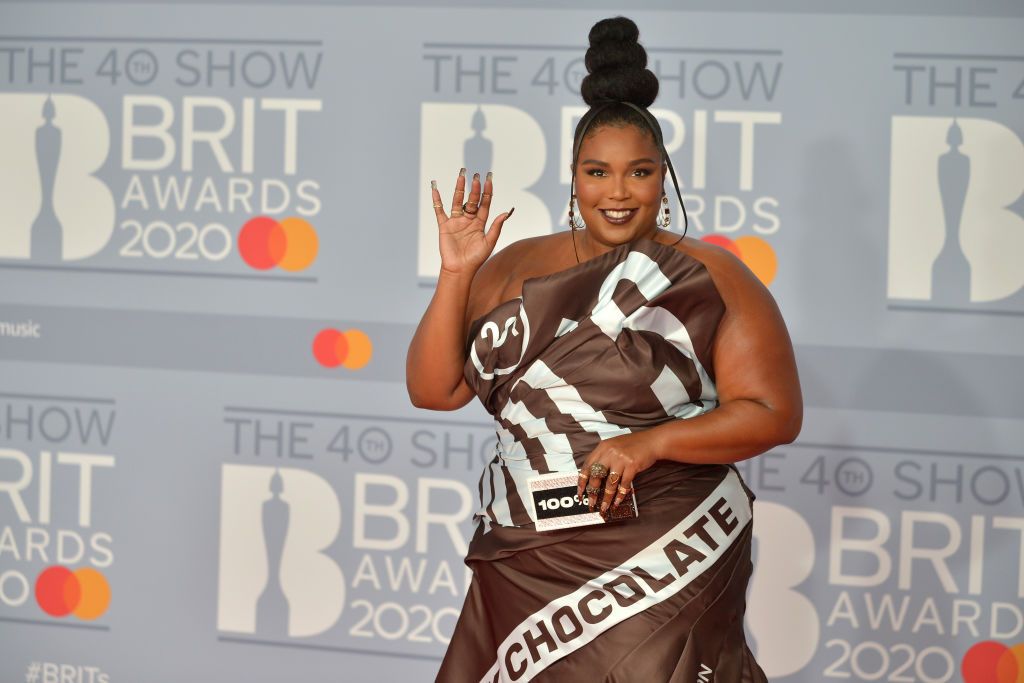 The dress may look like a giant Hershey's chocolate bar, but fans won't find Lizzo's red carpet look at the local convenience store. The outfit looked just like a Hershey's wrapper, barcode and all.
Lizzo also carried a clutch that read "100%," which is almost definitely a reference to her iconic song: "Truth Hurts." 
The song starts off by Lizzo singing "I just took a DNA test, turns out I'm 100% that b****." The opening lyric has become a meme, with fans inserting their own take at the end instead of the b-word. 
The look was designed by a brand that is famous for another food look: Moschino.
Moschino made the elegant yet silly Hershey's dress and they also did a Met Gala after-party outfit for Katy Perry. That look was essentially a hamburger costume. 
While Moschino has a website full of great products, it doesn't seem like the Hershey's dress is on there. They do have plenty of other head-turning looks available to the public. And that's not to say Moschino won't soon retail Lizzo's now-famous look.
Lizzo is quickly becoming a fashion icon
The "Good as Hell" singer is all about body positivity. But she's tired of being called "brave" for flaunting what she's got.
In Lizzo's opinion, since skinny white women aren't lauded for the same behavior, she shouldn't be either. In other words, she wants to normalize bodies that look like hers in the media. 
She's been open about the fact that she struggled with body image in the past, but now she's setting fashion standards. She attended the 2019 Met Gala, an event that's a who's who of fashionable people. She wore a pink dress with a salacious slit and a show-stopping pink feather cape. 
At the Grammy awards, Lizzo was one of the best-dressed celebs on the red carpet. She wore a white Donatella Versace gown with fur accents and eye-catching embellishments. She looked gorgeous, and the dress totally fit the traditional red carpet mood. As the Hershey's-inspired dress proves, she's not always so conventional with her red carpet outfits. 
This isn't the first time Lizzo has shocked a red carpet
Lizzo is known for surprising people with her looks, in a good way. She made a splash with her AMA red carpet outfit just a few months ago.
It wasn't the dress, but her bag that made headlines. It was teeny tiny. Her bag was so small she had to clasp its tiny strap between two fingers. 
The bag was Valentino, and according to Lizzo only three exist. That's too bad because it would have sold out after Lizzo carried it down the red carpet. The star proved that she doesn't take herself too seriously. She's fashionable and gorgeous, but also funny and quirky.
Just like the opening line to "Truth Hurts," the bag quickly became a meme. People started posting things like, "Lizzo brought my life savings to the AMAs!"
While the Internet's responses were funny, none could top Lizzo herself. When asked why she brought such a small bag to the awards ceremony, she replied that it was "big enough for my f**ks to give."