Can You Buy Meghan Markle's Post-Megxit Electric Blue Dress?
It is hard to believe that in just a few weeks' time, Meghan, Duchess of Sussex and Prince Harry will no longer be senior royals. They are carrying out the last of their official duties, and we have to say that it is pretty bittersweet.
Millions of other fans around the world are happy that Meghan and Prince Harry will finally be able to live the quiet life that they have been dreaming of for so long. That said, fans are also sad that we won't be seeing them carrying out duties on a regular basis. 
In the short time that Meghan was a working royal, the dazzling looks that she stepped out in were never disappointing. It seems that she can pull off just about any style, and she chooses colors that look absolutely amazing on her.
Over the years, many of Meghan's outfits have been copied, from her iconic wedding gown to the maternity styles that she wore while expecting baby Archie. However, it was one of her recent looks that turned heads a little more than usual. Now fans are all asking the same question: Can you buy Meghan's post-Megxit electric blue dress?
Meghan Markle's signature style
Since joining the royal family in 2018, Meghan has created a signature look for herself that is nothing less than stunning. Fans are used to seeing her in looks that are slightly daring. During her time as a royal, she was known to bend the rules just a little when it came to what she would wear.
So, what type of style is Meghan known for? According to Harper's Bazaar, her look is sleek and modern, with her style taking a classic twist ever since she married Prince Harry. As for some of Meghan's best outfits? No one can forget the brown monochromatic look that she wore for one of her last engagements as a royal, and the purple dress that she wore to Royal Albert Hall for the One Young World Summit Opening Ceremony was just stunning.
Fans also loved the green dress that Meghan wore for her engagement interview, as well as the outfit that she chose for Wimbledon — a conservative white button-down shirt and a long, colorful pleated skirt.
Meghan's favorite brands
Everyone has their favorite go-to brands, and Meghan is no exception to this rule. In the past few years, we have seen her in some unforgettable outfits by some of the best designers in the world.
Probably the most breathtaking dress that she ever stepped out in was her wedding gown, designed by Clare Waight Keller for Givenchy. However, it certainly doesn't end there.
Town & Country reports that some of her most beloved designers include Misha Nonoo, Wilfred by Aritzia, Erdem, Club Monaco, and of course, the ever-affordable J.Crew. No matter what Meghan decides to wear, we can always count on a great ensemble that fans everywhere are looking to copy.
Can you buy Meghan Markle's post-Megxit electric blue dress?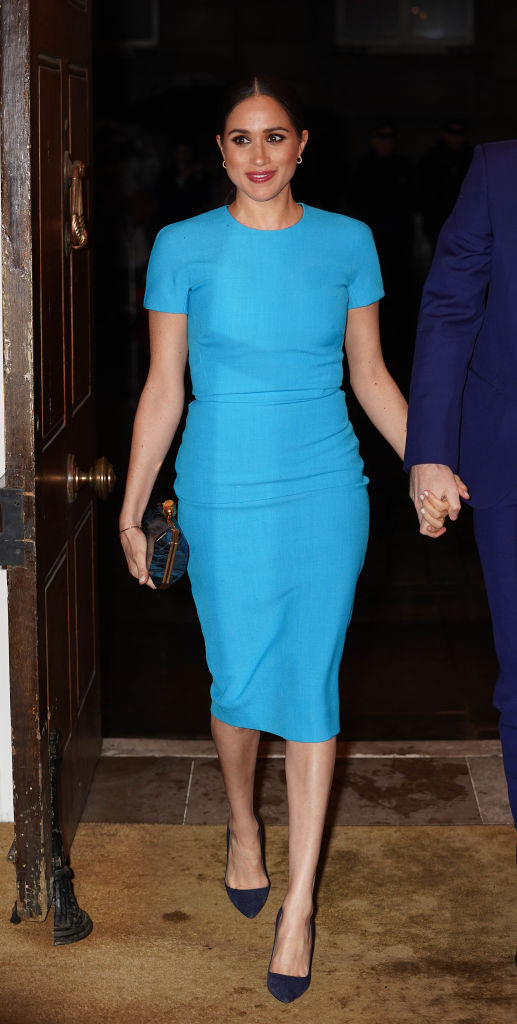 Looks like Meghan decided to save the best for last when she wore an electric blue dress for one of her final engagements that caused jaws to drop around the world. Looking absolutely radiant as she arrived alongside Prince Harry at the Endeavor Awards, the short-sleeved dress by Victoria Beckham — the pencil mini dress from the collection — came just to Meghan's knee and could not have looked more perfect on her.
Meghan accessorized the dress with pointed Manolo Blahnik stiletto pumps and a boxy Stella McCartney clutch. She styled her hair into a sleek, low ponytail with a middle part.
So, is the dress available to buy? According to Footwear News, the dress is unfortunately sold out. Fans should not worry, though. With so many people expressing just how much they loved the outfit, there are sure to be similar dresses available so that everyone can look like just like royalty.