Can You Watch 'Mork & Mindy' Online on Any Streaming Service?
With as many streaming services as there are nowadays, you can watch myriad TV shows and movies on demand. Whether on subscription services or ad-supported ones, there are plenty of choices, whether you're looking for something from the early days of TV or the latest blockbuster movies.
Even though it seems like your options are unlimited, that's not the case. Some classic movies and shows, such as the Robin Williams vehicle Mork & Mindy, elude viewers regardless of the streaming service. 
The beginnings of 'Mork & Mindy'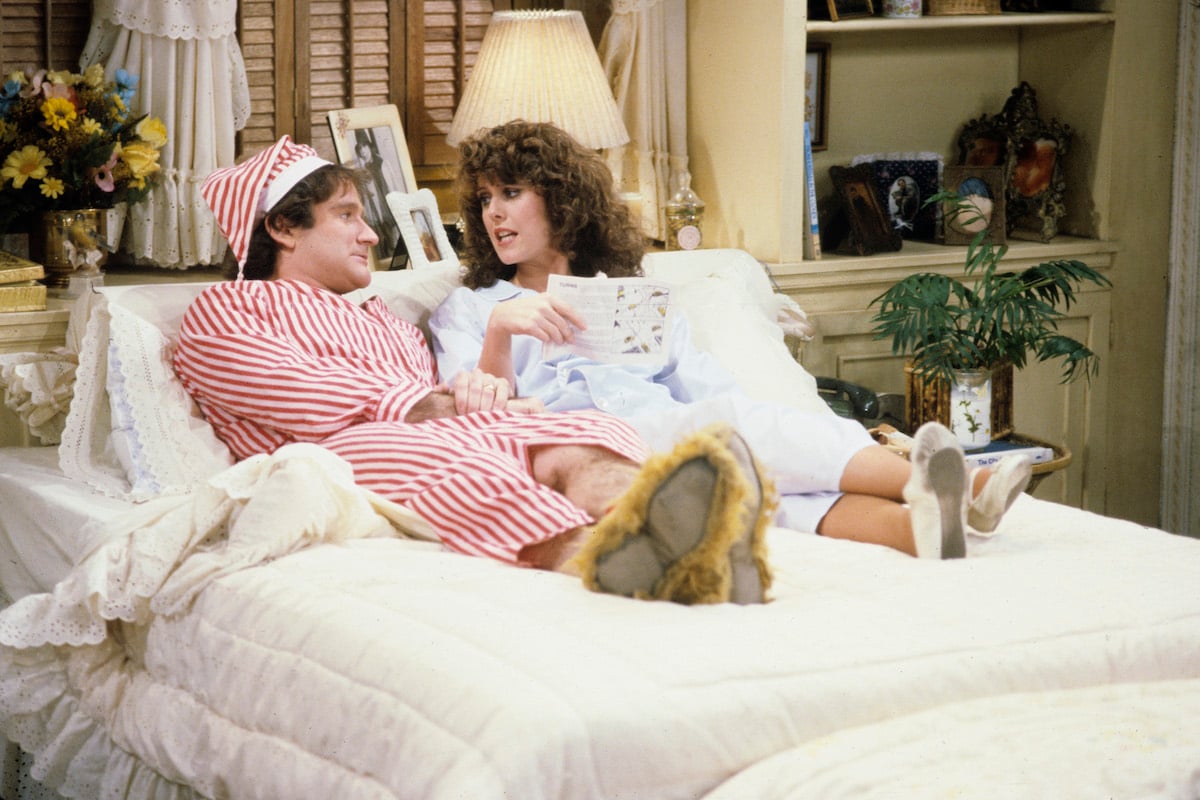 Mork & Mindy, legendary comic actor Robin Williams' first major project, premiered on ABC on September 14, 1978. The show spun off of Happy Days, where Williams' Mork character first appeared earlier that year. Williams went on to star in the series opposite Paw Dawber, who played Mindy.
Perhaps helped by its association with Happy Days, Mork & Mindy was popular out of the gate. In its first season, its 25 episodes earned an average rating of 29.1, according to The TV Ratings Guide. That putting the TV show in a tie with its parent series as the third-highest-rated program of the 1978-79 season.
Waning popularity and cancellation of 'Mork & Mindy'
Mork & Mindy's first season would be its most successful by far. Ratings dropping considerably with each season. In its second season, the show's rating dropped to 20.2 for the 26 episodes that aired. That put it in 27th place in the overall rankings in 1979-80, The TV Ratings Guide reports, which was good enough to earn it a renewal for a third season.
The network reduced the show's episode order to 22 for its third go-round, and its popularity dropped further. Though ratings for the 1980-81 season aren't available, we know it was down to 49th place in the season's rankings, which wasn't the end of its fall down the ranks.
According to The TV Ratings, by the 1981-82 season, Mork & Mindy was out of the top 50. It placed in 61st overall and was just the 23rd-highest-rated show on the network. That was enough for ABC to pull the plug. Mork & Mindy's 22-episode fourth season was its last. The show's final episode — No. 91 — aired on May 27, 1982.
Is the show available on any streaming service?
Mork & Mindy is still considered a classic sitcom nearly 40 years after it ended. Many of the era's series are available to stream, including Happy Days. That show's first season is available to stream on the soon-to-be-renamed CBS All Access.
So it might be surprising to learn that Mork & Mindy isn't available to stream on any outlet in the Unites States despite its enduring popularity. It's even more interesting because, like Happy Days, Paramount Television produced the show.
There's still a way to watch 'Mork & Mindy' in 2021
Though streaming is the viewing method of choice for many TV audiences in 2021, it's not the only way to watch old series. Before streaming became mainstream, DVDs and Blu-ray discs allowed viewers to relive their favorite shows of the past. And if you still have a DVD player, you can experience Mork & Mindy on that format.
The show that jumpstarted Robin Williams' entertainment career is available on DVD in a couple of options. You can order Mork & Mindy as season sets on Amazon, or you can jump in head-first and order the whole thing at once with the complete series 15-disc  set.