Cancelled 'Superstore' Spinoff Felt Like the Wrong Choice All Along
NBC shocked Superstore fans when they announced the series would end after its sixth season. Viewers' spirits were lifted when news of a spinoff series was announced. It wasn't meant to be. NBC axed the idea before the production team even filmed a pilot. While the news disappointed some, looking back, the concept of an entire series centered on Cheyenne and Bo didn't seem quite right anyway. 
Why did NBC cancel 'Superstore'?
The cast and crew of Superstore were planning the seventh season when NBC pulled the plug on the series. Fans and even the cast were shocked by the decision. Superstore was still fairly successful when the final episode aired, so why did NBC decide to end it? 
While the network didn't give a public reason, Newsweek surmises that the loss of America Ferrara, coupled with stagnant ratings, ultimately forced the network's hand. It's not uncommon for a series to be canceled when a major character departs. It often feels like an organic and natural place to end. 
NBC wasn't completely down on Superstore, though. The network initially planned for a spinoff but nixed that idea, too. Fans weren't too heartbroken, though. The spinoff was set to focus on Bo and Cheyenne and would have been a family-focused series instead of a workplace comedy.
Fans think a spinoff focusing on Bo and Cheyenne would have flopped anyhow
After the cancelation announcement, writers quickly started developing a spinoff. Initially, NBC was ready to try it. Nichole Sakura, the actor who portrayed Cheyenne, was excited about the project, too. During an interview with The Wrap, Sakura said she had read the pilot script and was excited about reprising her role.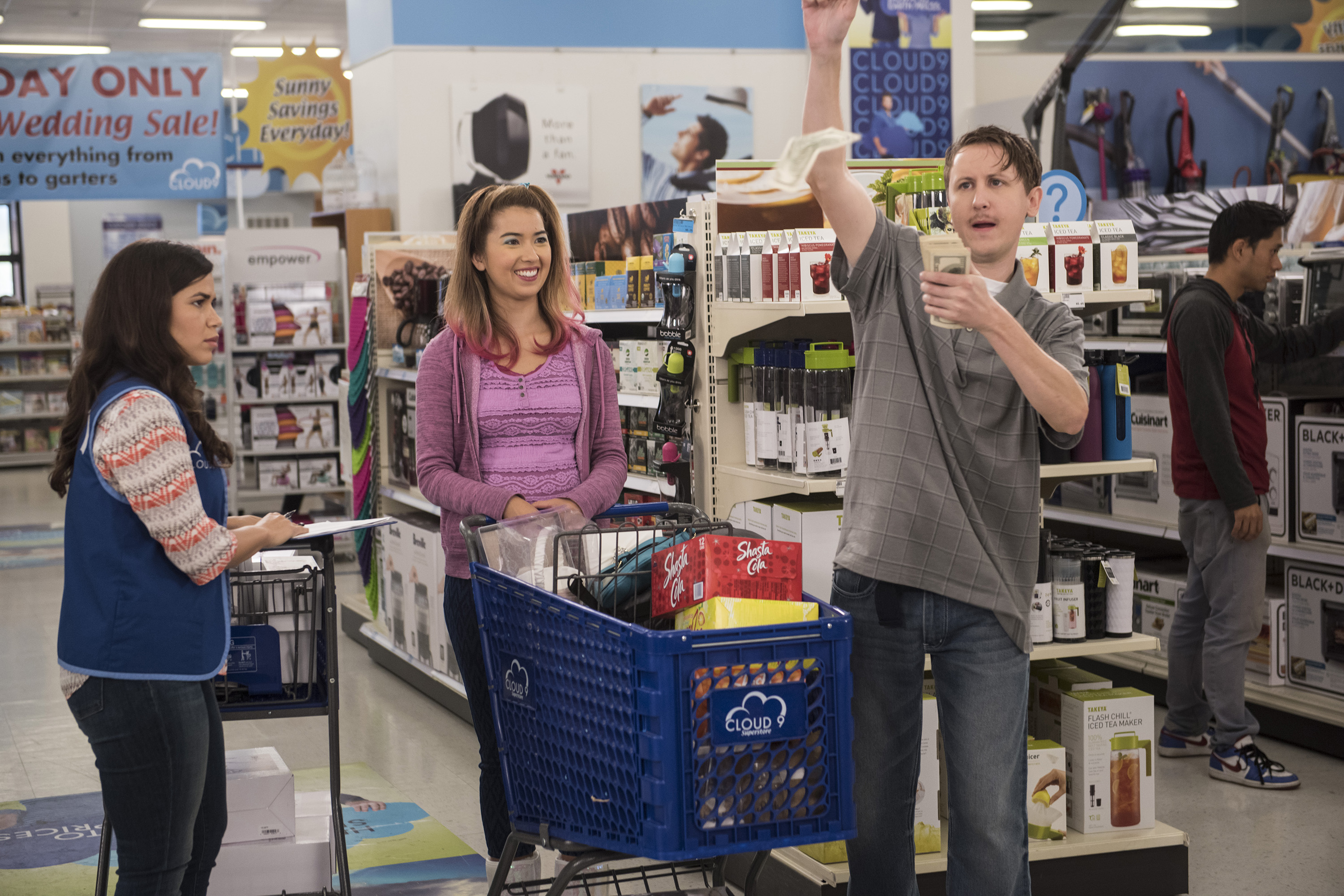 NBC nixed the spinoff before production began. There was no official word on why the network opted not to go forward, but fans weren't surprised. Cheyenne was a beloved character, but her husband, Bo, was one-dimensional and didn't grow a ton during the show's six seasons. Several Reddit fans theorize that the duo was great in small doses but would have been irritating in a series focused entirely on their life. 
Would a different spinoff idea be more successful?
While a spinoff focusing on Bo and Cheyenne felt a bit too contrived to some fans, they think other characters could have carried a new series. Superstore fans would have loved to see more from Dina, the abrasive assistant manager of Cloud 9. Dina was involved in almost everything that went on during the show's six-season run but still maintained an element of mystery. Some fans would have loved to see a spinoff explore her personal life. 
Several Reddit users believe a spinoff focused on Glenn Sturgis and his new venture could have worked, while others would have liked to see more from Garrett. Even a series that followed Marcus' origin story would have had more room to grow, argue some viewers. 
While NBC won't be moving forward with a spinoff, there is always hope for more from the characters of Superstore. Streaming platforms have made spinoffs and reboots more popular than ever. It isn't out of the realm of possibility that the show creators could develop another concept eventually. For now, fans will need to settle for streaming the original series on Peacock. 
RELATED: 'Superstore': What is Dina's Job Title and How Much Would She Make in Real Life?