'RHOP' Candiace Dillard Attended Wendy Osefo's Sip and See Amid Monique Samuels' Drama
After a leaked Real Housewives of Potomac Season 5 cast photo hit the Internet, fans almost immediately noticed an unfamiliar woman. They went to work and uncovered the mystery lady's identity to be Nigerian political commentator, Wendy Osefo.
She's appeared on several media outlets, including ABC, Fox News, BBC, The Steve Harvey Show, CNN, and serves as a board member for multiple organizations.
Named by the Baltimore Sun as one of the 25 Women to Watch, Osefo is also a mother-of-three, including a newborn baby girl. She recently threw an African-themed sip and see, and Candiace Dillard attended the celebration amid recent drama with Monique Samuels.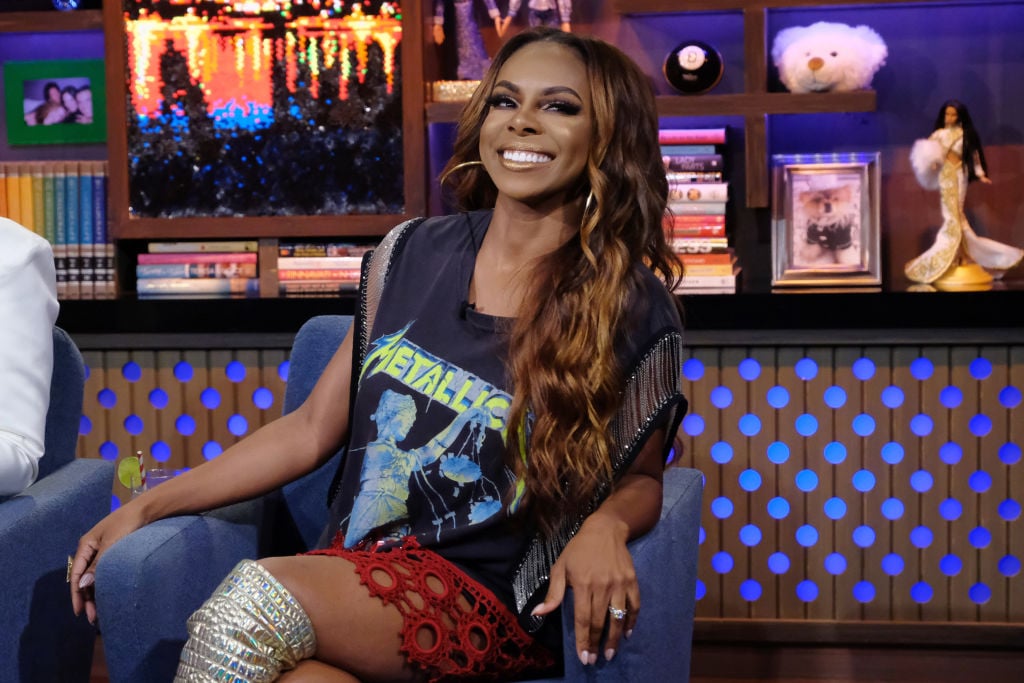 Wendy Osefo will join 'Real Housewives of Potomac' Season 5
35-year-old political commentator Wendy Osefo is the newest housewife to join RHOP after Bravo fired Katie Rost. In addition to earning various awards for her work over the last few years, Osefo has been married to Edward since 2011.
The two have since welcomed three beautiful children into the world. Their oldest son, Karter (6), is in the first grade, and middle son, Kruz (4), just began pre-kindergarten. Recently, the Osefo's gave birth to their first daughter, newborn Kamrynn Kapri.
Before joining RHOP, the commentator had a previous friendship with Candiace Dillard, presumably through political connections, and she appeared at the pageant beauty's anniversary party in Season 4.
Additionally, Dillard is the only RHOP housewife who currently follows Osefo on Instagram and vice versa. The pageant beauty also seems to be the only cast member of the franchise who attended her Sip and See.
Candiace Dillard attended Wendy Osefo's Sip and See
A Sip and See is a party thrown by parents so their friends and family can meet the newest addition. The Osefo's threw an African-themed Sip and See and celebrated the arrival of their daughter alongside several relatives and close companions in a rented venue.
Dillard and the Real Housewives of Potomac cameras were seen at the party in various Instagram stories documenting the celebration. Even though the pageant beauty and commentator were previously friends and are still filming together, Osefo allegedly hasn't chosen sides in her drama with Monique Samuels.
Candiace Dillard is pressing charges against Monique Samuels
Dillard attended the Sip and See only a few weeks after she allegedly got into a physical altercation with Samuels. According to sources, the mother-of-three grabbed the pageant beauty's hair, and they got into a "serious fight," which resulted in police intervention.
While no one was arrested on the scene, Samuels has allegedly been charged with second-degree assault due to a complaint Dillard filed. Because of the fight, other housewives, including Gizelle Bryant and Robyn Dixon, are reportedly refusing to film with Samuels to get her fired from the franchise.
On the other hand, Ashley Darby and Karen Huger have chosen to stay neutral. Despite the previous friendship with Dillard, Osefo allegedly also hasn't chosen a side and continues to film with Samuels.
Real Housewives of Potomac returns in Spring 2020, and Osefo's Sip and See will most likely be featured in an episode.