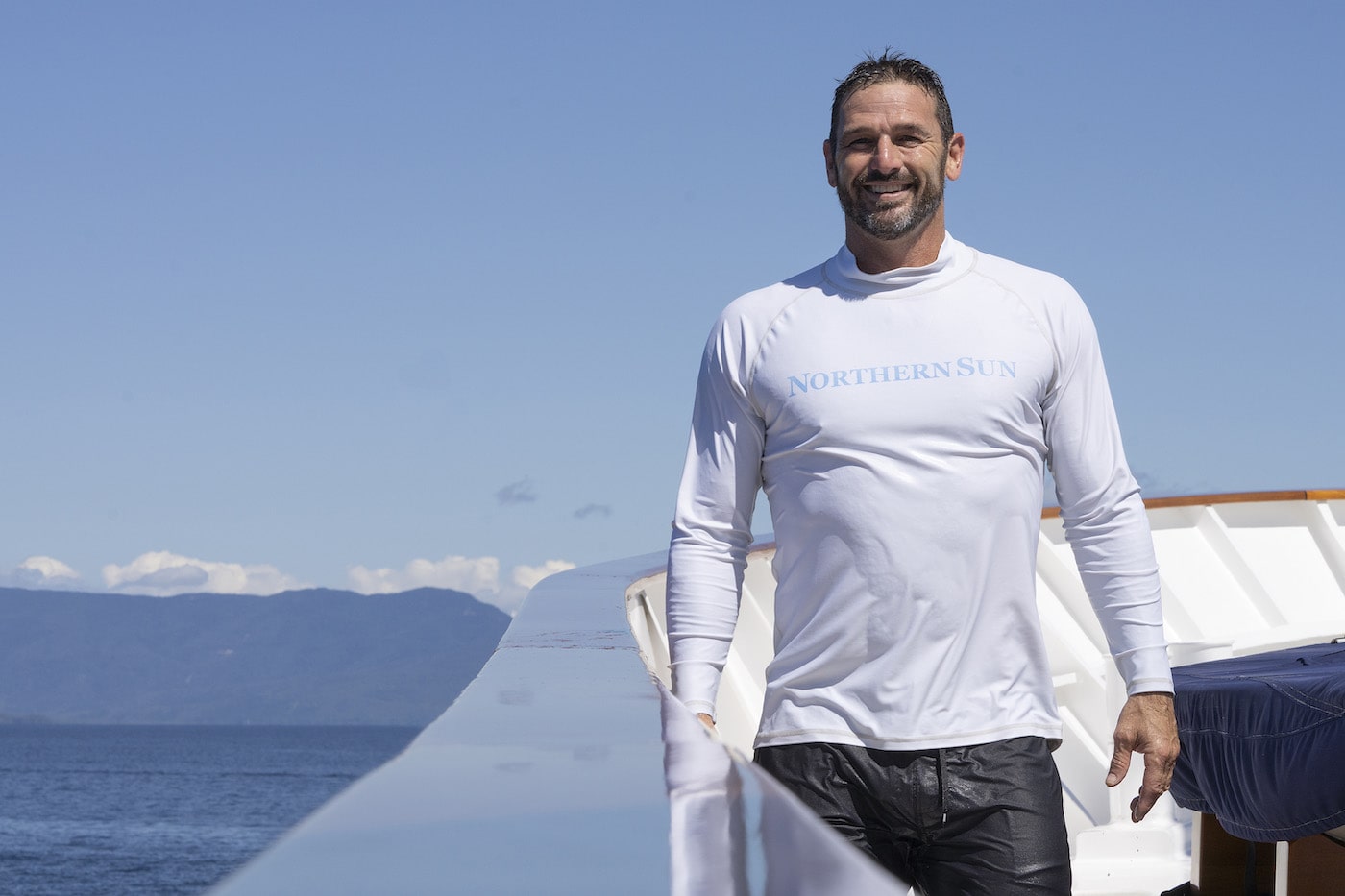 Exclusives / Thanks, I Hate It
Captain Jason From 'Below Deck Down Under' Jokes 'I Got Bad Teeth and My Sister Got a Good Education' [Exclusive]
Captain Jason Chambers from 'Below Deck Down Under' opened up about a long-standing family joke about his teeth.
Captain Jason Chambers from Below Deck Down Under may be the new stud of the sea, but he's always been self-conscious of his teeth.
He recently told Showbiz Cheat Sheet why it took until now to make a big change and how his teeth became a long-running family joke.
"We have a little family joke that I went to the dentist. They said that I needed braces. I probably needed to have teeth taken out and it was going to cost this much money," Chambers recalled. "And then they asked my mom and dad, does he play a sport? I did play football. So the dentist said, 'Oh, he'll probably get knocked out anyway.'"
"Years later, down the track, my sister went to university, so they used the money to put it in university. So that is our little Christmas joke that I got bad teeth and my sister got a good education. So now that I've got the opportunity, I have good teeth and I'm captain of a boat. We have a bit of a laugh about that and my mom and dad are pretty stoked, pretty happy."
Chambers decided to embark upon a six-month journey to achieve the smile he'd always wanted. "So happy I decided to focus on myself and start my Invisalign treatment journey," he shared on Instagram along with a video. "I always wanted to straighten my bottom teeth but was afraid to commit to braces. With my Invisalign aligners, I'm already seeing results with less pain than braces and I still get to do and eat everything I love. Excited for what's in store for 2023!"
Captain Jason's journey to beautiful teeth 
Rather than opt for traditional braces that would have kept him in orthodontic treatment for years, Chambers turned to Invisalign, which was the perfect match for his needs and busy lifestyle.
He initially met with an Invisalign rep while in New York City attending BravoCon. "I actually sat down with them and they put me through a 3-D machine. And then that machine told me exactly what I needed. I needed an extraction and it was going to take 30 weeks. And then she told me. 'I will give you the 30-week aligners I'll give you all the aligners to travel with. Here's an app to use and take photos and send it to us, which they do, and we'll follow the progress. And I was like, this can't be real."
"And here I was six months later and I got new teeth and I couldn't believe the difference when I went to my last visit and looked at the change. My teeth are a lot healthier now, and so is my hygiene. And look, the more I read about how important they are for our health, we can live five-plus years longer if you look after your teeth."
He may have a new smile but the contacts are still a work in progress
Chambers laughed about "all the flack" he got for asking chief stew Aesha Scott to put in his contacts on the show. "I'm getting better, but it's this left one I kinda got to get around," he said.
"They're expensive and in that season, that was the first week I got them. And the next minute they're dropping in the sink and I couldn't find them," he added. Rather than continue with the trial and error, he asked Scott for some help and she was more than happy.
Below Deck Down Under Seasons 1 and 2 are currently streaming on Peacock.