'Captain Marvel': Who Were Brie Larson's Stunt Doubles?
Liam Neeson once said in an interview that he didn't do his own stunts, but "did his own fighting." He said fighting wasn't really a stunt, which you can maybe argue is true, if still causing a potential broken arm, leg, or a few bruises.
You'd also think someone like Brie Larson would take this to heart and only do her own stunts when necessary.
It turns out Larson is more than a little fit considering she pushed a jeep up a hill during her training for Captain Marvel. She still knows where her limitations are, especially when an MCU film has complex stunts.
Fortunately, she isn't afraid to break the illusion and give stunt credit where it's due. Meet her stunt doubles who, together with Larson, make up a superhero triumvirate.
When did Larson introduce her stunt doubles?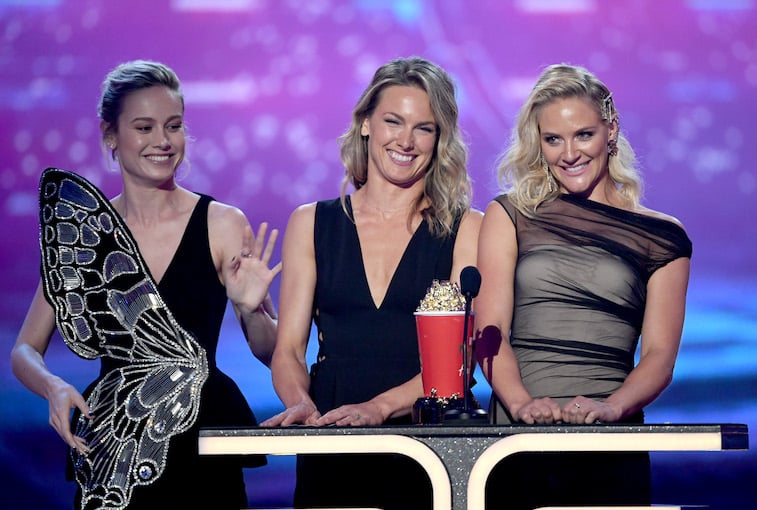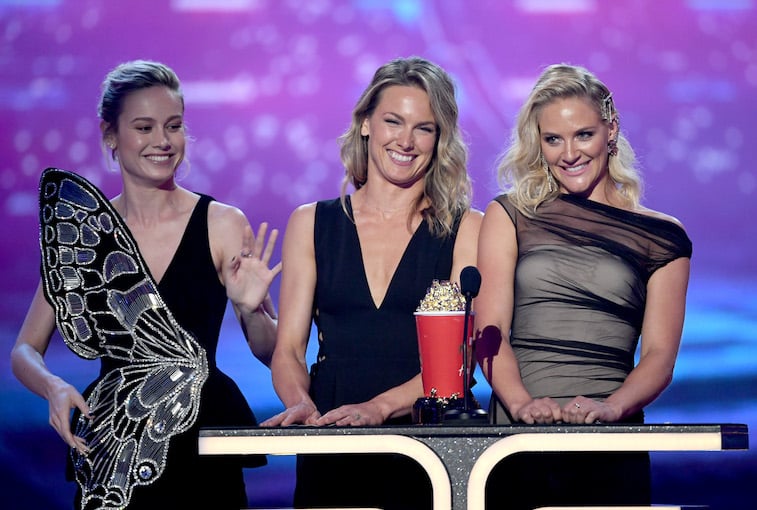 If you were watching the MTV Movie & TV Awards on June 18, then you probably noticed Brie Larson winning for "Best Fight" in a movie. While some might roll their eyes at such a category when it overlooks Larson's acting ability (or does it?), she didn't hesitate to demonstrate her humble nature.
When accepting the award, Larson called up two stunt doubles, Renae Moneymaker and Joanna Bennett, who happened to stand in for her during the most complex Captain Marvel action scenes.
While it's typical of Larson to give credit where it's due, it surprised many who don't typically see stunt doubles gain public praise. Moneymaker and Bennett both thanked Larson for the recognition since it was likely their first time ever receiving recognition on a national stage.
It's worth taking a little time to look at the background of these two women and how stunt doubles often go unsung in creating cinematic illusion.
A look into the background of Renae Moneymaker
Unless some of you work behind-the-scenes in the movie industry, you probably wouldn't know who Renae Moneymaker is. If you can get a slight laugh out of her ironic last name, you'll see she really has made a mint being one of the leading stunt women in Hollywood.
To date, she has 42 stunt credits in movies and TV going back to 2011. Just a few of her credits involve stunts in The Hunger Games, John Wick, plus numerous films for the MCU.
She worked as a stunt double for Jennifer Lawrence for a time before earning a co-title working for Larson. Considering Moneymaker and Larson look slightly alike, the stunts look all the more convincing on film.
In two upcoming movies, Moneymaker will also be a stunt stand-in for Margot Robbie and Angelina Jolie.
The background of Joanna Bennett
Some might think Joanna Bennett and Renae Moneymaker are sisters based on their somewhat similar appearance. They aren't, but Bennett has been around in the industry as long as Moneymaker.
When you see Bennett's credit list, it's also long with noted stunt roles in everything from NBC's Grimm series to many MCU movies over the last several years.
You'll find a few roles as an actress as well, along with Moneymaker. Outside of these brief acting parts, the two have become the true leaders in female stunt work.
It's refreshing to see this since stunt doubles were mostly a male-dominated profession in Hollywood for decades. Now with Brie Larson putting them into the limelight, it's worth pondering if they can make it on their own as actresses.
Transitioning to acting to avoid stunt double dangers
Many tragic stunt accidents have occurred over the years on movie sets, with some becoming fatal. Moneymaker and Bennett are true professionals, yet risk is always there.
No doubt they wouldn't mind becoming real actresses eventually to move away from risking their lives to make other actresses look good. Brie Larson introducing them to the world just upped those chances into the stratosphere.