Captain Sandy From 'Below Deck Med' Thinks This Is the Shocking Reason Why João Got Sick
Bosun João Franco falls extremely ill during a recent episode of Below Deck Mediterranean and has to sit out on the final charter. His illness came on gradually too. During an earlier episode Franco comments about feeling achy. However, he doesn't realize how horrifically ill he was until later that evening.
Cameras catch Franco in bed as his fever spikes past 102 degrees. Deckhand and bunkmate, Colin Macy-O'Toole seems concerned and alerts Captain Sandy Yawn. Franco heads to the hospital but later returns after being told he was fighting a virus. He spends the next days in bed, quarantined to ride out the illness alone.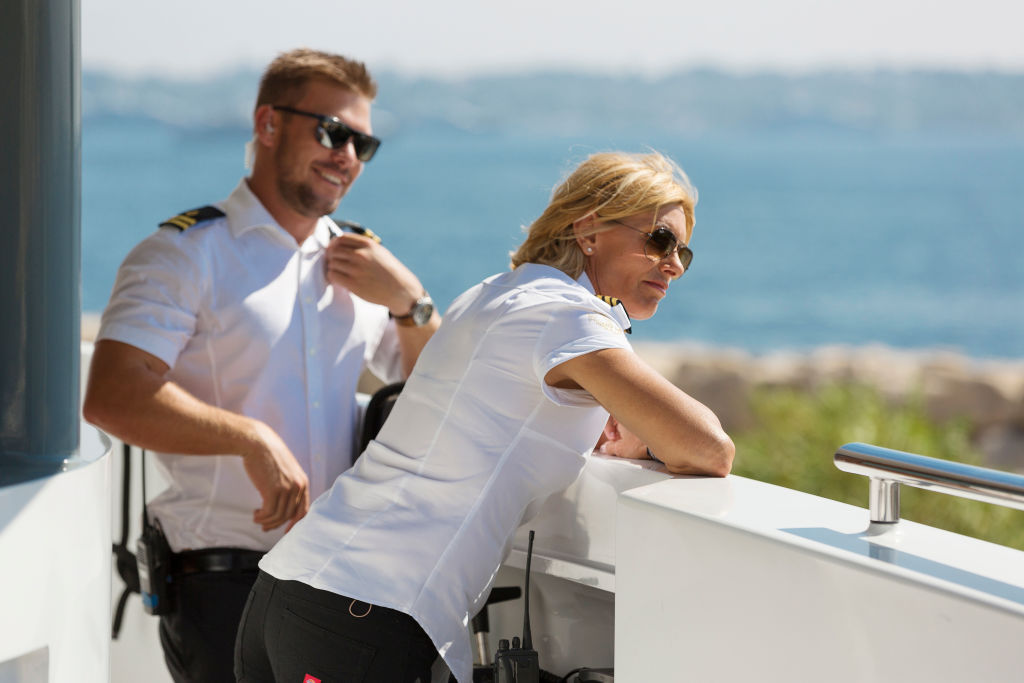 Macy-O'Toole has to bunk elsewhere as Franco slowly recovers. In a Below Deck Med After Show clip, Yawn and chief stew Hannah Ferrier explain why the crew had no choice but to quarantine Franco. "Sometimes people think it's a little bit cruel because on yachts if someone gets sick we put them in a cabin on their own," she says. But, "If the whole boat goes down, we can't charter and the owner loses hundreds of thousands of Euros."
Remember when Franco had dive into the water to release the line?
In an earlier episode, Franco told Yawn the line had been sucked into a piece of equipment. He had to dive into the water to release it. Unfortunately, that may have been the source of his illness. "Everyone gets cuts on their hand, especially deck crew" Yawn explains. "Then you're in a scenario where you are in possibly some raw sewage."
"We were in an anchorage, and I like to say to every boat even when you treat your sewage, you're supposed to go offshore," Yawn continues. "Hepatitis A is sewage-related, so I didn't want him to infect the crew. Hepatitis A is contagious." According to the Centers for Disease Control, hepatitis A can easily be spread to caregivers.
Colin Macy-O'Toole could have been next
Macy-O'Toole thinks Yawn was likely concerned he might go down next. "Because we're roommates, so she didn't want me to get sick because now you'd have two people down," he shares. "So I slept in Jack and Aesha's room for a night or two."
Franco jokes, "Which I wasn't so sure he'd be safe," he laughs. "Yeah, like the two horniest people in the world in one room, I thought I was going to be caught in the mix," Macy-O'Toole jokes. But Macy-O'Toole was worried and had never seen Franco that sick.
Deckhand Travis Michalzik said, "He got the flu real bad. He was in bed with like seven f**king blankets on." He and deckhand Jack Stirrup even remember having to put towels down too. But Stirrup saw the circumstance as somewhat of a bonding opportunity. "It was good for us to come together," he recalls. "When he was sick, you all realize you are actually like friends." Stirrup admits he had his moments where he was annoyed with Franco. "But when he was sick, I felt like, 'Awe, we are mates.' You got to look after them."
While the episode aired, Franco shared a sweet picture and tweet for the deck team. "Cheers to the lads who picked up the slack while I was down!! Tonight's episode! Two things… @benstogram your skills are ON FIRE!!! And @colin_macyotoole the way you pick up the slack when I'm down is just….."