Cara Delevingne Net Worth: How the Actress Makes Her Money
Cara Delevingne is, without a doubt, successful. Find out how much the model-turned-actress is worth.
Cara Delevingne is making a name for herself in Hollywood. The 26-year-old rose to prominence in the early 2010s and is proving that she has the star power to continue being relevant in the industry for years to come. Fans are no doubt curious about how much Delevingne has earned so far in her career. Read on below to learn more about Delevingne and her net worth.
Cara Delevingne's early life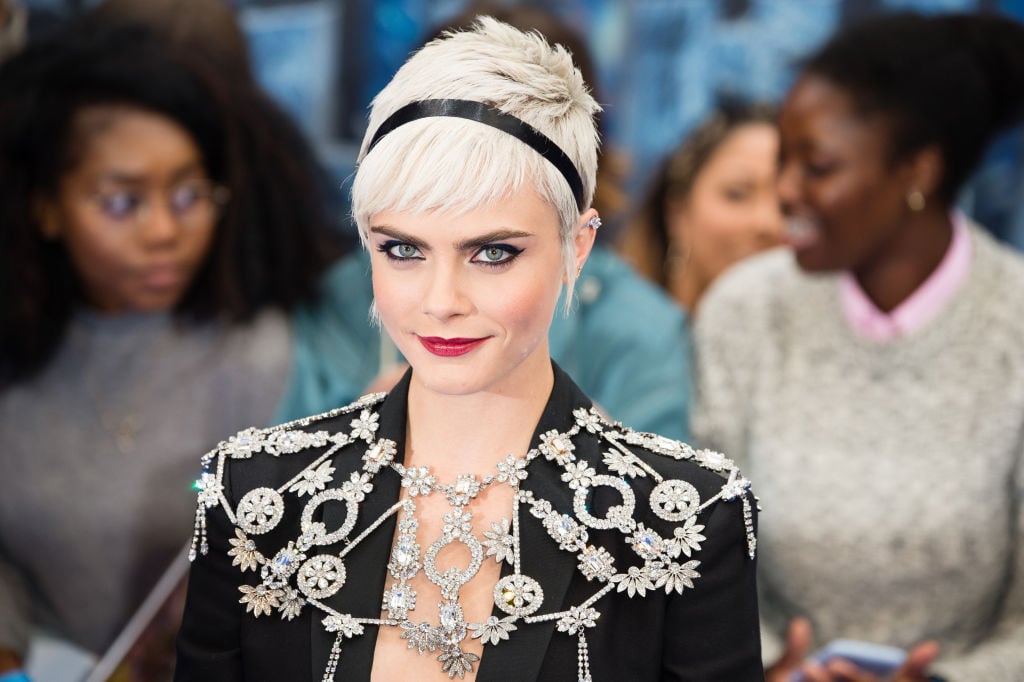 Delevingne was born on August 12, 1992, in England. She came from a rather wealthy family. Her mother, Pandora Stevens, came from an aristocratic background with close ties to the royal family. Meanwhile, her father, Charles Delevingne, was a property developer. Delevingne grew up in the affluent Belgravia neighborhood in London.
Despite the fact that she seemed to have it all on the surface, Delevingne once described her childhood as "pretty sad." This is because her mother was addicted to heroin and couldn't spend much time truly bonding with Delevingne and her sisters.
"As a child I suffered a lot because I wasn't able to spend much time with [my mother] and then at 15 this terrible wave of depression hit me… School was a nightmare for me," Delevingne shared.
Her less-than-stellar home life made Delevingne drawn to acting. She said that being on stage was her "only way to feel alive."
Cara Delevingne found fame as a successful model
In 2009, when she was 17 years old, Delevingne signed with Storm Management — one of the biggest modeling agencies in the UK. She landed her first runway show for London Fashion Week in February 2011.
It didn't take long before Delevingne blew up in the modeling world. In 2012, she began walking in more runway shows and appearing on prestigious magazine covers. She even carved out a good relationship with Chanel's famous creative director, Karl Lagerfeld.
"Cara represents the modern It girl," Lagerfeld said in an interview. "She's full of life, full of pep. I like girls to be wild but at the same time beautifully brought up and very funny."
In 2012 and 2013, Delevingne appeared in the Victoria Secret's Fashion Show. She never became a Victoria's Secret Angel, but the exposure helped cemented her as one of the biggest stars in the modeling industry.
However, in 2015, Delevingne started cutting down on modeling work to focus on something else: her acting career.
These days Cara Delevingne is an actress
Delevingne's acting career began in 2012 when she had a minor role in the movie Anna Karenina. Her first major role came in 2014 when she starred in the film The Face of an Angel. Not long after, she also played one of the lead characters in the movie Paper Towns, which led her to win two Teen Choice Awards.
Since then, Delevingne has been seen in a few other successful movies such as Suicide Squad and Valerian and the City of a Thousand Planets. Her upcoming work includes the Amazon Prime fantasy series Carnival Row, which will see Delevingne star alongside actor Orlando Bloom.
Cara Delevingne's net worth
According to Celebrity Net Worth, Delevingne has a net worth of about $28 million. Much of her money comes from endorsement deals with brands such as Burberry and H&M. She reportedly earns around $9 million a year.
Delevingne currently lives in Los Angeles with her older sister Poppy. The two of them purchased their current home from Jared Leto for $2.5 million in 2016. Delevingne's girlfriend, actress Ashley Benson, also moved into the house in 2019.