Who Designed Cara Delevingne's 'Peg the Patriarchy' Outfit?
The Met Gala is the fashion event of the year, with celebrities coming out in their most outrageous outfits to raise money for a great cause and strut their sense of style.
This year's event featured some of the craziest looks, with singer Shawn Mendes sporting a bare-chested Michael Kors outfit, J Lo rocking a western-themed Ralph Lauren getup, and Kim Kardashian shrouded in an all-black anonymous cloak.
Some attendees chose to make a statement with their attire, commonly referred to as slogan outfits. U.S. State Representative Alexandria Ocasio-Cortez wore a white gown with the words "Tax the Rich" written in red across the back. Fashion model Cara Delevingne wore a white Dior bulletproof vest emblazoned with "Peg the Patriarchy," leaving many to wonder what she was trying to say.
Cara Delevingne's Met Gala look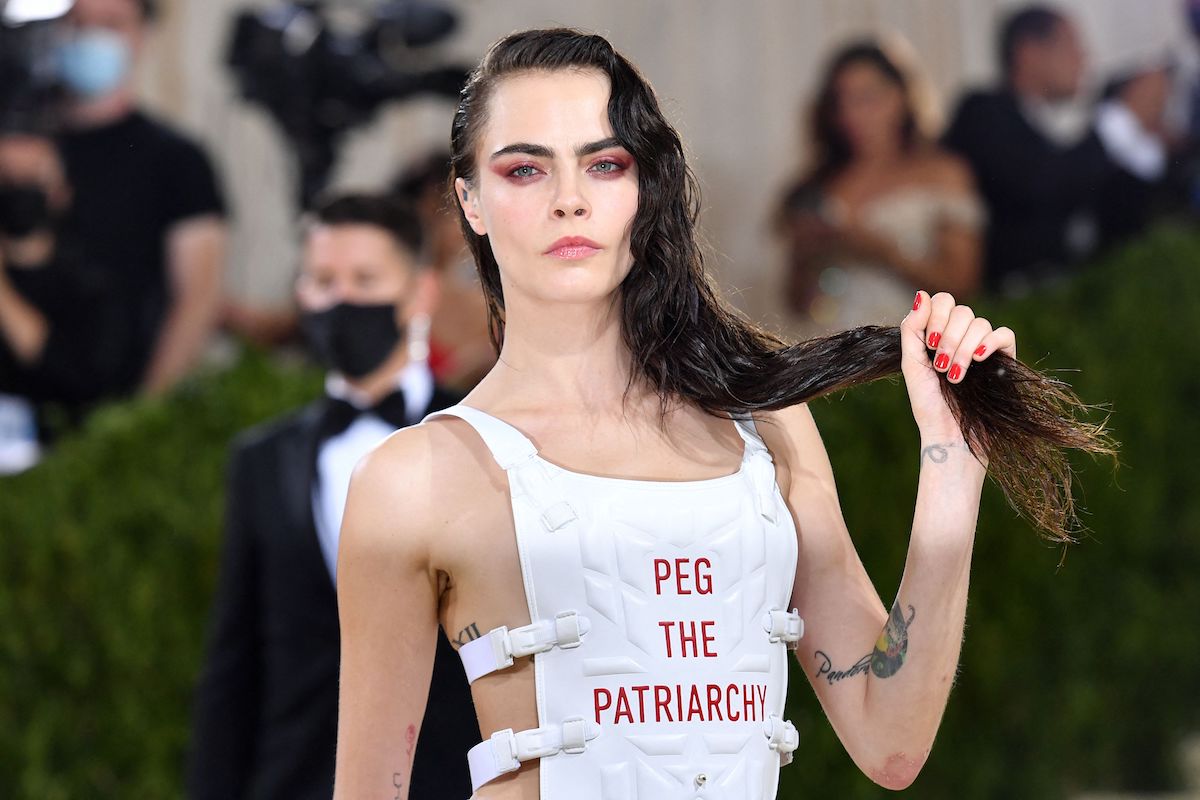 Delevingne went for a simple yet overstated look. She wore her long brown hair down in a wet-looking style, with drastic red eye makeup to highlight her fierce chiseled cheekbones.
Dior's Maria Grazia Chiuri designed the bulletproof vest worn by the Paper Townsactor. The stark whiteness of the breastplate blended in with the model's ivory skin.
The Fendi spokesperson finished the look with a pair of straight-leg white pants and heeled platform sandals. The words "Peg the Patriarchy" adorned the front in red capitalized lettering.
Vogue reported the nine-time Gala attendee became emotional when she saw the final look, saying, "I nearly burst into tears; I felt so grateful." She said, "It's my most simple Met piece, but it says it all for itself."
The meaning behind the 'Peg The Patriarchy' concept?
Delevingne said the outfit had a "clear message that's meant to be a bit more lighthearted and tongue-in-cheek."
When Vogue correspondent Keke Palmer asked the British fashion model the meaning of the slogan, Page Six reports The Suicide Squad actor replied, "If someone doesn't know what this means, you're gonna have to look it up."
The only thing the former Burberry model offered in the form of an explanation was to say, "It's about women empowerment, gender equality." She said, "It's a bit like, 'Stick it to the man'."
It turns out that when people "looked it up," they discovered the catchphrase was trademarked in 2018 by sexual pleasure coach Luna Matatas. 
The catchphrase was created by an uncredited artist
Matatas owns an eCommerce website that sells clothing and accessories that include the "Peg the Patriarchy" slogan on them. The uncredited artist claims neither Delevingne nor Dior asked her for permission to use the trademarked phrase.
The business owner told Insider, "Being a small business, being queer-owned, being in a fat body, being in a racialized body – these are all things that already create barriers for me in doing what I'm already amazing at." She claimed, "To have a white, thin, cis body kind of taking a message and representing it in a way without credit to an artist, it says a lot about what the problem is."
Matatas explained that pegging refers to a "subversive sex position because it flips traditional gender roles during sex." The pleasure coach stated that her slogan is not about "men being pegged," and that "the patriarchy doesn't have a gender." She said, "it's a system of oppression that affects us all."
She went on to explain that slogans such as "Peg the Patriarchy" change meaning when "they are taken from plus-size, queer women of color and appropriated by white women."
Matatas said, "Cara coming in with a lot of social power, but using it to appropriate my work instead of lift it up, is nothing new from white feminism."