How Did Cara Delevingne and Rihanna Become Friends (and Who Has a Higher Net Worth)?
Though both Cara Delevingne and Rihanna are actors, they're better known for other aspects of their careers. The famous friends have remained close for several years. Learn how they first met and who has the higher net worth of the two.
Cara Delevingne and Rihanna worked on a movie together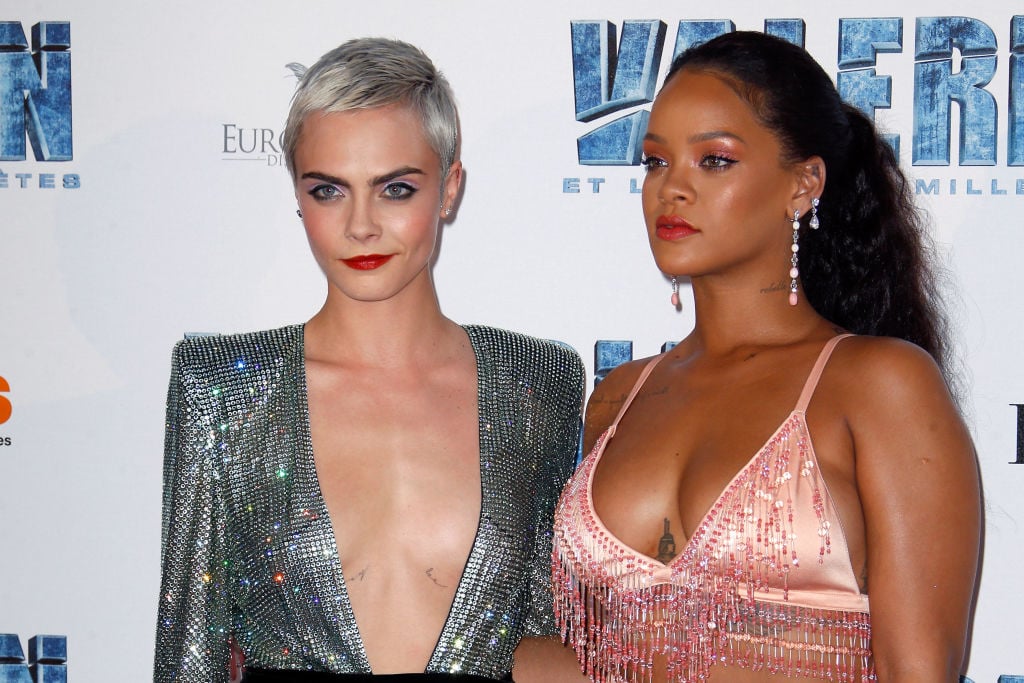 Though neither is best known for their acting, they met working on a film together. Both Rihanna and Delevingne appeared in Valerian and the City of a Thousand Planets, released in 2017. While the French space opera received mixed reviews, it ultimately failed at the box office. It still is the most expensive independently funded European film.
In the movie, Delevingne portrays Laureline, one of two soldiers who set out on a dangerous mission. Along with her love interest/partner, the titular Valerian, she encounters many unique characters, including Bubble, a shape-shifter and entertainer, played by Rihanna.
Rihanna became famous for her music
RELATED: Rihanna Shares An Update On 'R9' And How It Differs From Other Albums: 'There Are No Rules'
Rihanna rose to prominence as a musician with her third album, 2007's Good Girl Gone Bad. After earning her first Grammy Award for her hit single "Umbrella," she went on to release four albums in as many years, including 2012's Unapologetic, which won the Grammy for Best Urban Contemporary Album and went to No. 1 on the charts.
Acting has always been more of a side job for Rihanna. She has had roles in action films such as Battleship and Ocean's 8. She also had a recurring role in the horror series Bates Motel. Additionally, she is known for using her surname, Fenty, for her cosmetics brand, Fenty Beauty, and her fashion house, most notably her lingerie brand Savage X Fenty.
Delevingne is a model-turned-actor
RELATED: Cara Delevingne Has A Few Hidden Talents You May Not Know About
Like Rihanna, Delevingne didn't start as an actor. She began print modeling as a child in London, later becoming a runway model for brands like Burberry, Chanel, and Fendi. She has also walked in the Victoria's Secret Fashion Show. But a few years into her career, she began to take on fewer high-fashion gigs.
This was, in part, because she was pursuing a career in acting. Delevingne first appeared in the 2012 film Anna Karenina. Her first starring role came with 2015's drama Paper Towns. Delevingne has also had supporting roles in movies such as Suicide Squad and Her Smell. She stars alongside Orlando Bloom in the Prime Video series Carnival Row.
How did Delevingne and Rihanna meet?
Though they became closer while filming, Delevingne revealed while doing press for Valerian that she and Rihanna actually met at a fashion years earlier. Rihanna corroborated this, telling the Sun in 2017 that they are "incredibly close" and calling Delevingne "very special" to her.
Years later, and this has remained the case. Delevingne was in the 2019 Savage X Fenty fashion show in 2019, where she spent time with her pal once again. And she even told Bloom during a Vanity Fair lie detector test during Carnival Row promotion that, if trapped in the wilderness, she'd choose to be stuck with Rihanna over one of her other musical BFFs, Taylor Swift.
Who's worth more: Rihanna or Cara Delevingne?
Despite both being entrenched in the worlds of fashion and Hollywood, there's no contest when it comes to net worth here. Delevingne is thought to be worth a respectable $28 million. In addition to acting and modeling, she also makes money off of endorsement deals with brands such as Puma, Dior, and Samsung.
Then there's Rihanna. The reports of her wealth have not been exaggerated. She is thought to be the wealthiest woman in music, with a staggering $600 million net worth, according to Forbes in 2019. Previous estimates have been closer to $300 million; however, this number grew significantly over the past couple of years with the launch of Savage X Fenty.