Cardi B Addresses Rumor That Eminem Denied a Song With Her
Cardi B has been hard at work on the follow-up to her debut album, Invasion of Privacy (2018). Featuring songs such as "Bodak Yellow," "I Like It," and "Be Careful," the album took over the charts and even won a Grammy Award for best rap album. In the lead-up to the second project, Cardi B has released the chart-topping singles "WAP" and "Up" with plans on putting out more music soon. But to be clear, there was never a Cardi B and Eminem song coming.
After rumors emerged claiming Slim Shady denied a song request from her, the "Please Me" singer spoke out on Twitter to refute them.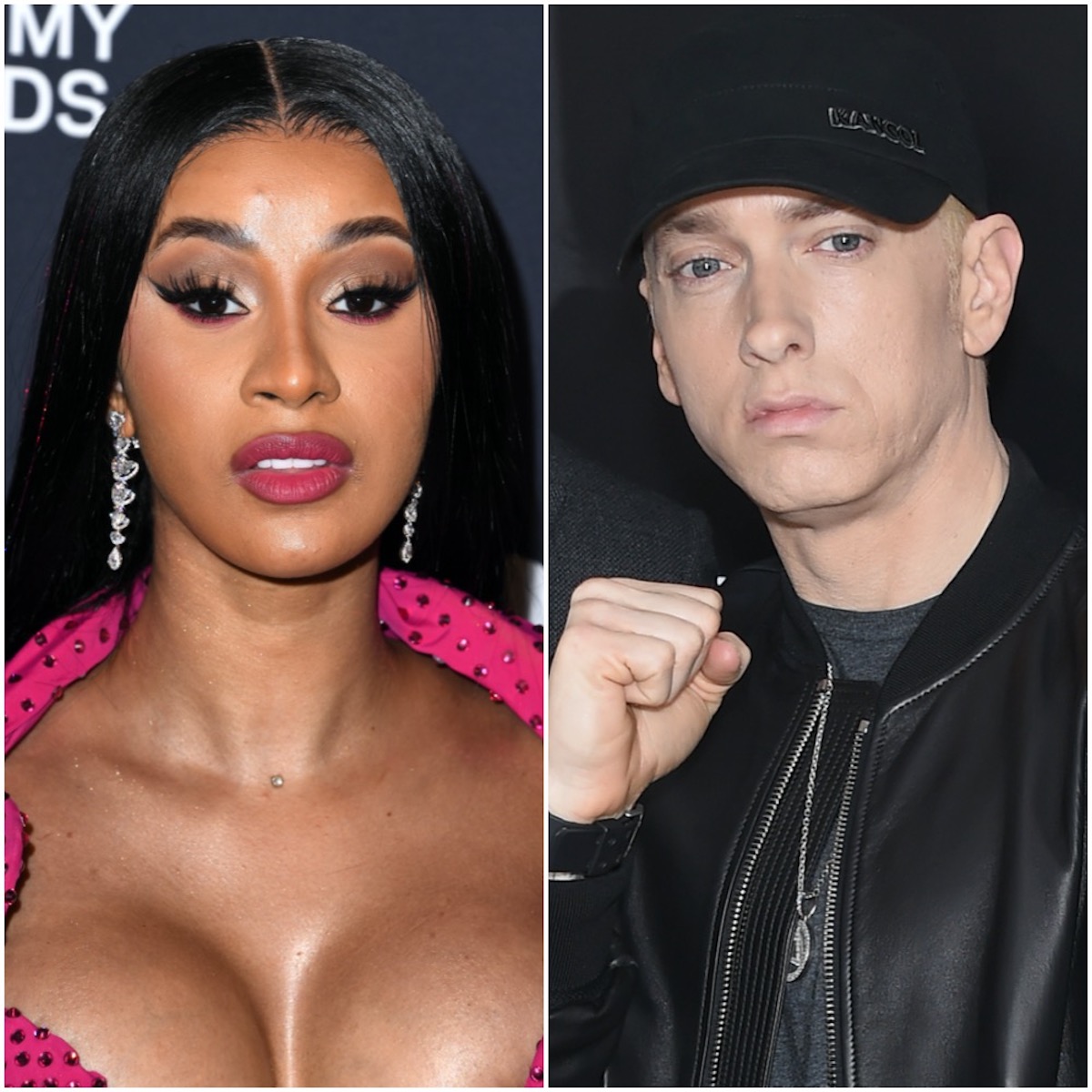 How the Cardi B and Eminem song rumors started and how she responded to them
According to XXL, the rumors started on March 24 when a Twitter user shared an "inside report" alleging Eminem had turned down a chance to work with Cardi B, citing her alleged lack of care for "the culture or her craft."
Catching on to the post, Cardi B tweeted calling it "BIG LIES."
"I get off the internet and ya makin sh*t up," she continued, referencing a day-long break she took from social media that same week. "I haven't sent no songs to no artist yet. Love his work and much respect. This don't even make sense."
She went on to taunt her haters by teasing upcoming songs with possible other big-name artists. "Since they like to make up LIES about me cause their so obsessed just know this .. y'all laughing about this fake rumor but wait until y'all see these next collabs," she wrote.
Cardi B's second album is a big deal
Ever since it was announced, there's been plenty of hype and anticipation behind Cardi B's second album. She previously told Billboard she was conflicted about the direction the album should take. However, she later told Elle that listeners should expect empowering songs.
"My music is always going to make a woman feel like a bad b*tch. When you make a woman feel like she's the baddest b*tch in the room, to me, that's female empowerment," she said, noting the album would also feature "Lemonade moments, my personal relationship moments."
With the coronavirus (COVID-19) pandemic raging on and other events happening, Cardi B has said she doesn't really know when she'll put out the album. "I have other projects coming out that doesn't involve music, but when it comes to music I think I'm going to put out another single," she told Angie Martinez in August 2020. "I don't have my album ready yet. But even when I feel I have my album ready, I'm still debating when I should put out an album too."
She continued to explain she wants wait until COVID restrictions loosen up as "I want to do real f*ckin' interviews. I want to see people and sit down. I want to tour. I want to do parties, go to the club and shake my a** to my own music."
That's understandable. At least there are plenty good Cardi B songs out there that should tide fans over until her album is out.