Cardi B Filmed Her Daughter, Kulture, Ignoring Her and the Internet Is in Hysterics
It seems like Cardi B's daughter, Kulture, is giving her a run for her money in the personality department. Fans are losing it over a hilarious new video.
Cardi B is known for her over the top antics. Ever since she exploded on to the rap scene, fans have called out her larger than life personality. While some people still aren't used to her big persona, one person who is is her daughter, Kulture Kiari Cephus. Cardi B, alongside her husband, Offset, welcomed Kulture into the world back in 2018. And while the toddler has yet to celebrate her 2nd birthday, she already has enough personality to rival that of her famous mother.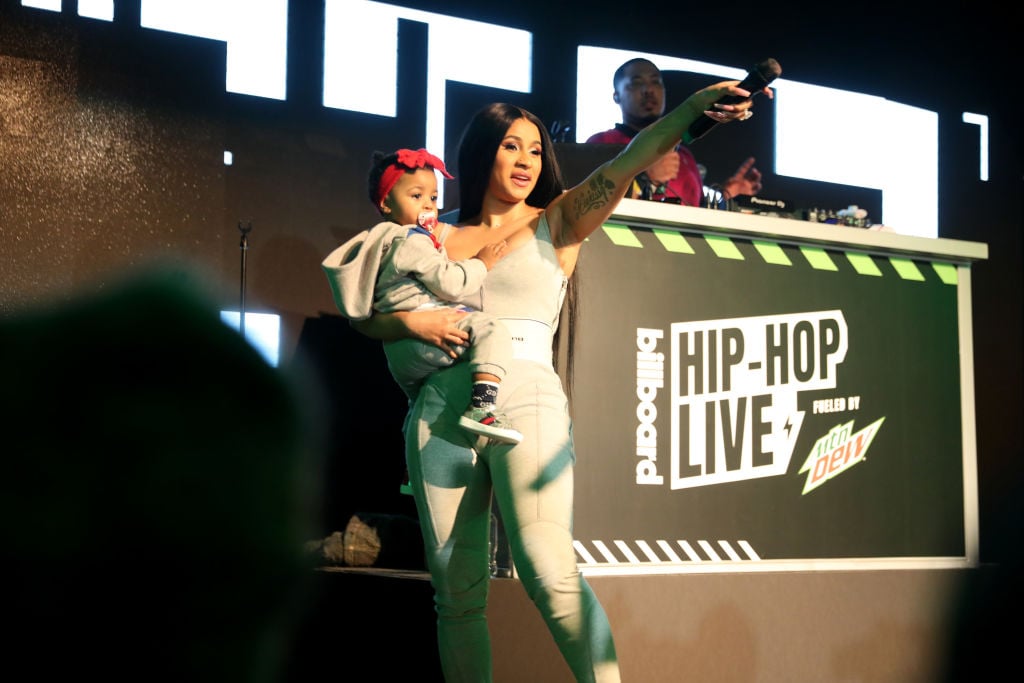 Recently, Cardi B hopped on Instagram live to interact with her fans. Hilarity ensued when she tried to get her daughter's attention. Kulture was relaxing on the couch sucking a pacifier and playing with her tablet, most likely watching a video. Cardi B attempted to get her to say hi to the camera by calling her name. When Kulture ignored her, she began yelling the one-year-old's name multiple times.
Cardi B is ignored by her daughter on Instagram live
As Kulture's eyes were downcast, most of the rapper's fans assumed that she was asleep and simply a very heavy sleeper. But, the "Bodak Yellow" artist quickly waylaid those claims by stating that her daughter wasn't asleep, she was simply choosing not to listen. This became quite evident when Kulture's pacifier was removed from her mouth. She spared her mother a quick glance before promptly returning her pacifier to her mouth and diverting her attention back to her tablet.
Naturally, the Internet went absolutely crazy for the video. On May 27, 2020, Kulture was even trending on Twitter. Following that, Cardi B's fans began making hilarious memes and gifs about the toddler. In fact, some fans felt that she was treating her own mother like she was a kid. "Kulture, a single parent of two," one person captioned the video. "Kulture really said 'let her keep being loud, she'll tire herself out soon enough and fall asleep,'" another person chimed in.
Fans react to Kulture on Twitter
"Kulture so unbothered and y'all be so pressed while she's raising her noisy a*s daughter Cardi B," yet another person wrote. Others declared that Kulture was a "mood" and aspired to reach her level of unbothered and acute focus. "A lot of adults need to take notes from Kulture, and that's focus on what you're doing and stop letting every got da*n thing around you distract you," one person declared.
One tweet even caught the eye of Cardi B herself. "Kulture is so over Cardi and her antics," one person tweeted using the crying laughing emojis. Cardi B quickly retweeted the statement, but also added that her daughter still wanted her attention at her convenience. "And guess who made me get out the shower, thirty minutes later after this live with soap on me just to tuck her in and cuddle her to sleep? Yes Miss Kulture," the 27-year-old declared.
Cardi B claps back to claims that her daughter doesn't like her
While most of the comments were all in good fun, some Twitter users chose to look at the hilarious video in a more negative light. Some people tried to use the video as evidence that Kulture wasn't fond of Cardi B. "Kulture don't like her momma and that's the funniest part every video she be ignoring tf outta all that screaming," one person declared. "Loud and wrong," Cardi B wrote back, retweeting the criticism and sharing a video of her daughter gracing her with a kiss.
Clearly, Cardi B has passed some of her personality down to Kulture. It'll be interesting to see how her daughter's persona continues to develop in the future.