Cardi B Fans on Instagram Are Convinced She's Having Twins
Cardi B has a lot to celebrate these days. The rapper's career is flourishing, she's more popular than ever (she recently hit 100 million followers on Instagram), and her daughter, Kulture Kiari Cephus, just celebrated her third birthday. To top it all off, Cardi B and her husband, Offset, recently announced that they are expecting their second child together. However, some fans of the rappers believe they are actually expecting children.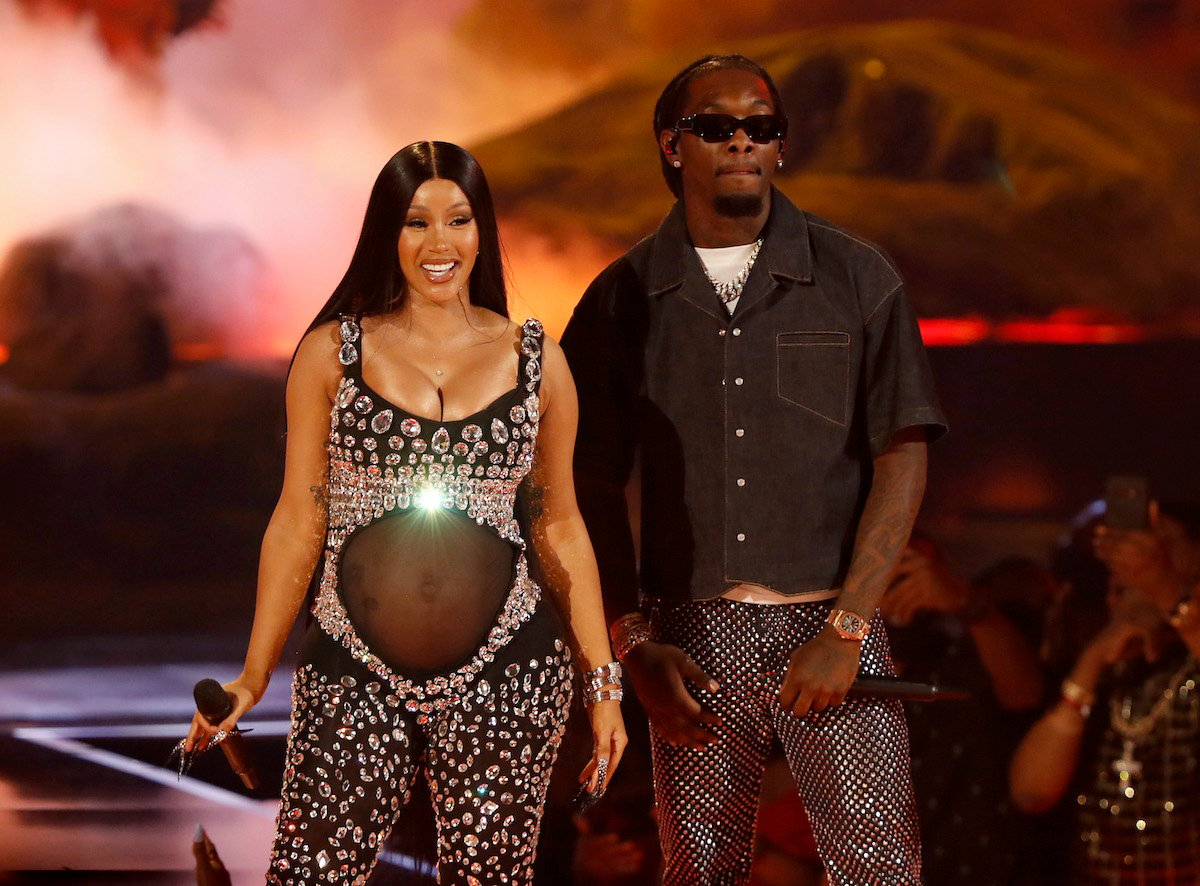 Cardi B has never made it a secret about how much she wanted to be a mother. In fact, she frequently shares her experience with motherhood with her millions of fans via social media. Most recently, she shared videos and pictures of Kulture's princess-themed birthday party. The party included Disney princesses, horse-drawn carriages, a ballroom with a castle, balloons, slides, bouncy houses, and a ton of food.
Cardi B defended purchasing a diamond necklace for her daughter, Kulture
But the lavish party wasn't the only way that Cardi B celebrated her daughter. The "Up" rapper also showered Kulture with gifts. One of the most lavish was undoubtedly the one-of-a-kind diamond-encrusted choker that she gifted the three-year-old. Made by the renowned designer, Eliante, the necklace is allegedly worth a staggering $150,000. Naturally, people had mixed reactions to the New York native spending such extreme amounts of money on a toddler. But Cardi B quickly hopped on Twitter to defend her purchase.
RELATED: Cardi B's Sister, Hennessy Carolina, Isn't Her Only Sibling
"When your kid want [sic] ice cream for dinner, do you give them ice cream for dinner?" Cardi B responded to criticism about the necklace purchased for Kulture. "My baby is overly spoiled wit [sic] toys & [is] super educated. If mommy & daddy fly then so is [sic] my kids. F— I look like being fly ass f— and my kid not [sic]."
The 'Up' rapper teased an exciting announcement on Twitter
Given Cardi B's mentality, we're sure she will spoil her new baby with lavish gifts just as much as she spoils her daughter. However, some fans believe that there will be more than one new child to spoil. Recently, the "Bodak Yellow" rapper announced that she had a secret to share with her followers. "I gotta little secret to tell you guys tomorrow," she caption a video. In the video, the rapper mentioned that she was scared yet excited to share her big news. "You're gonna love it, but I'm scared," the rapper promised her fans.
Some fans on Instagram believe Cardi B is having twins
Naturally, many people began speculating about what Cardi B's big news could be. However, many of her fans quickly became convinced that she was welcoming twins. "She having twins," one person wrote on Instagram. "YOU HAVING TWINSSS BARDIIII," another person speculated on the app. Others quickly chimed in that they also believe that the rapper was welcoming twins.
RELATED: Cardi B Admits She Doesn't Really Have Celebrity Friends Except for This Person
Of course, not everyone believed that Cardi B's news had anything to do with twins. Some fans were convinced that she was potentially having a boy. "It's either twins or a boy I feel it," one person declared. Others felt that the rapper's announcement would have to do with her music. Only time will tell what the rapper will announce. But if she is in, in fact, expecting twins, it's clear that they won't be a financial burden to her.