Cardi B Claims Her Marriage With Offset Isn't Abusive, but a Deleted Tweet Tells Another Story
Cardi B and Offset have found their way into the headlines lately as fans are constantly questioning their relationship status. Back in September of 2020, the "WAP" singer filed for divorce from her husband of three years. Naturally, the rumor mill went haywire with claims that Offset had, once again, cheated on his wife and even fathered another baby while they were married.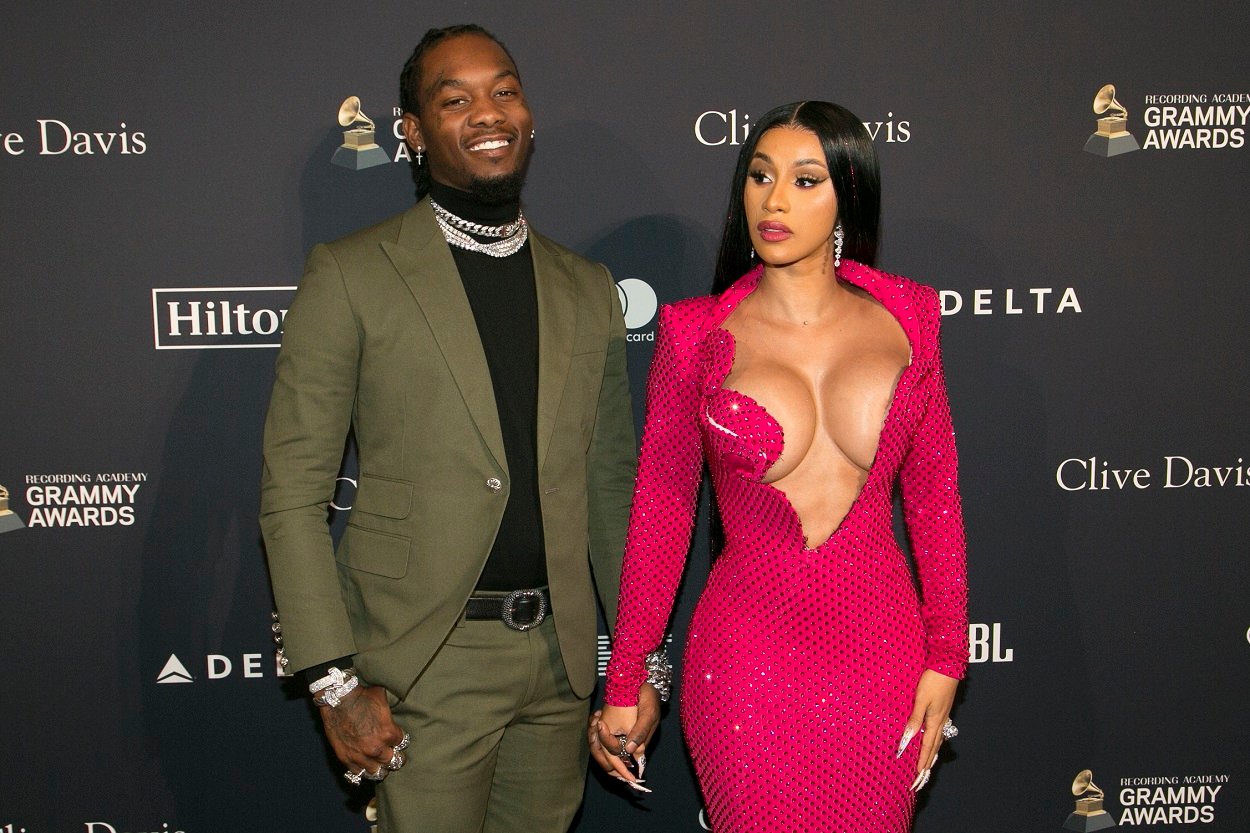 Naturally, it wasn't too long before the "Bodak Yellow" singer hopped on social media to set the record straight. She assured her millions of fans that the Migos member did not, in fact, cheat on her. Instead, Cardi B shared that she was simply tired of constant arguments and felt it prudent to exit the relationship before Offset decided to cheat on her again.
Cardi B took her husband, Offset, back shortly after filing for divorce
News about the couple's relationship died down a bit until Cardi B celebrated her 28th birthday in early October of 2020. The rapper threw a lavish party for herself and Offset was, of course, in attendance. The couple were seen snuggled up together and Offset gifted his wife with a billboard and a custom-made Rolls Royce, that is rumored to be worth upwards of $300,000. When Offset presented Cardi B with the vehicle at the party, other partygoers could be heard encouraging the "Press" singer to take her husband back.
Of course, fans of Cardi B felt it necessary to make their opinions known about the situation. Some of them were disappointed that the rapper chose to take her husband (and the father of her two-year-old daughter, Kulture) back. They claimed that she was swayed by money and lavish gifts and even added that Offset was using guilt and emotional manipulation to win her back. Some even went as far as to claim that Offset and Cardi B were in an abusive relationship.
The 'WAP' singer denies claims that she's in an abusive relationship
Seeing the backlash, Cardi B took to her Twitter page to respond to claims that Offset was an abuser. "Abusive?" Cardi B began in a since-deleted tweet. "Girl I'm the one that do that hitting and sh*t talking. I'm just a crazy bi*ch. One day I wanna smack a [expletive removed] and leave," the rapper said before stating that other weeks she finds Offset very sexually attractive. "Ya be trying to analyze too much. We are just simply dysfunctional."
Critics on Twitter say that Cardi B's deleted tweet proves she's in an abusive relationship
Of course, Cardi's tweet did very little to assure fans that she wasn't, in fact, in an abusive relationship. Some people argued that physical abuse wasn't the only type of abuse that could exist in a relationship. They added that the type of dysfunction that the rapper described with her husband could easily be considered emotional abuse. Furthermore, others noted that the "I Like It" singer proved that she was in an abusive relationship because she admitted to hitting her husband on more than one occasion in the tweet.
Obviously, nobody but Cardi B and Offset truly know the entire extent of her relationship. While fans may speculate and want more for the rappers, ultimately it's their choice if they want to stay married to one another.