Cardi B Reveals What Her First Interaction With Megan Thee Stallion Was Like Following Feud Rumors
Before they were collaborators, there were rumors that Cardi B and Megan Thee Stallion were enemies. Feud rumors began in 2019 and continued up until they revealed their surprise collaboration on Cardi B's "WAP." While reflecting on their past in a recent Instagram Live, Cardi B shared how things went the first time she spoke to Megan Thee Stallion and how the song came to be.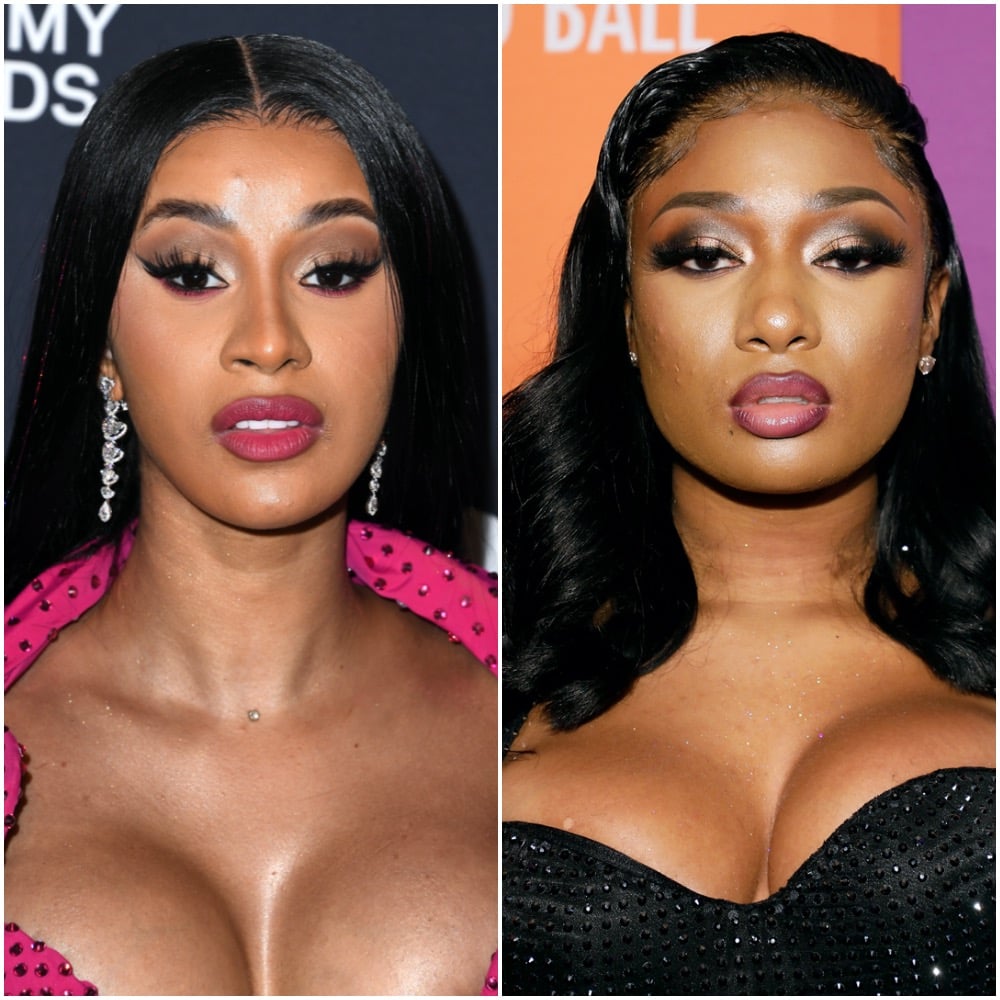 How the Cardi B and Megan Thee Stallion feud rumors started
Like many other cases, these rumors were instigated by fans. People started pitting them against one another when Megan Thee Stallion gaining national attention in early 2019 following her first Billboard-charting single, "Big Ole Freak."
Amid comparisons to Cardi B, the "Bodak Yellow" rapper shared a cryptic tweet in March 2019 that said, "Ain't no h*e taking my spot. Stop BAPPIN" (via Capital Xtra). Although she did not say names, the message convinced some that it was directed to Megan Thee Stallion.
She would later suggest in a follow-up tweet that the message was not about the Fever rapper. But feud rumors persisted when Megan Thee Stallion sought out Cardi B's nemesis Nicki Minaj on the 2019 summer anthem "Hot Girl Summer."
RELATED: Nicki Minaj Shares Her Thoughts on Megan Thee Stallion Amid Her "WAP" Collaboration With Nemesis Cardi B
Despite claims to the contrary, Megan Thee Stallion told E! News' Daily Pop in August 2019 that she liked both rappers and was not siding with one over the other.
"I really hate the fact that [people do that]. It's really like a lot of the fans," she said (via iHeartRadio). "They really make it seem like you're picking sides. I really, really, really like both of them. They're two different people, two different rappers. It's not even the same. I feel like we need to stop trying to compare them."
Cardi B met Megan Thee Stallion after the feud rumors
Cardi B got the chance to talk to Megan Thee Stallion later in 2019. Reflecting on their chat in an Instagram Live on Sept. 21, Cardi B said: "The first time I ever spoke to Megan, I think it was like 10 months ago. Jason Lee [of the entertainment website Hollywood Unlocked] randomly Face-timed me and put Megan on the phone and I'm like, "Oh sh*t. What the f*ck."
Although they had never talked before, she had secretly wanted to collaborate with Megan Thee Stallion on what would become their hit song "WAP." She confessed her goal to the "Cash Sh*t" rapper over the phone but told her that she had been struggling to come up with a hook.
"She was like, 'So send it to me. I'll do the hook!'" she recalled Megan Thee Stallion as saying. Eventually, she and the "Savage" hitmaker were able to pull it together and went on to record their verses.
When they met in person, "We were cracking mad jokes. Like, it was just mad funny," Cardi B shared in a previous interview with SiriusXM. "Like, she's mad funny, she's so bubbly, she's quirky like me, she smiles a lot like me, and I had a good time. I was like, 'Oh my gosh. I wish I would have met her sooner.' … She was just so fun."
RELATED: Megan Thee Stallion Shows Off Lavish Gift From Cardi B in Honor of 'WAP' Going No. 1
Looking back, it's great to see that they were able to shake the rumors and build a healthy relationship. We're hoping to see more of this across the music industry moving forward.