Cardi B's Sister, Hennessy Carolina, Isn't Her Only Sibling
Most diehard Cardi B fans know that about the rapper's younger sister, Hennessy Carolina. Hennessy has accompanied her sister to high profile events like the Grammy's, but she's been in the public eye for far longer. The 23-year-old began receiving attention when she was featured alongside her sister on Love and Hip Hop: New York …
Most diehard Cardi B fans know that about the rapper's younger sister, Hennessy Carolina. Hennessy has accompanied her sister to high profile events like the Grammy's, but she's been in the public eye for far longer. The 23-year-old began receiving attention when she was featured alongside her sister on Love and Hip Hop: New York and has amassed a pretty large following of her own. On Instagram alone, Hennessy boasts a whopping 5.8 million followers and has become an influencer for popular brands like Fashion Nova.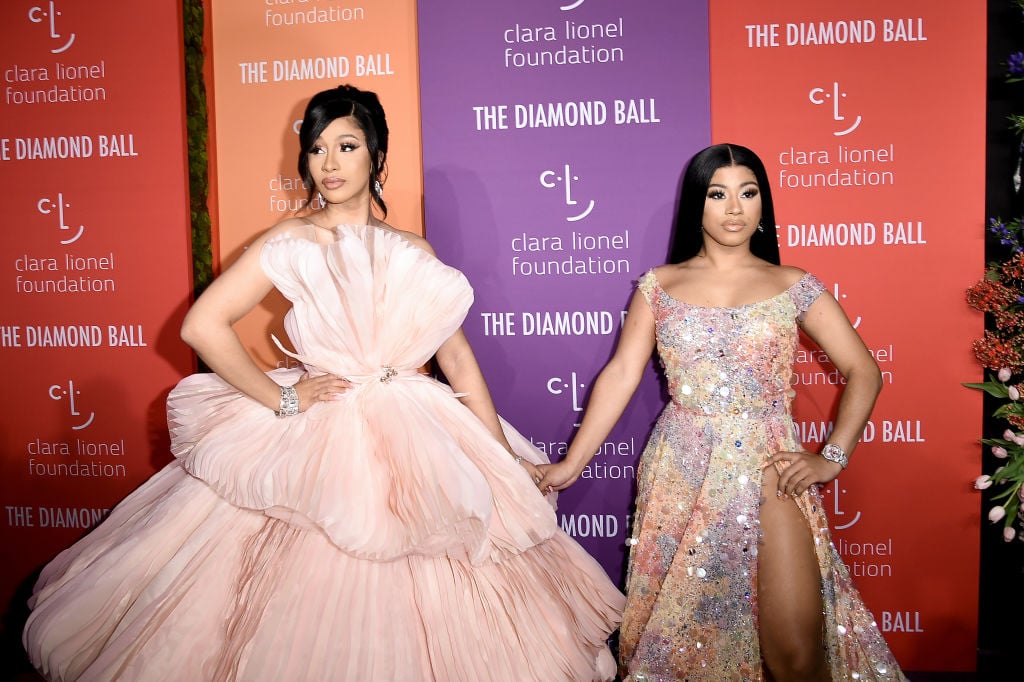 Cardi B's sister, Hennessy Carolina
While Hennessy continues to make a name for herself, she still makes it her mission to be Cardi B's biggest supporter. The model has been candid about openly showing her sister love and support. She pens sweet messages about the "Wish Wish" rapper whenever she has a birthday or wins an award. Furthermore, she is the first one to jump to her sister's defense at the first sign of controversy. And the love flows both ways, Cardi B has been candid about how supportive she is of her sister and was the first person to accept Hennessy with open arms when she came out as bisexual.
How Cardi B earned her nickname
The bond that the sisters share goes back to childhood when they were growing up in the Bronx borough of New York City. Hennessy has been candid about the fact that, oftentimes, Cardi B served as more of a mother figure than that of a sister. She helped to protect her from dangerous situations and the pair were as thick as thieves. In fact, Hennessy is to thank for Cardi B's nickname. The pair were together so often that friends and family began to refer to Cardi B (who's given name is Belcalis) as Bacardi, which eventually morphed into Cardi B.
But, even though fans of the "Press" rapper are familiar with Hennessy, Cardi B recently revealed that Hennessy is not her only sibling. In a recent interview with Vogue, the "Bodak Yellow" artist revealed that she has not just one sibling, but seven. While talking about the criticism she received when she chose to have her daughter, Kulture, by a man who had children from a previous relationship, she shared that she herself cam from a large family.
Cardi B reveals she has seven siblings when discussing husband, Offset
"When I was pregnant with Kulture, a lot of people was like, 'oh, he has three kids already; why would you have a kid with somebody that have three kids?' And it's like, how is that such a bad thing? My dad has eight kids, and we all get along, and it feels better, fuller," Cardi B shared, revealing that her well-known sister isn't her own sibling.
The singer continued on to add that she loved to see her daughter playing with her siblings. "And with Offset, I feel like his kids just bring a pop of fun to life when they're in his house. I actually love it. It brings out a different side of him that I like to see, and I love to see my baby interacting with her siblings. The more the merrier," she added. It's great that Cardi B has such an appreciation for both her siblings and her stepchildren. We're sure it makes for some very lively family get-togethers.