Cardi B vs. Melania Trump: What the 'WAP' Rapper Had to Say About the First Lady
For the second week in a row, "WAP" — the perfectly raunchy collab between superstar rappers Cardi B and Megan Thee Stallion — is the number one song in America. Fans can't get enough of the song, which has inspired TikTok dance challenges and more.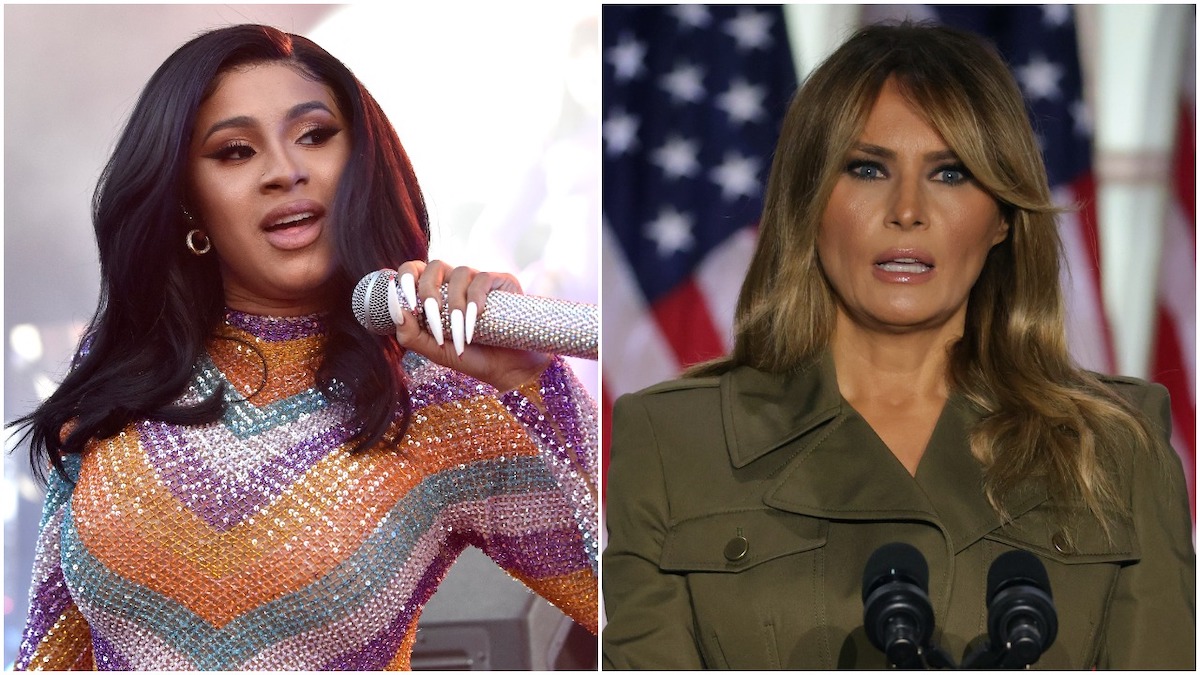 The overnight success of 'WAP'
Both Cardi B and Megan Thee Stallion are extremely popular female rappers at the moment, so it was only a matter of time before the two jumped on a track together. Megan Thee Stallion, of course, collaborated with another female rap giant for last year's hit "Hot Girl Summer": Nicki Minaj, whom Megan calls "one of the greatest to ever do it."
Not surprisingly, the song had a historic release. It debuted at the number one spot on the Billboard Hot 100 chart, as well as Billboard's Hot Rap Songs, Hot R&B/Hip-Hop Songs, Digital Song Sales, and Streaming Songs charts. It shattered a streaming record previously set by Ariana Grande's "7 rings" by racking up 93 million streams in its first week. With the release of "WAP," Cardi B is now the only female rapper in history to have Billboard number-one hits in two different decades, and she extends her record as the female rapper with the most number-one singles in history.
Cardi B comes for her critics
Despite "WAP" seemingly taking over the world, many people have been extremely critical of how explicit the song is and how scandalous it is to have a song like that be so popular.
One of Cardi and Megan's peers in the music industry, CeeLo Green, was one of those critics. "Cardi B and Megan Thee Stallion, they are all more or less doing similar salacious gesturing… A lot of music today is very unfortunate and disappointing on a personal and moral level," Green recently told FarOut magazine. "There was once a time when we were savvy enough to code certain things. We could express to those it was meant for with the style of language we used. But now music is shameless; it is sheer savagery." 
One recent tweet came from self-described "conservative warrior" and former Congressional candidate DeAnna Lorraine, who said "America needs far more women like Melania Trump and far less like Cardi B."
Cardi B's response was short and sweet.
Melania Trump's modeling history
Cardi followed it up with another response to Lorraine, tweeting out a nude photo of Melania Trump saying "This pic giving me 'yea you f*ckin wit some wet ass p*ssy' vibes… just sayin."
Melania Knauss's modeling career is how Donald Trump first discovered her in 1998 when he was still married to his second wife. Knauss had appeared in campaigns in Europe in the early '90s, and arrived in New York from Slovenia in 1996. Trump was reportedly dating many different models at the time before he pursued and eventually married her.
The photos don't lie: Melania Trump did pose for several nude photoshoots throughout her time as a model. The most commonly referenced one — and the one Cardi B tweeted out — is from the January 1996 issue of Max, a now-defunct French men's magazine. She also posed nude on the cover of the January 2000 issue of GQ, wearing diamond jewelry and lying down on fur aboard Trump's private plane.