Cardi B's $200K Gift From Offset Was a Well-Played Surprise
Cardi B and Offset are one of the more recent hip hop power couples, but, like any couple, they've had their ups and downs. For example, after he cheated on her, Cardi B almost divorced him, but ultimately, she forgave him. While that was one of the lows in their relationship, they've also had plenty of highs as well. For instance, they seem to love to give each other lavish gifts, such as when Cardi B gave Offset $500,000 in cold, hard cash for his birthday. This may have been in response to that time when Offset gave Cardi B a $200,000 luxury SUV.
A look at Cardi B and Offset's rocky relationship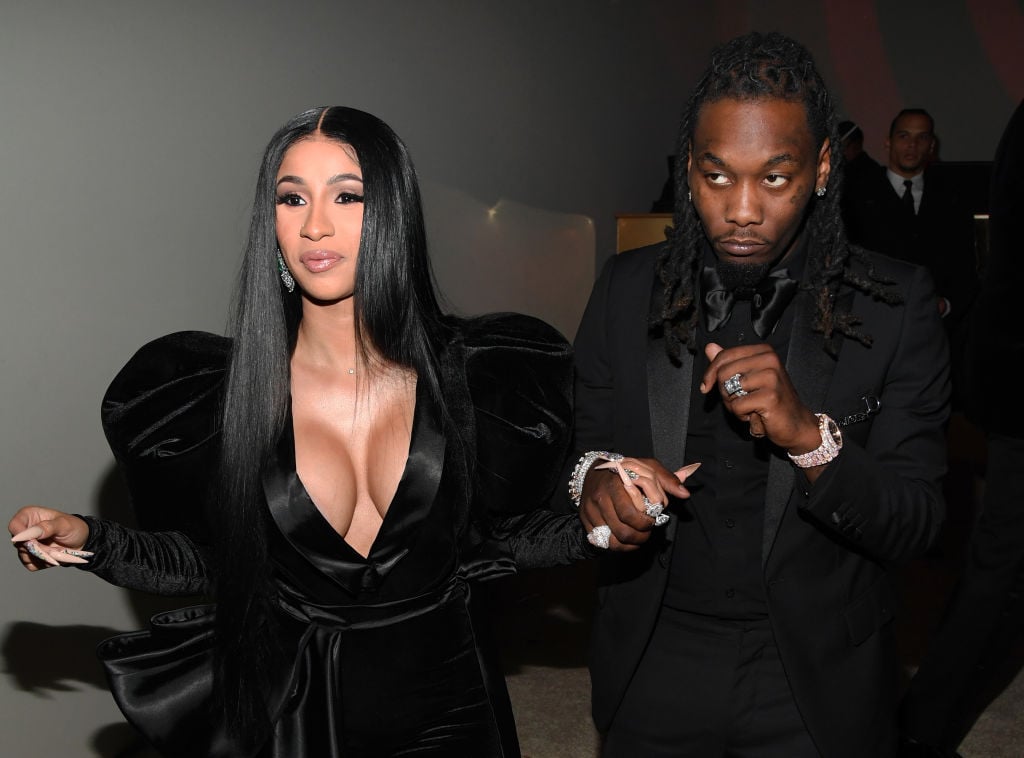 The hip hop power couple first met in 2017 and they'd be married before the year was over. The two have a daughter named Kulture Kiari Cephus, but they aren't rushing into having another kid anytime soon.
Of course, in the middle of all that great stuff, there's also the fact that Offset cheated on her. While the two eventually reconciled, it took a lot of work before she forgave him. Like many spouses who got cheated on, Cardi B thought about divorcing him. In response, Offset gave a very public apology to her that some fans are still cringing from to this day.
In any case, his efforts worked and the two are still married. That said, there are recent rumors and speculation that he cheated on her again, but he denies those claims. In any case, despite how rocky their relationship seems to have been, both of them still love to give each other great gifts. 
That time Offset faked an emergency to surprise Cardi B with an SUV
As Billboard reported, in 2018, a few days away from her birthday, Offset pretended that he had a health emergency. This shook Cardi B, and she said that she was "praying for like two hours." Of course, there was no health emergency, he just wanted to surprise her with the birthday present that he got her.
That present was, as Offset said in his Instagram post, the first Lamborghini Urus in the U.S. While it's not clear if it was actually the first Urus delivered to the U.S., it is clear that it's well worth the $200,000 price tag that Lamborghini charges for it. 
The Urus, with its 4.0-liter V8 engine, can generate 641-hp, making it one of the most powerful SUVs on the market. The Urus can go from 0 to 60 MPH in just 3.2 seconds and it can hit a top speed of over 190 MPH. And it can do all that while offering the spacious luxury of a Lamborghini SUV.
Cardi B and Offset just love giving gifts to each other
Funny enough, Billboard said that, on the night of the surprise, Cardi B was going to surprise him with a gift of her own. It wasn't as lavish of a gift as a Lamborghini SUV, but it was still a thoughtful gift. She had bought sneakers from Paris and she planned on surprising him with them but of course, he got to her first.
That said, iHeart reported that, while Offset's gift may have been a nice surprise, it wasn't perfect. Cardi B exchanged the Urus that she got as a gift for a different Lamborghini, though it was just as expensive as the one he gave her.
On top of that, after she got the Urus from him, iHeart said that she told him, "Bro we have enough cars." Offset agreed, but then Cardi B said that he got himself another car as a gift to himself.