Cardi B's Alleged Feud with Offset's Baby Mama Is Growing Serious
Join us as we dive into Cardi B's alleged feud with Offset's baby mama Shya L'amour.
Before the week of April 12, things seemed to be cool between Cardi B and Offset and his baby's mother Nicole Algarin (aka Shya L'amour). The rappers appeared to be active parents and L'amour praised both of them for their roles in raising her and Offset's daughter, Kalea, 5.
But after L'amour went to court for child support on April 14 and claimed that Offset had been providing "limited financial support" for their daughter, things hit the fan. The trio reportedly started going back and forth, with Cardi B allegedly even threatening to put her hands on L'amour.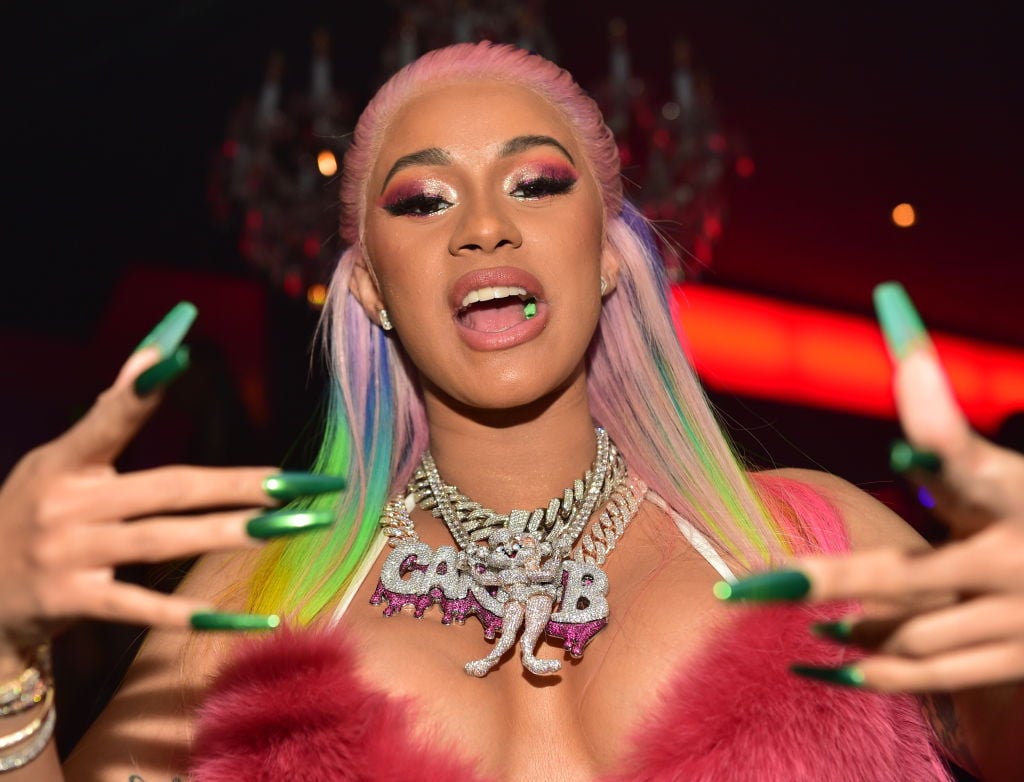 Inside the drama between Cardi B and Offset and Shya L'amour
Following the news of the court appearance, L'amour interviewed with the entertainment website OnSite and claimed that Offset had allegedly started to withhold support for Kalea after she refused to have sex with him.
It appears that Cardi B and Offset saw the video because L'amour claimed in a follow-up Instagram post that the rappers had gotten "disrespectful" with her.
Fed up, L'amour put Offset on blast and showed that he had allegedly still been pursuing her while married to Cardi B.
"I was going to refrain from posting but him and his h*e too disrespectful after I've been trying to be cordial and empathetic," she captioned a screenshot of an alleged text thread between her and Offset. "I found out same time the world did that they was married and he been cut off since then!"
The texts date back to June 2018 when Cardi B and Offset were newlyweds and expecting a baby. They allegedly show the Father of 4 rapper repeatedly asking L'amour for sex.
"Can I have it one more last time?" one text read. "Wya. Wya. Wya. I'm not asking again cuz if I ignore u. Bro if I ignore u I gone cry," he allegedly said in follow-up texts.
L'amour said in her response that she was not interested in having a romantic relationship with a married man and that Offset should only be texting her about matters related to Kalea.
Shya L'amour shares Cardi B's alleged reaction to the text thread
L'amour said in a later video posted to social media that Cardi B had allegedly threatened to slap her after seeing the post.
"Y'all think that I didn't try to talk this woman privately?" she asked viewers, referencing the Grammy-winning star. "I came to her privately and respectfully and she still come with the disrespect talking about she gonna smack me. This is your second time threatening me. I'm done trying to save face for motherf*ckers who don't give a f*ck about me. And they disrespectful and stupid bro…It's like talking to a f*ckin' wall, man, these people slow."
In the caption, L'amour made it clear that this issue has become more about Cardi B than it is with Offset.
"This ain't got nothing to do with him or our differences that will be settled in court! This is about my respect period," the caption said in part. "I let y'all slide for too long… you was literally begging and blowing up my phone to see receipts of 2018 so I showed you."
Neither Cardi B or Offset has directly commented on the drama, at the time of this writing.
Offset has been accused of cheating in the past
In fact, Cardi B announced that she had split from Offset in December 2018 amid rumors that he'd cheated on her. But the separation only lasted a couple of months.
Speaking about the reason she took him back, Cardi B told Vogue for its January 2020 that she came to realize how much she loved him and how Offset had simply made a mistake. However, speculation has continued.
In late March, Offset faced cheating rumors once again after he was allegedly seen hiding his phone from Cardi B during a livestream. Offset denied the rumors in a video posted to his Instagram Story, though, saying people were "making something out of nothing."
Hopefully, these three will all be able to find peace and move forward in the healthiest way possible.