Carol Burnett's Chat With Marlon Brando Had Her 'In Heaven and Hell at the Same Time'
Considered one of the funniest women in television, Carol Burnett has a long and storied career in entertainment. Gifted in musical theater, she became a Broadway star before settling into a new home on TV, eventually landing her popular variety show.
By the late '60s, The Carol Burnett Show allowed the multitalented actor to shine — and capture the attention of millions. Burnett counted Hollywood icons such as Lucille Ball and Joan Crawford as fans, and she also learned Marlon Brando admired her work. But her first encounter with the legendary actor hilariously had her "sweating" and "in hell."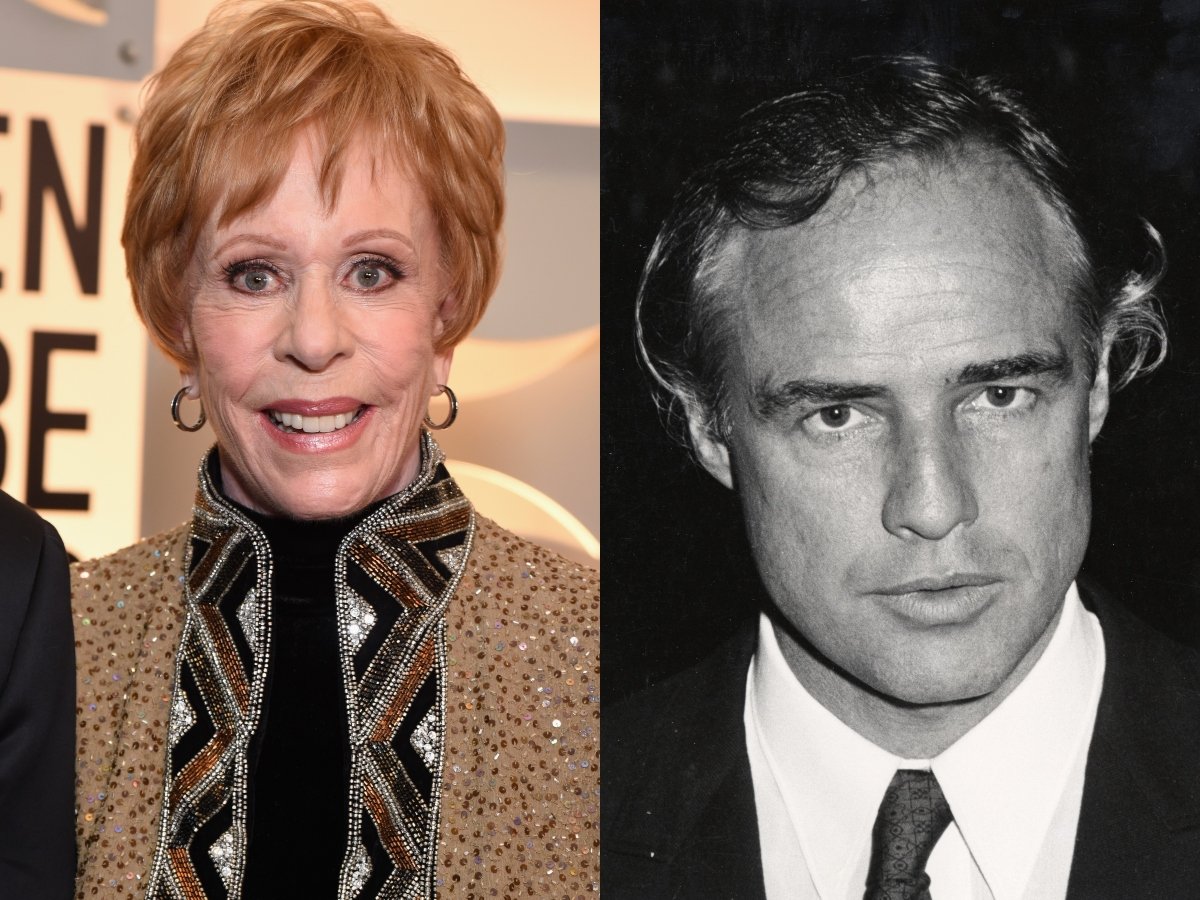 Carol Burnett received an unexpected phone call from Marlon Brando
Brando had a reputation for randomly calling other celebrities he'd never met. They'd get a kick out of it because they weren't sure how he obtained their contact information, and because they'd be shocked he knew about them. Such was the case with Burnett.
She recalled the moment in her memoir, This Time Together, when she received word Brando wanted to talk to her. Burnett was staying in New York during the '80s at the Wyndham Hotel, a place known for housing Broadway actors and its switchboard phone system that had one operator.
Burnett arrived back at the hotel after a day out and thought it was joke that she had a message from Marlon Brando to call him. She didn't know him! She went to her room and immediately placed the call.
Brando answered on the first ring and wanted to know where she got her chin done. "My chin?" she wrote. He explained he read about Burnett's experience in People and wanted the name of her doctor. His sister-in-law wanted to get a procedure.
Burnett relayed the information but was still in awe that she was talking to Brando. He kept talking. "Suddenly I got the urge to go to the bathroom. I gave him the necessary information," she wrote. "But I also had to pee."
Burnett's conversation continued … slowly
Brando asked Burnett about her TV show, asking genuine questions about her experience working on it, the costumes (like the one in her Went With the Wind bit), and comedy in general. They chatted away.
"I couldn't believe it. Marlon Brando was asking me about comedy technique," Burnett wrote. "I stood up and started pacing around the foot of the bed. By this time I was perspiring. My poor bladder was begging, pleading for relief," she recalled.
But she felt honored to be speaking with him and didn't want to hang up or drag the phone into the bathroom to go in secret. Burnett called the moment "gargantuan" and something to tell her grandchildren someday.
They soon started talking about their childhoods, and Burnett told Brando about the memoir she was writing, and he talked candidly about his life. She realized they'd been on the phone for over an hour.
"Here he was opening up to me, asking me all these questions, and I had to pee," she said. "The time passed slowly. I was in heaven and hell at the same time," Burnett jokingly wrote.
She finally worked up the nerve to wrap up the conversation but did so by telling Brando she was expecting a phone call from her daughter. He thanked her for speaking with him, and Burnett concluded their talk by saying, "Thank you! And I hope it works out with your sister-in-law's chin." She made it to the bathroom just in time.