Carrie Fisher Revealed That 'Alec Guinness Once Gave Mark Hamill 20 Pounds To Go Away'
Carrie Fisher once shared juicy behind-the-scenes gossip about Alec Guinness and Mark Hamill on the set of 'Star Wars.'
The late Star Wars Princess Carrie Fisher was jealous that Mark Hamill worked with Alec Guinness. So, she had to share a juicy piece of gossip about the two stars. In 2012, Fisher revealed that "Alec Guinness once gave Mark Hamill 20 pounds to go away."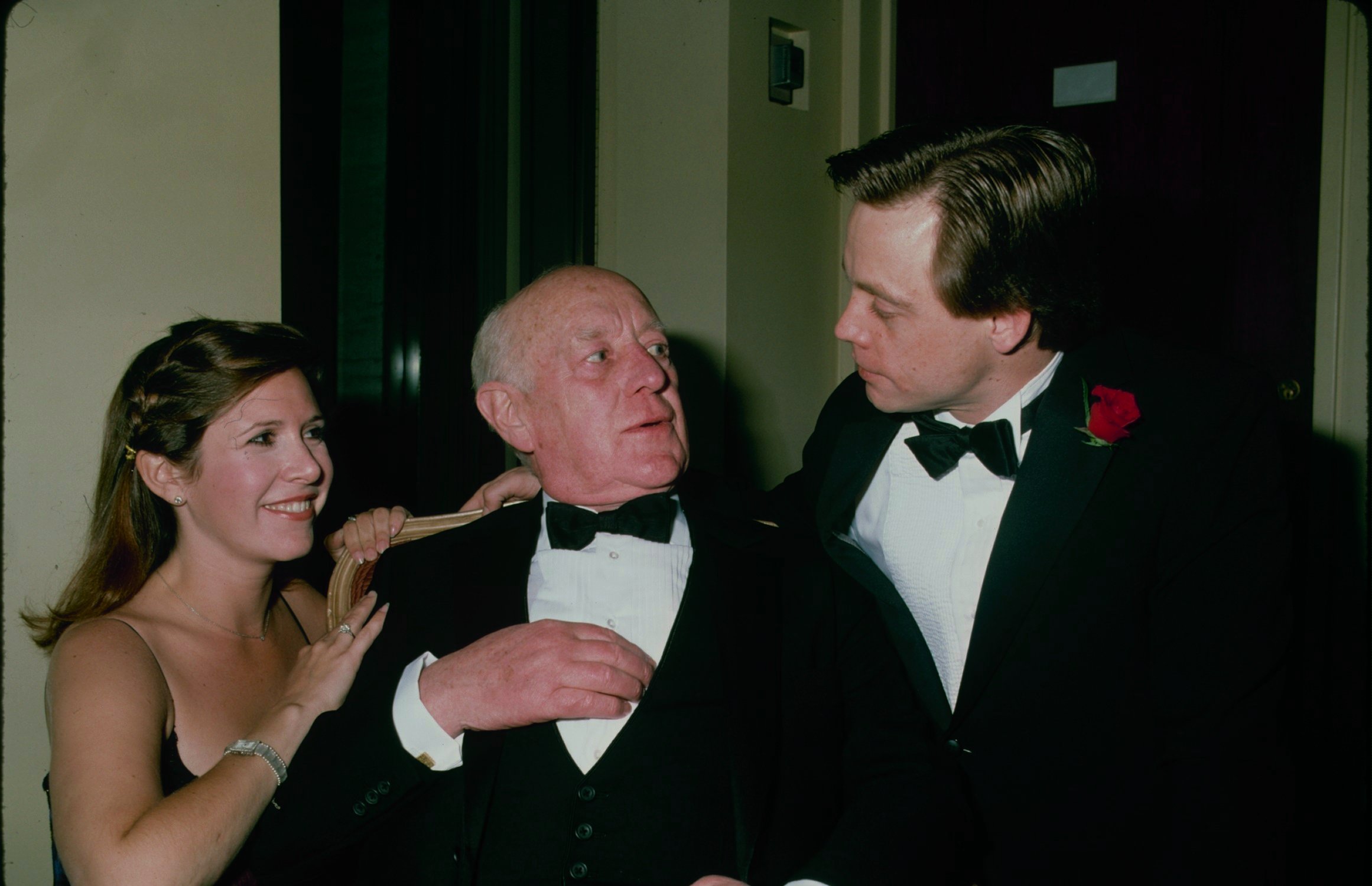 Carrie Fisher was jealous that Mark Hamill acted with Alec Guinness in 'Star Wars'
Although Princess Leia begs for Obi-Wan Kenobi to help her in Star Wars: A New Hope, she never met him in person. When Guinness portrayed Kenobi, he watched a holographic message from Leia. However, Fisher and Guinness never got the chance to act together in the same scene. The late actor always told her co-star, Hamill, that she was jealous of the time he spent with Guinness. 
"She was jealous that I got to work with Alec Guinness, and she didn't," Hamill told the panel at the 2017 tribute to Fisher's life.
While many actors got their big break by being a part of the Star Wars saga, Guinness already had a star in his name on the Hollywood Walk of Fame when he joined the cast. Many fans went to see the movie because Guinness was in it. Fisher was the daughter of famed actor Debbie Reynolds and singer Eddie Fisher. However, that didn't stop her from admiring other famous Hollywood icons like Guinness.
Fisher once shared juicy behind-the-scenes gossip about Hamill and Guinness
Fans loved the character Guinness portrayed —Ben "Obi-Wan" Kenobi — however, that didn't stop the late actor from calling Star Wars "fairy-tale rubbish." As it turns out, Guinness might have preferred to work with Fisher over Hamill. The late actor shared the dirt on her co-star in a 2012 interview with NPR.
"Alec Guinness once gave Mark Hamill 20 pounds to go away," she told the outlet.
She added that Hamill asked Guinness too many questions about acting and his career. So, the older actor paid him to shut up. 
"It became annoying because Mark was something of a film buff," Fisher explained. "So [Guinness] gave him the money to go away."
Hamill took the money, but not before he had Guinness sign it, Fisher joked. However, she took back the last part and admitted that Hamill didn't ask for an autograph; but he probably wanted to.
Alec Guinness negotiated the best salary for the first 'Star Wars' movie
Since Guinness was the most famed actor in the cast, he received a salary that matched his experience. He didn't have the highest salary for playing Obi-Wan, but he did negotiate 2.25 percent of the movie's profits. According to Celebrity Net Worth, that was nine times as much as most of the cast received. In 1977, he made about $3.3 million for his profits, and by the year 2000, it was around $85 million. He made plenty of money for the film he called "fairy-tale rubbish."