Carrie Fisher and Harrison Ford Partied All Night With the Rolling Stones Then Turned Up Still Drunk to Film 'The Empire Strikes Back'
Carrie Fisher and Harrison Ford partied hard in their 'Star Wars' days — learn more about their all-night party with The Rolling Stones.
Carrie Fisher and Harrison Ford had a whirlwind romance while filming the Star Wars movies. Regardless of their age gap and Ford's marital status, the pair carried on an affair for years fighting off any rumors of their potential hookup even when confronted by co-star Mark Hamill.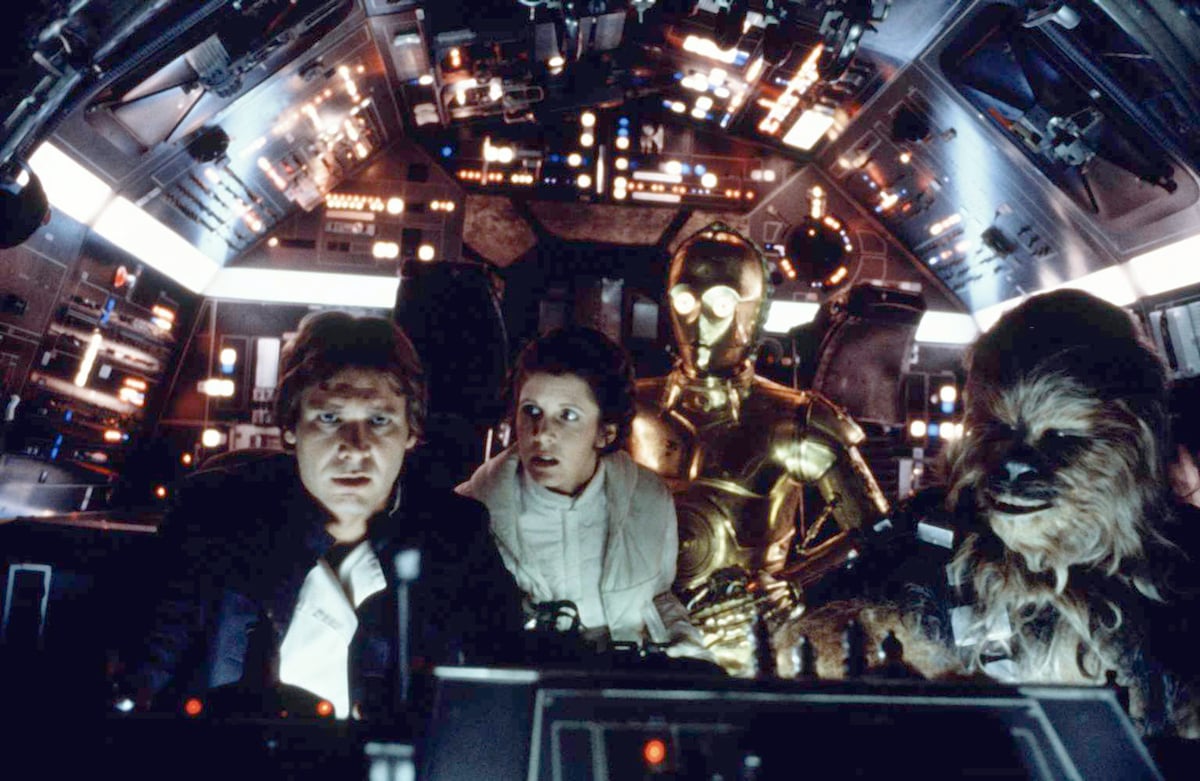 Still, Ford and Fisher seemingly had a good time together despite their ill-fated romance. One of their best moments included the actors partying with The Rolling Stones and arriving to work still drunk.
Fisher and Ford partied with The Rolling Stones
Celebrities usually have to deal with several rumors floating around about their personal lives. While some are true, others usually aren't, and it's generally up to the person to dispel said rumors. In 2015, Fisher sat down with The Daily Beast to talk about her time as Princess Leia and clear out some of the many stories about her time on Star Wars.
After clearing the air on beating out Meryl Streep for the role of Princess Leia Organa, the interviewer asked Fisher if the rumors were true about the drug-fueled party with The Rolling Stones. The star replied in the affirmative, saying,
"Yes, that one's true … I was renting Eric Idle's house for five months, and he was doing Monty Python down in Tunisia, and they had a drink that they would give to the extras to make them more compliant. And they called it the Tunisian Death Drink."
Fisher recalled getting a call from Idle asking her to join him, saying, "The Rolling Stones are here!" After joining Idle and realizing that all band members were present, Fisher decided to invite Ford to the meeting. "I called Harrison and said, 'Get over here! This is ridiculous!'" she recalled.
Fisher reminisced about the day, noting that she and Ford never went to sleep to avoid the possibility of waking up with a hangover. She recalled going to work on The Empire Strikes Back the following day still drunk, saying, "We don't really smile a lot in the movie, but there we're smiling."
Fisher and Ford had an intense, short-lived affair
Fisher and Ford began their affair when she was only nineteen years old, and although the tall Indiana Jones actor was smitten with her, he wasn't looking for something serious. The affair started when the then-married star suddenly began kissing Fisher in the back of his car. Instead of pulling away, Fisher gave in to her attraction for him.
Fisher detailed the affair in her memoir, The Princess Diarist, how she began to wonder whether the kiss meant something or if it would be a one-time fling. The actor got fascinated with her co-star, going as far as fantasizing about him leaving his wife for her.
Her obsession with him took an even deeper dive after she did an impression of him and made him laugh, something she was first to admit he wasn't known for. Fisher acknowledged that the moment was a potential game-changer for her as she hoped that it would make him realize that he wanted to marry her and they would stay together for a long time. The pair, however, ended things after three months.
Ford fed Fisher her lines in 'The Millenium Falcon'
Regardless of their tumultuous affair, the co-stars cared for each other. Entertainment IE recounts a scene in The Millennium Falcon where Ford is visibly mouth-prompting Fisher her line. The story behind Ford feeding Fisher her lines was that director Irvin Kirshner had threatened to fire Fisher if she fumbled her line one more time.
Another famous story that Fisher denied was that she has a visible cocaine nail in a scene in Return Of The Jedi. She, however, never dispelled rumors about her drug use during the shoot.