Carrie Fisher's Brother Says Motherhood Saved Her From an Early Death
Carrie Fisher was always transparent about her bipolar disorder diagnosis and her drug addiction. However, she never let that deter her from being an adoring mother to her daughter, actress Billie Lourd who was born in 1992.
Now, Fisher's brother, Todd Fisher, says he believes motherhood saved his late sister from an early death.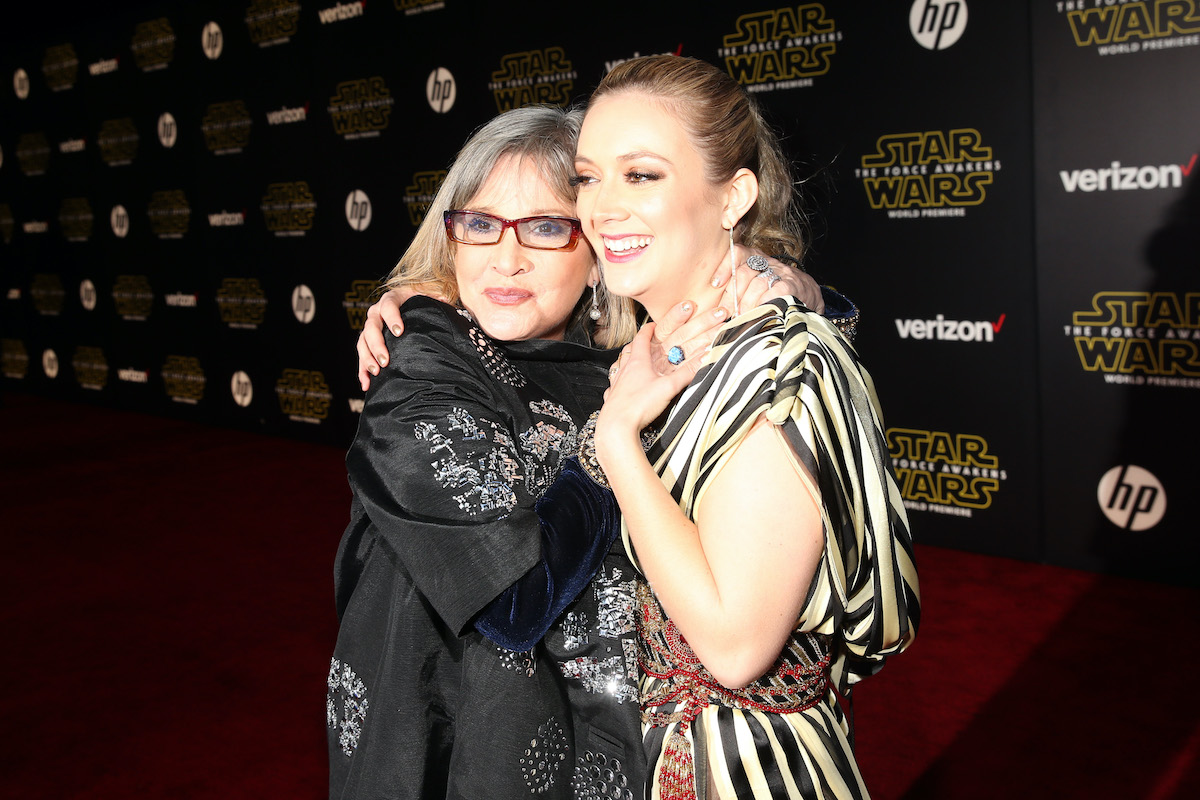 Carrie Fisher was always open about her mental health and drug addiction
The daughter of Hollywood legends Debbie Reynolds and Eddie Fisher, the Star Wars legend made a name for herself in Hollywood, but it was not without its cost. Throughout her life, Fisher discussed being sexually harassed in Hollywood.
She was also candid about her bipolar disorder and her drug addictions. "Drugs made me feel more normal," Fisher told Psychology Today in 2001 via LA Times. "They contained me."
Fisher was also always open about continuing to try and combat her addiction. "You can fight and fight and fight and fight and fight, and sometimes you lose," she said. "If anything, it shows how much pain and how much struggle she had that she had overcome for such a long time. … The end is really unfortunate, but all of the in-between is amazing."
Sadly, Fisher died in 2016 after she stopped breathing on an airplane. The coroner's report stated that she had alcohol, cocaine, heroin, and ecstasy in her system.
RELATED: Billie Lourd Is Engaged: Here's How She Met and Fell in Love With Her Fiancé, Austen Rydell
Carrie Fisher had one daughter and was a devoted mother
Fisher was never ashamed of her drug addiction or mental health status. She spoke about them openly to combat the stigma. She was also open about her past and current issues with her daughter.
Fisher and talent agent Bryan Lourd were committed to giving their daughter a normal upbringing, and Lourd stayed out of the spotlight for the majority of her childhood.
In fact, Lourd did not begin acting until she was in her early 20s, and she was offered a role in Ryan Murphy's Fox series, Scream Queens. Lourd has been open about how challenging it was to lose her mother and grandmother, Debbie Reynolds, within one of each other.
Carrie Fisher's brother says motherhood saved her
Fisher's brother, Todd Fisher, says he believes motherhood saved his sister from an early death.
"When Carrie became a mother, it grounded her very differently," he told Page Six. "Looking at Carrie, 'she's going to be a mother, holy mackerel, what is that going to be? But what really happened… obviously, Carrie was a unique mother, it's what kept Carrie with us. I think we would have lost Carrie long ago, long before it hadn't been for Billie."
Now that Lourd has welcomed her own child, a son, Todd says that his sister would've adored being a grandmother. He explained,
Carrie would have continued that. She obsessed over Billie. She shared with Billie herself and I think that would have continued. I mean look what happened to my mom she bought the house next door to Carrie to be close to Billie. Debbie and Carrie weren't even talking at the time. She would have bought the house next door so to speak.