Carrie Fisher Once Roasted George Lucas Calling Him a 'Sadist'
One person who didn't hold back when talking about the making of Star Wars is Carrie Fisher. She played Princess Leia and there were a few issues she had with her character. Fisher wasn't afraid to call out George Lucas for how he changed her life, and she once roasted him calling him a sadist.
George Lucas had strange rules for Carrie Fisher and 'Star Wars'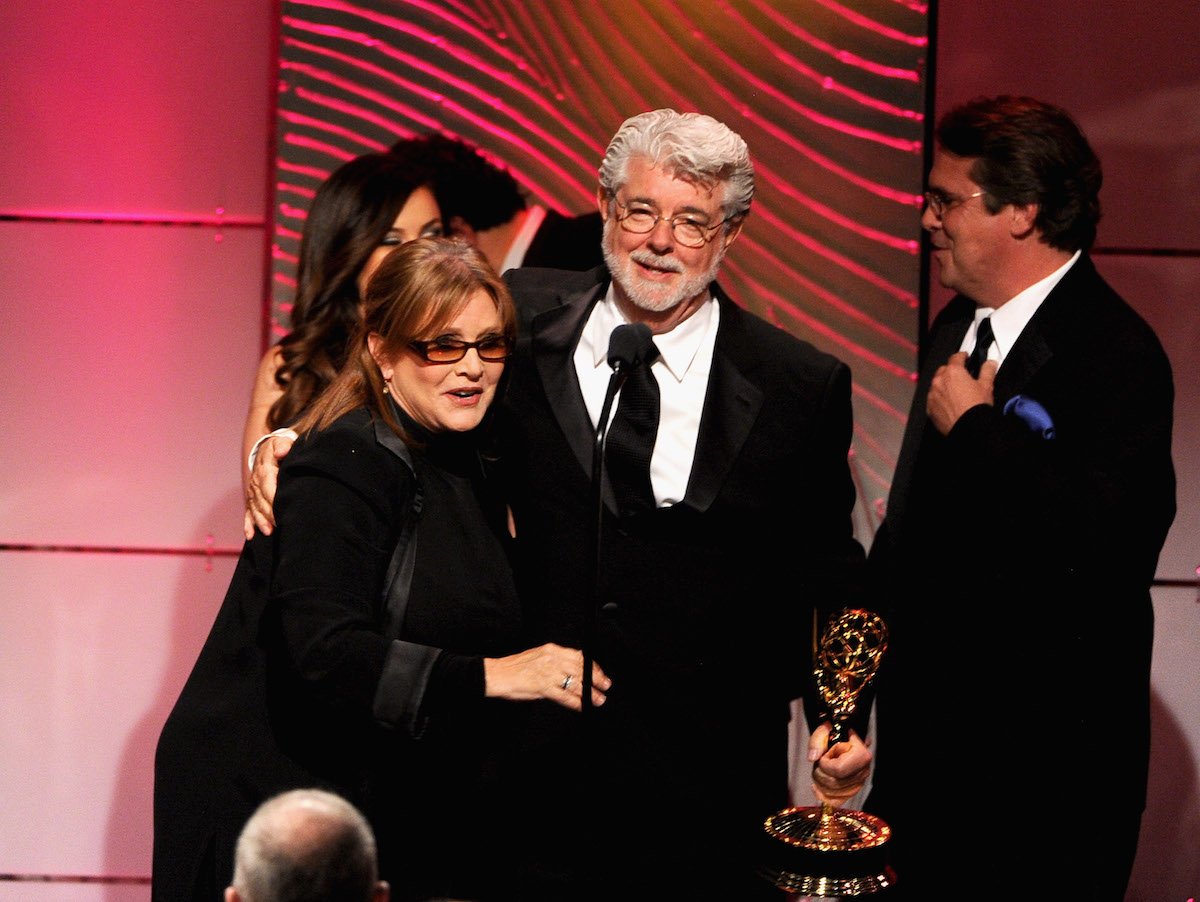 Lucas had the tough job of building a whole new universe with Star Wars. But he came up with strange rules in the process.
"So they put the dress on me the first day and bring me to George," Fisher said in her special, Wishful Drinking via LAD Bible. "He takes one look at me and he says, 'You can't wear a bra underneath that dress.' So I said, 'Why?' and he said, 'Because there's no underwear in space.' And the man said it with such conviction too."
That's not the only wardrobe decision she questioned. Fisher wasn't a fan of the metal bikini she wore in Return of the Jedi either.
"It was like, 'Where am I in all of this?' … I have to stay with the slug with the big tongue!" she told NPR. "Nearly naked, which is not a style choice for me. … It wasn't my choice."
She continued, "When [director George Lucas] showed me the outfit, I thought he was kidding and it made me very nervous. I had to sit very straight because I couldn't have lines on my sides, like little creases. No creases were allowed, so I had to sit very, very rigid straight."
She roasted him and called him a sadist
Fisher got to talk about Lucas when he was accepting his AFI Lifetime Achievement Award in 2005. The star let him have it when talking about how changed her life.
"Hi, I'm Mrs. Han Solo and I'm an alcoholic. I'm an alcoholic because George Lucas ruined my life and I mean that in the nicest possible way," she started her speech.
"George is a sadist," she later said. "But like any abused child wearing a metal bikini chained to a giant slug about to die, I keep coming back for more."
She later talked about how much her likeness has been used to create Star Wars products. Fisher joked that he's owned her likeness to the point where every time she looks in the mirror "she has to send him a check for a couple of bucks."
Fisher mentioned Natalie Portman, who played Padmé Amidala, probably was allowed to wear a bra and have different hairstyles unlike her. The whole speech was funny and biting just like Fisher.
The actor certainly had a sense of humor about the situation. But she wasn't afraid to talk about the decisions Lucas made that she didn't agree with and how it affected her life.