Carrie Fisher Reconciled With Paul Simon When She Was Engaged to This 'SNL' Star
Star Wars actor Carrie Fisher made headlines for her movies as well as her many romances. Becoming a famous face at just 19 years old, Fisher was born into Hollywood as the daughter of Debbie Reynolds and Eddie Fisher.
Her on-again, off-again relationship with ex-husband Paul Simon went on again in the early 1980s, even though she was engaged to this cast member of Saturday Night Live.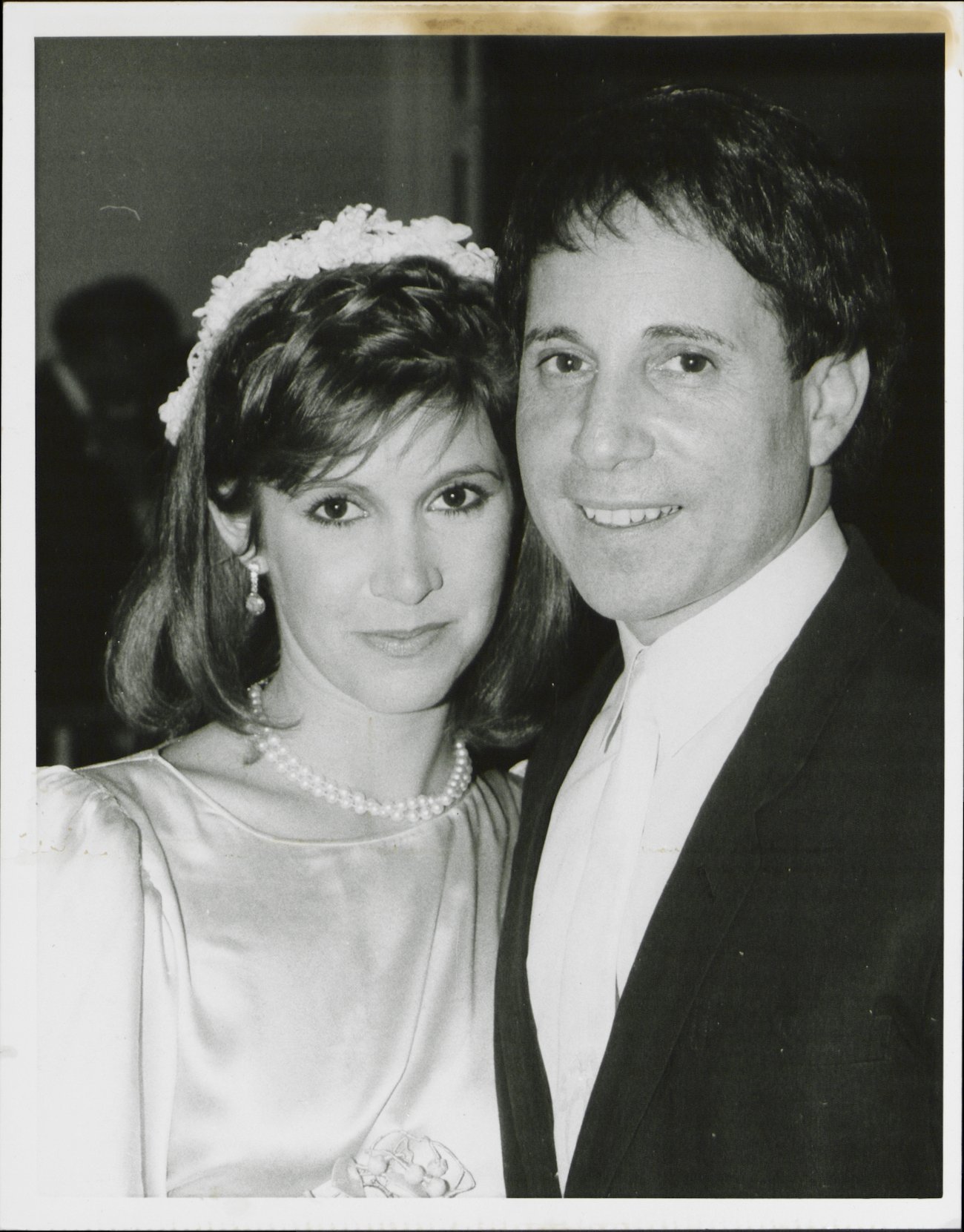 'Saturday Night Live' meeting started a romance
Following Fisher's death in December 2016, former Saturday Night Live star Dan Aykroyd recalled meeting the When Harry Met Sally star. Their relationship took a romantic turn when they worked together on the 1980 film Blues Brothers.
"I met Carrie at Saturday Night Live," Aykroyd wrote in tribute of Fisher for Empire magazine in 2017, according to the Chicago Tribune. "She and John Belushi became instant pals. I remember how much she made him laugh. Later, while filming Blues Brothers, Carrie and I fell in love, and during the shoot she moved in with me into a penthouse suite."
Aykroyd described the ring he presented to Fisher, who gave him a more unique gift in return.
"Contemplating marriage, I gave Carrie a sapphire ring," the Ghostbusters star shared. "Subsequently in the romance she gave me a Donald Roller Wilson oil painting of a monkey in a blue dress next to a tiny floating pencil, which I kept for years until it began to frighten my children."
Carrie Fisher describes Dan Aykroyd's proposal
In a 2008 interview, Fisher recalled a life-threatening incident prior to the SNL star's popping the question.
"On Blues Brothers, he proposed in the trailer on set," Fisher told the Chicago Tribune. "He was forcing me to eat because I was very thin in those days … and I inhaled a Brussels sprout, and I started choking. He thought I was laughing, and then he saw that I was dying, and he did the Heimlich maneuver, and then like 10 minutes later he asked me to marry him."
The heroic actions of Aykroyd played a part in Fisher's response to his proposal of marriage.
"I thought, 'I better marry him. What if that happens again?'" she revealed. "We had rings, we got blood tests, the whole shot. But then I got back together with Paul Simon."
Dan Aykroyd gave Carrie Fisher 'unwavering support' despite their breakup
Though Fisher left Aykroyd to go back to Simon, the Trading Places star had no hard feelings. The actor even witnessed several discussions between his fiancé and the musician.
"She had long conversations on the phone in my presence with Paul Simon, with whom she was attempting to reconcile at the time of my relationship with her," Aykroyd recalled, according to Entertainment Weekly. "Here I found myself in love with a woman who was returning to a former intimate, and might I say a much better choice. But a woman who confided deeply in me and who valued my counsel."
Despite Fisher's choice to reunite with Simon, Aykroyd treasured her friendship and continued to consider her an important part of his life.
"Throughout the process of her decision to not marry me and wed another," Aykroyd explained, "the reward for my unwavering support in whatever decision she wanted to do was the time I had with her as a trusted friend and fellow night hawk."
Fisher and Simon's marriage in 1983 soon ended in divorce. Aykroyd went on to marry actor Donna Dixon in 1983.