Carrie Fisher Said Ending Her Relationship With Paul Simon Was 'Very Painful': 'I Was More Than He Could Take'
Former Star Wars icon Carrie Fisher had a highly-publicized relationship with musician Paul Simon over the course of 12 years. Though their relationship went through several breakups and reconciliations, the two tied the knot in 1983 only to divorce two years later. 
Fisher had spoken highly of her ex-husband over the years, and even admitted she was not easy to have as a significant other.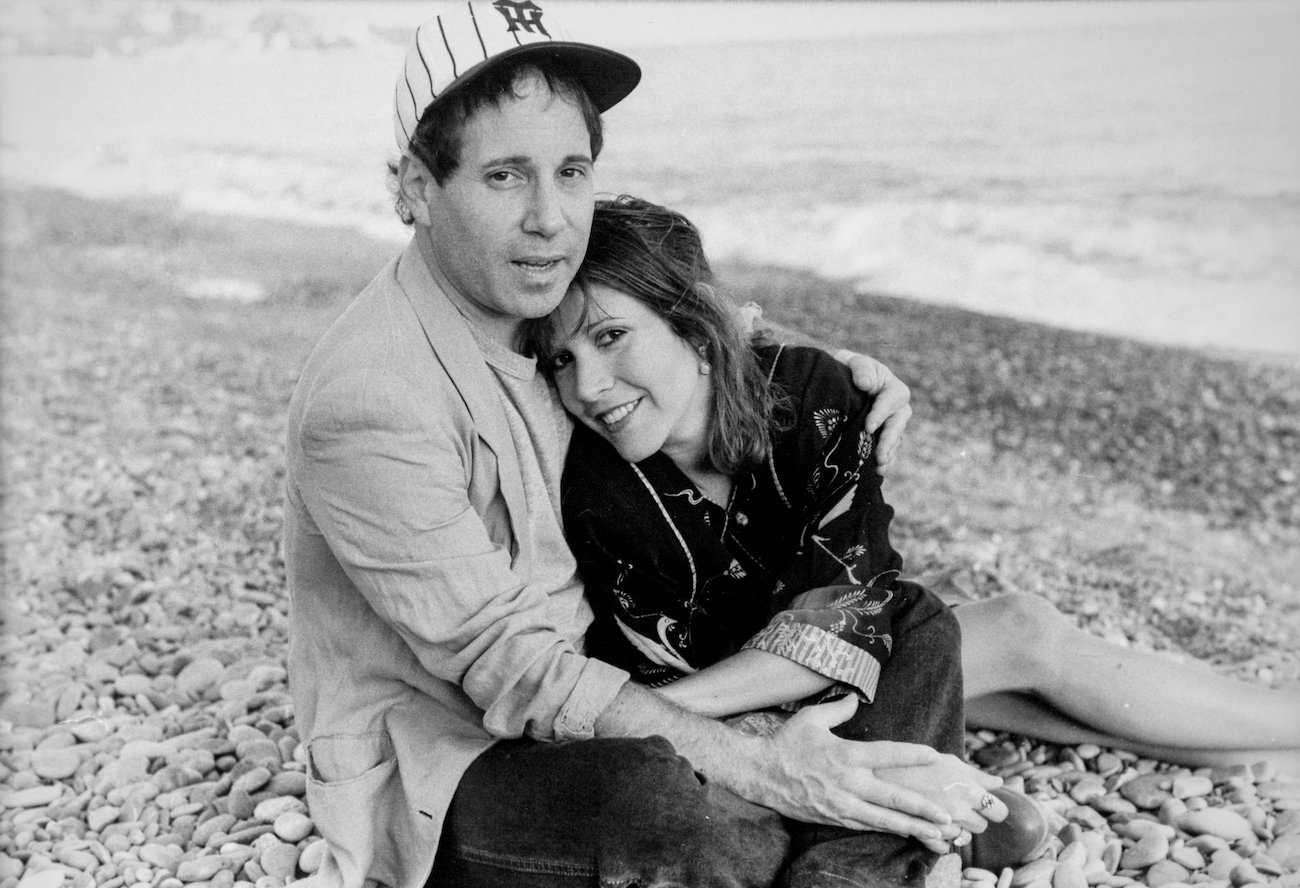 Paul Simon was Carrie Fisher's 'magic person'
In her book Wishful Drinking, Fisher described the Grammy-winning artist as a kindred spirit from the moment they were introduced.
"Years ago, there were tribes that roamed the earth, and every tribe had a magic person," she wrote. "Every so often, you meet a magic person, and every so often, you meet someone from your tribe. Which is how I felt when I met Paul Simon."
The two crossed paths in 1977 when Fisher was filming Star Wars, and the actor felt an immediate connection with Simon.
RELATED: Carrie Fisher's Family Lashes Out Against Controversial Book
"Paul and I had the secret handshake of shared sensibility," Fisher explained. "We understood each other perfectly. Obviously we didn't always agree, but we understood the terms of our disagreements."
'Star Wars' star and Paul Simon had a long history
Though they had a strong bond, Fisher and Simon maintained an on-again, off-again status during their entire relationship.
"Paul and I dated for six years, were married for two, divorced for one," Fisher recounted. "Then we had good memories of each other and so what do you think we did? No, we didn't remarry. We dated again. Which is exactly what you want to do after you've been married and divorced."
Fisher had been public about her substance abuse issues, but insisted that her addictions weren't the cause of their many breakups.
"It wasn't like that at all," Fisher told the Washington Post in 1987. "It was an issue, but it wasn't the issue. There are so many things that make a relationship go wrong."
Carrie Fisher considered herself 'more than he could take'
Later diagnosed with bipolar disorder, Fisher was able to understand her radically impulsive actions of her past. She admitted she presented Simon with some serious challenges in their relationship.
"Poor Paul," she wrote in her memoir. "He had to put up with a lot with me. I think ultimately I fell under the heading of: Good Anecdote, Bad Reality. I was really good for material, but when it came down to day-to-day living, I was more than he could take."
Still, the When Harry Met Sally star looked back fondly on their time together. Fisher even found humor in their arguments.
"It was great, but then it was very painful to not be able to make it work," she told the New York Times Magazine in 2012. "We had a good time together when we did. We had a similar sense of humor, and our fights were sometimes hilarious."
RELATED: 'Star Wars' Star Carrie Fisher Had Mixed Feelings on Her Affair With Harrison Ford: 'I Wouldn't Want to Live Through That Again, Ever'
Fisher recalled one of those spats in her book, describing a tiff that took place during a trip that was supposed to focus on romance.
"We once had a fight (on our honeymoon)," she wrote. "I said, 'Not only do I not like you, I don't like you personally!' We tried to keep the argument going after that but we were laughing too hard.
Fisher died in December 2016.