Carrie Fisher's '30 Rock' Episode Was a Dark Commentary on Her Hollywood Experience
It's easy to get caught up in the glamorous lives of celebrities and think that they have it made. We see the wealth, the fancy clothes, and the exclusive parties, but we don't always see the immense pressure that many celebrities face.
Women in Hollywood, in particular, face a lot of scrutiny over their appearance and the way they present themselves — a reality that can result in serious mental health issues. These days, many of the sexist practices of the industry have been brought to light, but stars who got their start in acting decades ago often had to suffer these unwanted comments and advances in silence. 
When Carrie Fisher, a woman who spent her life in the limelight, appeared on 30 Rock, she used the platform as an opportunity to shed some light on the worst parts of her Hollywood experience. 
Carrie Fisher is best known for portraying Princess Leia
Fisher had Hollywood in her blood. The daughter of Debbie Reynolds, a legendary actor known for roles like Singin' in the Rain, Fisher was born in 1956 and got her start in acting early with her first appearance in Debbie Reynolds and the Sound of Children, a 1969 TV movie.
Her first major role would completely change her life. She was cast as Princess Leia, a key part of the Star Wars franchise, in the 1977 film Star Wars: Episode IV — A New Hope. Several TV movies filled the space between that film and the 1980 release of its sequel, The Empire Strikes Back. In 1983, Fisher reprised the role for the third time in Return of the Jedi. 
Following the immense success of the Star Wars trilogy, Fisher's star was certainly on the rise. She had a steady if not particularly blockbuster career, often putting out multiple films in a single year. Unfortunately, her time in Hollywood was not always a positive experience.
Struggle punctuated Carrie Fisher's Hollywood career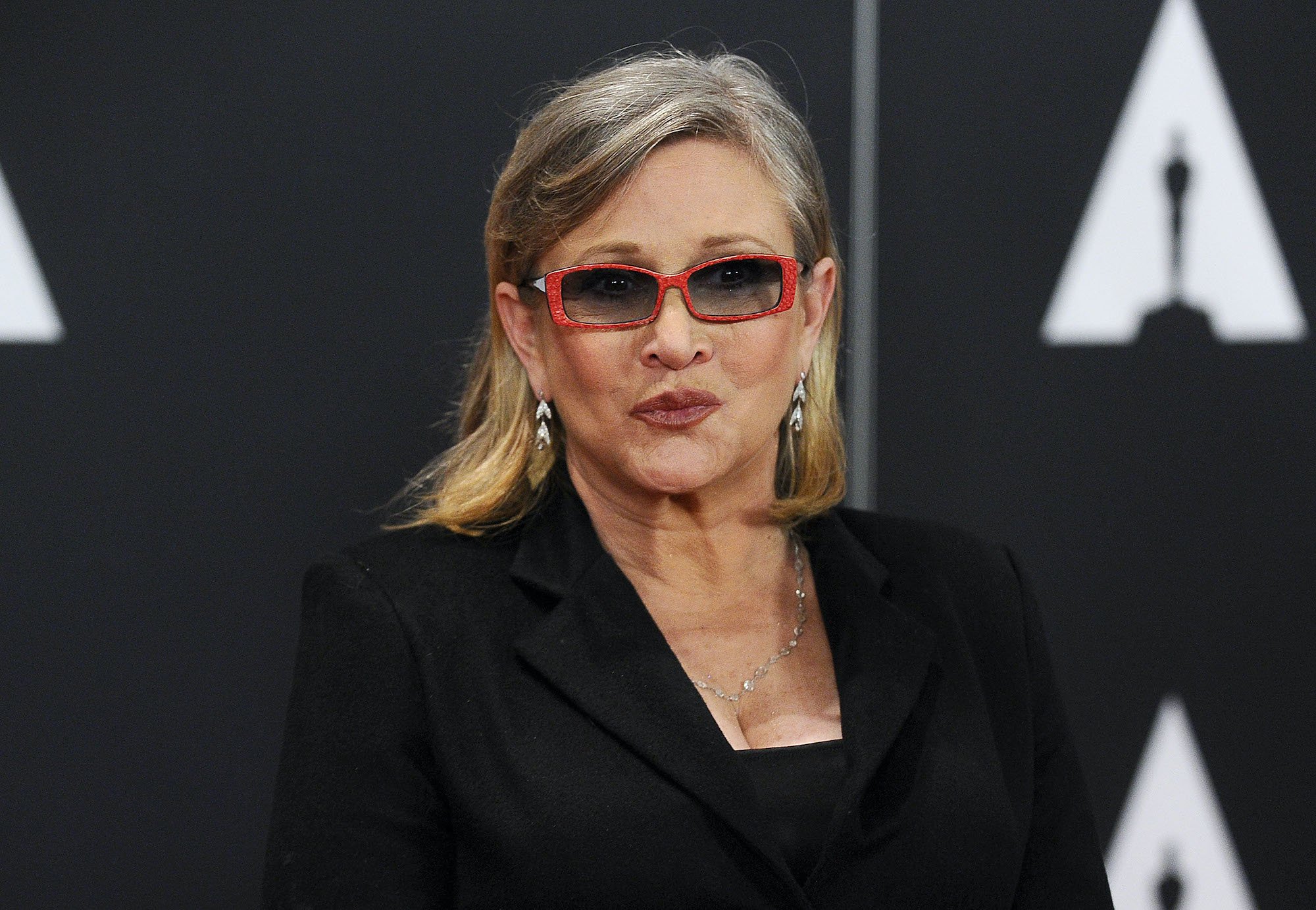 RELATED: Carrie Fisher Reconciled With Paul Simon When She Was Engaged to This 'SNL' Star
Fisher was only 19 years old when she began filming the Star Wars movies, and she fell into an unfortunate affair with co-star Harrison Ford. Even then, Fisher recognized that the relationship — which she characterized as deeply imbalanced — was a bad move.
Providing some potential insight into her self-described destructive ways with men, Fisher also recounted a tale of her mother offering to watch Fisher have sex with a much older man to "give instruction" — when Fisher was just 15 years old. 
Eventually, Fisher would be diagnosed with bipolar disorder and suffer from drug addiction — afflictions that she always talked about openly and honestly. "You can fight and fight and fight and fight and fight, and sometimes you lose," Fisher once explained of her struggles. When Fisher died in 2016 after she stopped breathing on an airplane, the coroner report detailed alcohol, cocaine, ecstasy, and heroin in her system.
Carrie Fisher used her '30 Rock' appearance to make a point
Throughout her life, Fisher was known for speaking her mind, and she certainly used her appearance on the sitcom 30 Rock to make a statement. Fisher appeared the fourth episode of Season 2 as Rosemary, a feminist comedy writer.
Liz Lemon (played by the show's creator Tina Fey) idolizes Rosemary, but the fictional writer's edgy ideas wouldn't fly on the set of the sketch comedy show Liz runs. Liz sides with her idol until she sees the writer's rat-infested apartment and realizes she doesn't want to follow in her footsteps after all. 
As Constance Grady writes for Vox, "Fisher's performance is both riotous and multilayered. She's nicely acerbic and flinty as Rosemary, with a wide-eyed idealism that becomes increasingly desperate as the episode goes on." Fisher carried into the performance the baggage of her time in Hollywood: "It's nearly impossible to look at Carrie Fisher without seeing Princess Leia, without knowing that Fisher is someone whom Hollywood tried to chew up and spit out in the same way it does with all of its favorite young women." 
The fictional character of Rosemary is able to comment on Fisher's real-life experience of being used up and then discarded by a Hollywood that frequently only wanted women when they were young and attractive. Fisher, just like her fictional character on 30 Rock, became a writer to tell her own story and set the record straight.