Carrie Fisher's Biggest Career Regret Is Giving Up Her Likeness for Free at 19
The customary royalty for actors merchandising their likeness is around 5 percent. Carrie Fisher reportedly made nothing, although one resource reports that she made a quarter of a percent. Perhaps she didn't know any better when she signed the contract to play Princess Leia Organa in director George Lucas' Star Wars (1977). She certainly didn't have the foresight to know that the role would make her an icon before she hit the drinking age. Merchandising a star's likeness definitely didn't carry the same weight in 1977 as it does in today's multi-million dollar toy and endorsement worlds.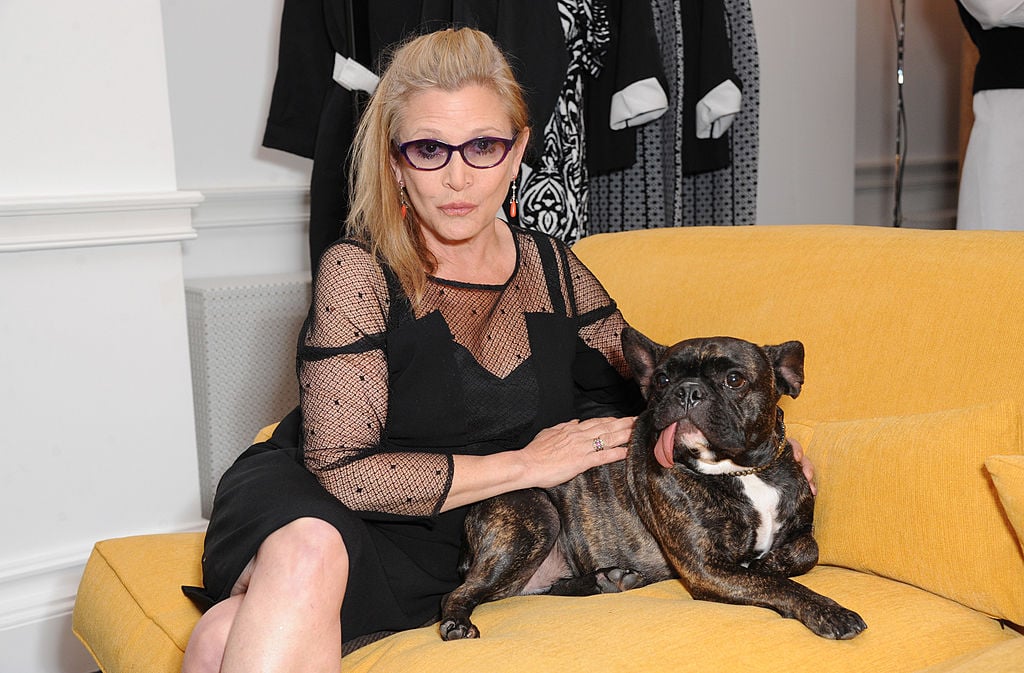 Regretfully young and naivé
Selling your "likeness" refers to an image of the person whether in a photo of a drawing, and the image doesn't need to be exactly how the person looks, or even show his or her face, according to Digital Media Law Project. A celebrity's likeness can be used for anything from parody to products, to advertisements and more, and typically the use of someone's likeness comes with them getting some sort of compensation. But that wasn't the case for Carrie Fisher.
Did Fisher regret her naiveté? Yes, much later as she realized that she signed away her likeness for free when she was 19. It wasn't until she reprised her role as Leia in Star Wars: Episode VIII–The Last Jedi that she cashed in on the iconic role for a cool $2 million. Still, she roasted Lucas at his 2005 ceremony celebrating his lifelong achievement award, "I signed my likeness away. Every time I look in the mirror, I have to send Lucas a couple of bucks," according to Mental Floss. 
Carrie Fisher's no holds barred life
According to Biography, Carrie Frances Fisher was born October 21, 1956, in Burbank, California, to 1950's crooner Eddie Fisher, and actor and singer Debbie Reynolds. Fisher was just two years old when her dad scandalously left Reynolds to marry Elizabeth Taylor. Her parents' breakup put a strain on her relationship with her father. As the years passed, Fisher attempted to spend time with her working mother. According to Fisher, quoted in Vanity Fair, the day after her death in 2016, her mom "belonged to the world" and "I didn't want to share" her. The day the article came out–December 28, 2016–was the day Debbie Reynolds died from a stroke before she could bury her daughter.
Fisher's relationship with her mother was extremely close, so close in fact they lived next door to each other. But that relationship developed through years of angst, rebellion, drug abuse, and mental illness. Fisher was diagnosed as bipolar in her early twenties which led to a lifetime of sardonic wit and tell-all books advocating to live life despite addiction and depression. Fisher's no holds barred life was the byproduct of superstardom that began the day she was born to famous parents, to the saga of her life and death that no Star Wars merchandising could have begun to predict.
The Fisher Queen prevails
Despite Carrie Fisher's nearly 100 forays into the movie world over the span of 4 decades, her first love was writing and reading books. She was the first to say that writing was cathartic. If the days of regret for giving up her likeness at age 19 still haunted her, Fisher made up for it in book sales over the course of her lifetime. Her most famous book, the semi-autobiographical "Postcards from the Edge," was made into a movie starring Meryl Streep in 1990 and was nominated for two Academy Awards.
By the time of Return of the Jedi (1983) most of the original cast was making hundreds of thousands for their reprisals. Lucas negotiated full rights to the merchandising of all 9 Star Wars movies early on. In 2015, it was estimated that he made $5 billion for that deal, according to Business Insider. That would easily make for Fisher's greatest career regret–for a while anyway. At the time of her death, Fisher was worth a tidy $25 million. Not bad for a teenager signing her likeness away.