Carrie Fisher's Prized Possession Was the Giant Prozac Pill Used as Her Urn
Carrie Fisher has left behind quite a legacy. While many people primarily remember her for playing Princess Leia and going down in pop culture history as one of the most famous and memorialized characters in history, the rest of her time in Hollywood has left an indelible mark as well. Fisher was a vocal proponent for eliminating sexism in the industry as well as an honest representative of her own personal struggles.
She is also remembered as someone with a knack for biting commentary that was at once brutally straightforward and shockingly funny. Perhaps, with her transparency about her own mental health struggles and her love of a good joke, it shouldn't surprise us that her final resting place was a giant Prozac pill that also happened to be a prized possession.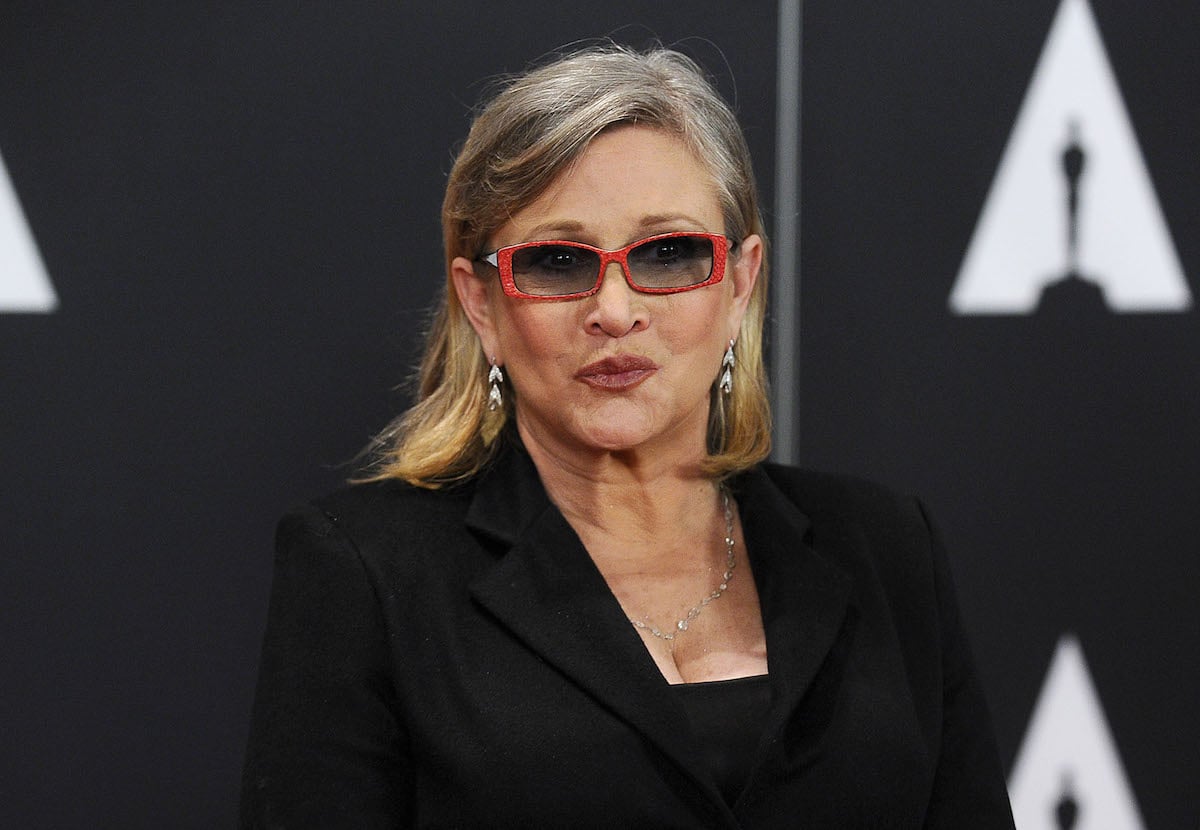 Carrie Fisher rose to fame as Princess Leia
Fisher was born in 1956, and entertaining was in her blood from day one. As Biography.com reports, Fisher was the daughter of singer Eddie Fisher and actor Debbie Reynolds and earned yet another famous (step)parent when her father left her mother to wed Elizabeth Taylor.
With the trappings of Hollywood all around her, it's perhaps no surprise that Fisher found her way into show business at the age of 15. She appeared in the Broadway play Irene, which starred her mother. 
Her film debut was in 1975 (in Shampoo), but it was 1977's Star Wars that turned her into a megastar. Playing alongside Harrison Ford and Mark Hamill, Fisher portrayed Princess Leia and became one of the most recognizable figures in the explosive Star Wars franchise.
This role defined her career and launched her into success, but it also hinted at the darker side of the industry and foreshadowed her struggles to come. Fisher remembered hating her iconic gold bikini costume, stating the only redeeming element was that she got to kill the villainous Jabba who had kept her prisoner. 
Struggles with addiction marred Carrie Fisher's fame
Shortly after her success from the Star Wars films, Fisher spiraled. Beginning in the early-to-mid-1980's, her life became marked with drug addiction and depression, creating a cycle she struggled to escape.
During this time, Fisher also became estranged from Reynolds, frustrated that she was living in her famous mother's larger-than-life shadow and feeling unable to make a name for herself on her own. Fisher went to rehab for the first time in 1985, but it wouldn't be the last. 
In 1987, Fisher published the book Postcards from the Edge. Here, she put her own story into words with a semi-autobiographical account of a famous mother-daughter duo. That work marked a turning point in Fisher's life, and soon after she saw success in multiple film roles.
Eventually, she landed her own interview show and then went on to steady work in television as well as working on scripts for many major film projects. Several other best-selling books based on her own life experiences dotted her achievements.
Then, of course, she reprised her famous role as Leia for the newer Star Wars trilogy. 
Carrie Fisher laid to rest in a giant Prozac pill
On December 23, 2016, Fisher was traveling from London to California when she suffered a massive heart attack. She died four days later on December 27 at an LA hospital.
Her daughter, Billie Lourd, made a statement on behalf of her mother: "She was loved by the world and she will be missed profoundly. Our entire family thanks you for your thoughts and prayers." Reynolds also put out a public statement about her daughter's life and legacy, and then — tragically and shockingly  — she suffered a stroke and died the following day while making funeral arrangements. 
That story is tragic and solemn, but Fisher's final resting place makes a nod to her more sarcastic and funny nature. Reynolds and Fisher were laid to rest in a private dual ceremony, and Fisher's cremated remains were placed into a giant Prozac pill urn. 
As Rolling Stone reports, the novelty item was something Fisher had purchased years before, and it was a beloved item that symbolized her openness about mental health. Todd Fisher, Carrie's brother, explained that he and Fisher's daughter knew it was the right choice: "Billie [Lourd] and I felt it was where she'd want to be."