Carrie Underwood Eats the Same Meals Before Every Performance
Find out what Carrie Underwood eats for breakfast, lunch, and dinner on the day of every performance.
Carrie Underwood's diet is a hot topic among fans who want to know what the musician eats to maintain her figure. Underwood incorporates a balanced diet into her day-to-day lifestyle, but she eats a special meal whenever she's going to perform. Find out what the Grammy-winning country artist eats on show days, plus get a glimpse at her daily diet.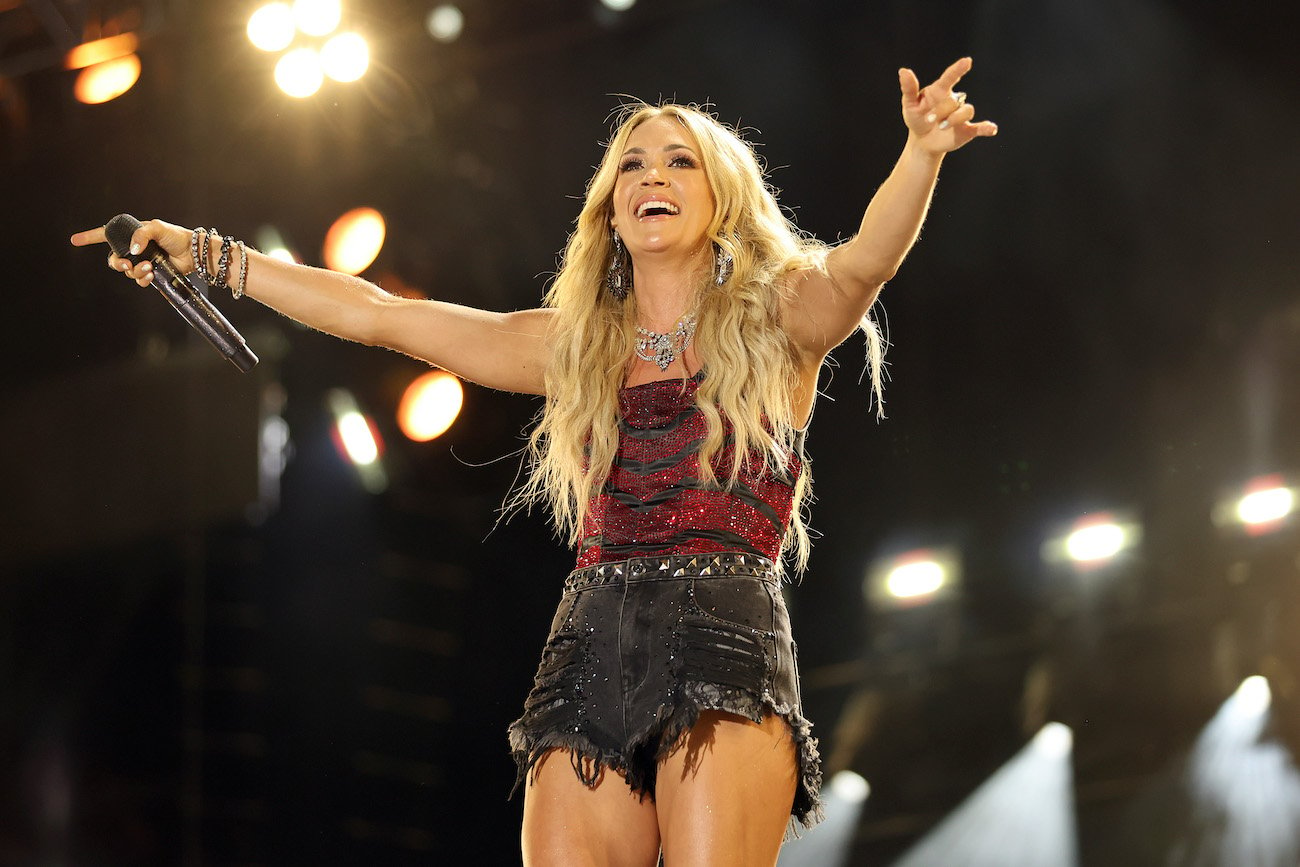 Carrie Underwood's diet is '95 percent Vegan' 
Underwood is a long-time vegetarian and actively avoids eating meat and by-products of meat. In 2012, she told Self she was "95 percent Vegan." 
Underwood explained: "My veganism is based on a concern about where my food is coming from. In my perfect world, I'd have webcams wherever food is processed so I'd know how clean it is."
As an animal lover, Underwood would like to have her own cows and chickens so she's never far from the cleanest eggs and cheese. Instead of meat, Underwood fuels up on vegetables, tofu, and vegetarian meat sandwiches. 
Carrie Underwood's performance day diet 
In an interview with Audacy Check-In, Underwood revealed that she eats the same thing every performance day. On the day of a show, the country music star will have a breakfast bar, hummus, and veggies with "tu-no," a vegan fish alternative, for lunch. Dinner consists of two scrambled eggs with avocado.
Why Carrie Underwood plans her meals out ahead of time 
In her book Find Your Path, the singer admits she doesn't know what it's like to feel full. "I don't really feel it," she writes. "I know I'm not the only one. Many of us just don't have that natural instinct."
Underwood elaborates: "There has always been a disconnect between my stomach-fullness sensors and my brain. I've never had that switch that's supposed to tell you when you're full. Some people just know when to stop. They know because their bodies tell them they've had enough. Not mine. If I ever say I'm full, it's because I know, objectively, that I am full based on how much I've eaten."
Underwood plans her meals and keeps track of them in a food journal to stay on track with her health and wellness goals. "I make a plan for how much food I'm going to put on my plate and eat at every meal and I stick to it," she writes. "Whether it's a slice of pizza or a half cup of Brussels sprouts, I am accountable, and you better believe I'm going to quantify it."
The 'American Idol' winner's diet wasn't always eat healthy 
As Underwood details in her book, fresh vegetables and healthy meals weren't always part of her lifestyle. In her childhood, Underwood and her family would have "fried Spam and shells-and-cheese from a box and call it dinner."
When she was growing up in Checotah, Oklahoma, potatoes were the vegetable of choice for Underwood's family. "We never had fresh vegetables—only canned or frozen—and not a lot of fruit," she writes in her book. "We had a lot of potatoes, but no fresh broccoli, no fresh corn on the cob."
Salads were also on the menu, but they included a lot of fatty toppings like ground beef, cheddar cheese, Fritos, and Thousand Island dressing. Today, Underwood's diet consists mainly of vegetables so she can maintain her super mom figure.