Carrie Underwood or Kelly Clarkson: Which 'American Idol' Has the Higher Net Worth?
Carrie Underwood and Kelly Clarkson both got their big breaks by winning 'American Idol,' but which of the powerhouse singers has the higher net worth?
Carrie Underwood and Kelly Clarkson both rose to fame after winning their respective seasons of American Idol, but which of the two singers has amassed the higher net worth since dominating the popular reality competition show?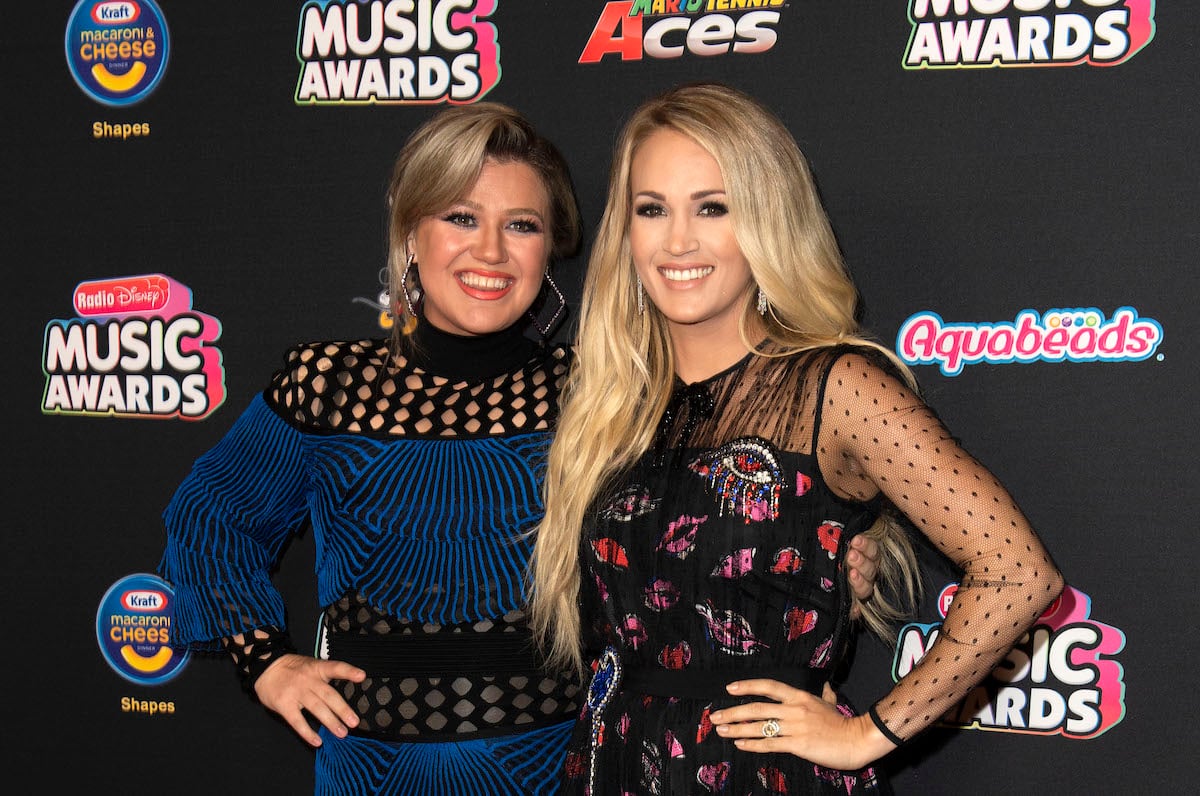 Kelly Clarkson net worth: $45 million
According to Celebrity Net Worth, Kelly Clarkson's total net worth is estimated to be $45 million. The singer, songwriter, and reality TV star started her path to fame and fortune by winning the premier season of American Idol.
After winning season 1 of American Idol at age 20, Clarkson was signed to RCA Records by show creator Simon Fuller. Her debut single, "A Moment Like This," reached no. 1 on the Billboard Hot 100 and was the top-selling single in the US in 2002. 
In 2003, Clarkson released her debut album, Thankful, which went double-platinum. For her second album, the singer cut ties with Fuller and found new management. She released her second album, Breakaway, which sold more than 12 million units worldwide. Clarkson released her third album, My December, in 2007, followed by her fourth album, All I Ever Wanted. 
In 2011, the American Idol star released her fifth album, Stronger, which won her a Grammy Award. She performed "The Star-Spangled Banner" at the 2012 Superbowl, and released a greatest hits album the same year. 
Besides being a prolific and accomplished musician, Clarkson has also made several film appearances. She starred in the 2003 movie From Justin to Kelly, and has voiced characters in the animated films The Star and Trolls World Tour. She also starred in her own show called The Kelly Clarkson Show. 
Clarkson has been a judge on The Voice for multiple seasons, making as much as $14 million per season. She released children's books in 2016 and 2017, and has expressed interest in publishing more in the future. 
Carrie Underwood net worth: $140 million
Although Kelly Clarkson's net worth of $45 million is impressive, Carrie Underwood blows her earnings out of the water. According to Celebrity Net Worth, Underwood is worth approximately $140 million. 
Like Clarkson, Underwood got her start by winning American Idol. The country star competed in season 4 of the show in 2005 when she was a 21-year-old college student from Checotah, Oklahoma.
After winning the reality competition show, Underwood set and broke several records in the music industry. Her 2005 debut album, Some Hearts, was an instant success with the hit singles "Before He Cheats" and "Jesus, Take the Wheel." Some Hearts won three Grammy Awards and is the best-selling solo female debut album in country music history. Underwood went on to produce several more successful studio albums, including Play On in 2009, Blown Away in 2012, Storyteller in 2015, and Cry Pretty in 2018. 
The musician has also generated a significant amount of income through endorsement deals. Underwood has partnered with brands like Target, Skeckers, Nintendo, Almay, and more. She started a fitness clothing brand with Dick's Sporting Goods called CALIA by Carrie Underwood, and she has a line of nail polishes with Nicole by OPI.
'American Idol' judge Simon Cowell predicted that Carrie Underwood would become more successful than all the other winners
While Carrie Underwood and Kelly Clarkson got their big breaks on the same show, one American Idol judge predicted that Underwood would become a greater success than any other winner of the reality competition series. 
After Underwood sang "Alone" by Heart on season 4, judge Simon Cowell made a prediction about the singer that turned out to be shockingly accurate. Following her performance, Cowell said, "You're not just the girl to beat, you're the person to beat. I will make a prediction: Not only will you win this show, you will sell more records than any other previous Idol winner."
Cowell reminded Underwood of his prediction in 2018 when she received a star on the Hollywood Walk of Fame. 
"30 seconds ago, I was remembering that moment in 2004, St. Louis … we were having the worst American Idol season I have ever had in my life," Cowell said in his speech. "The whole show was in what I call gray and white. It was nothing. And then, this shy lady walks in and sings, 'I Can't Make You Love Me,' and the show turned into full color at that point."
He added, "I think it was after you sang 'Alone' that I made a prediction that you would become the best-selling Idol winner, which you are."