Carrie Underwood Thinks There Is 'Stiff Competition' Every Year at the Grammy Awards
The 2023 Grammy Awards will take place on Feb. 5. Country artist Carrie Underwood has won eight Grammy Awards throughout her career, and she won her most recent Grammy Award at the 2022 award show. In an interview with Stage Right Secrets, the singer shared that she thinks each year at the Grammy Awards is a competitive year.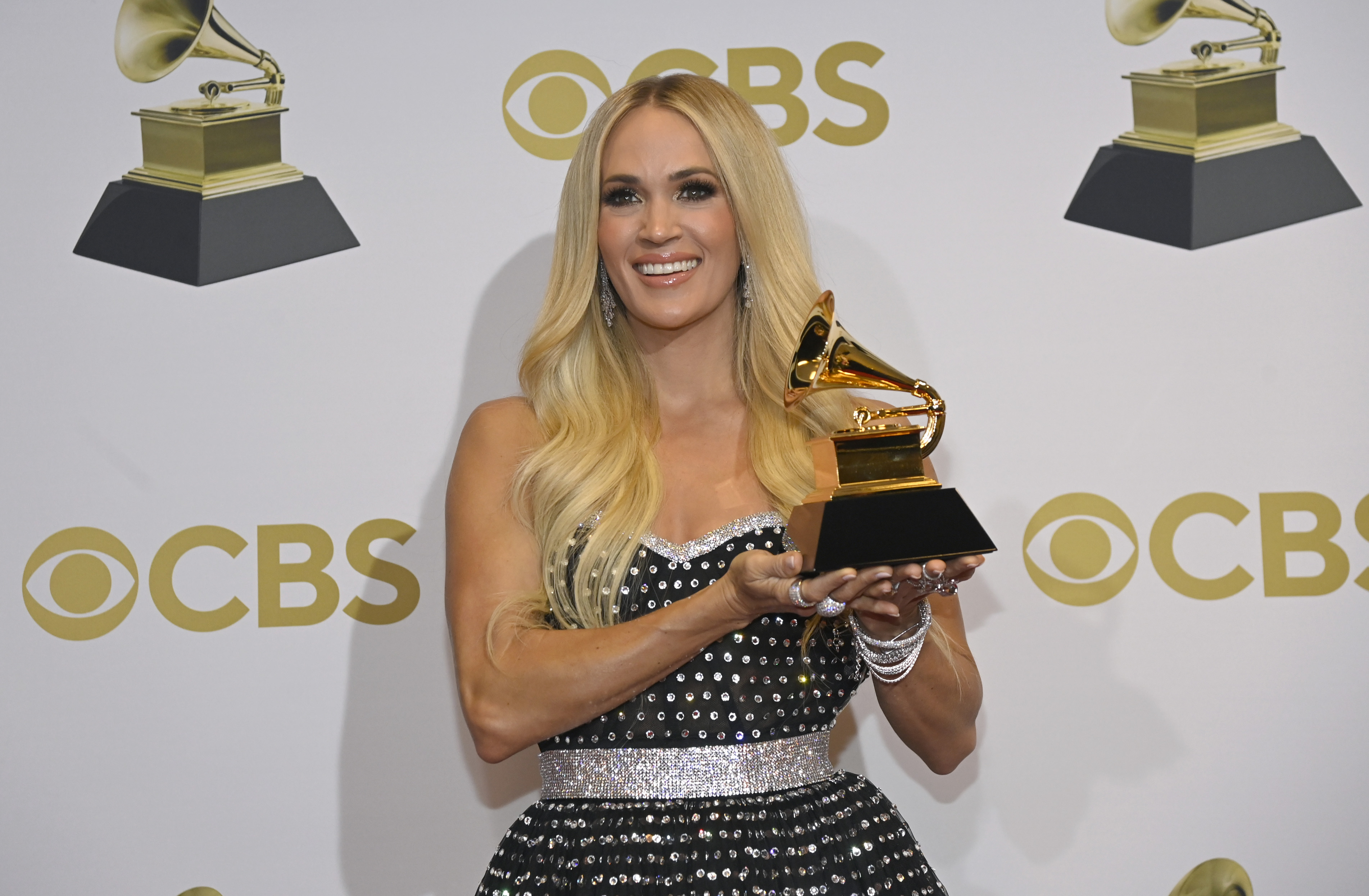 Carrie Underwood thinks the Grammy Awards have 'stiff competition'
At the 2022 Grammy Awards, Underwood was nominated for Best Roots Gospel Album for My Savior and Best Country/Duo Group Performance for the song "If I Didn't Love You" with Jason Aldean.
Underwood took home the award for Best Roots Gospel Album. A few days before the 2022 Grammy Awards took place, Underwood was interviewed by Stage Right Secrets.
"The thing that makes the Grammys and the nominations so special is that you're being recognized by your peers. There's a lot of really stiff competition in all the categories because it covers such a wide range of people. Even within a genre. It's definitely an honor when you're nominated," Underwood said.
At the 2022 Grammy Awards, Underwood also performed her song "Ghost Story." Speaking with Stage Right Secrets, Underwood shared it is an honor for artists to be asked to perform.
"There are so many incredibly talented musical acts in so many different genres of music. Only a select few actually get to perform on the stage. Even if they're nominated for multiple ones per night," said Underwood.
The singer was not nominated at the 2023 Grammy Awards
Underwood released her ninth studio album Denim & Rhinestones in June 2022. While Denim & Rhinestones was released within the eligibility period, Underwood did not receive any nominations for the 2023 Grammy Awards.
Underwood winning an award at the 2022 ceremony and not being nominated the next year shows just how competitive the Grammy Awards are.
In a 2022 interview with Rolling Stone, Underwood shared that her main purpose for creating Denim & Rhinestones was to "have fun."
"You never know with me. As an artist, it used to bug me that I didn't feel like I had a lane. Then one day I realized that's not a hindrance, that's an asset. Let's roll with it and use that. When we started making the album, David did say, 'What do you want?' I said, 'I want to have fun,'" Underwood told Rolling Stone.
The singer continued, "That was where I was at in my world. I wanted to have a good time and sing songs that made me happy and have a blast when I'm onstage."
Who is nominated in the country categories at the 2023 Grammy Awards?
This year, Miranda Lambert leads nominations in the country music categories with a nomination in each category. Nominees for the country categories at the 2023 Grammy Awards can be viewed below.
Best Country Solo Performance
"Heartfirst," Kelsea Ballerini
"Something In The Orange," Zach Bryan
"In His Arms," Miranda Lambert
"Circles Around This Town," Maren Morris
"Live Forever," Willie Nelson
Best Country Duo/Group Performance:
"Wishful Drinking," Ingrid Andress and Sam Hunt
"Midnight Rider's Prayer," Brothers Osborne
"Outrunnin' Your Memory," Luke Combs and Miranda Lambert
"Does He Love You – Revisited," Reba McEntire and Dolly Parton
"Never Wanted To Be That Girl," Carly Pearce and Ashley McBryde
"Going Where The Lonely Go," Robert Plant and Alison Krauss
Best Country Song:
"Circles Around This Town," Maren Morris (Songwriters: Ryan Hurd, Julia Michaels, Maren Morris, and Jimmy Robbins)
"Doin' This," Luke Combs (Songwriters: Luke Combs, Drew Parker, and Robert Williford)
"I Bet You Think About Me (Taylor's Version) (From The Vault)," Taylor Swift ft. Chris Stapleton (Songwriters: Lori McKenna and Taylor Swift)
"If I Was A Cowboy," Miranda Lambert (Songwriters: Jesse Frasure and Miranda Lambert)
"I'll Love You Till The Day I Die," Willie Nelson (Songwriters: Rodney Crowell and Chris Stapleton)
"'Til You Can't," Cody Johnson (Songwriters: Matt Rogers and Ben Stennis)
Best Country Album:
Growin' Up, Luke Combs
Palomino, Miranda Lambert
Ashley McBryde Presents: Lindeville, Ashley McBryde
Humble Quest, Maren Morris
A Beautiful Time, Willie Nelson
The complete list of nominations can be found here.