Carrie Underwood's Trainer Reveals Her Leg-Day Workout Routine
For her music career, Carrie Underwood puts on countless concerts through tours, festival appearances, and residencies. Touring is known to be strenuous for artists, and Underwood does her best to stay in shape. Here's a look at Underwood's leg-day workout routine.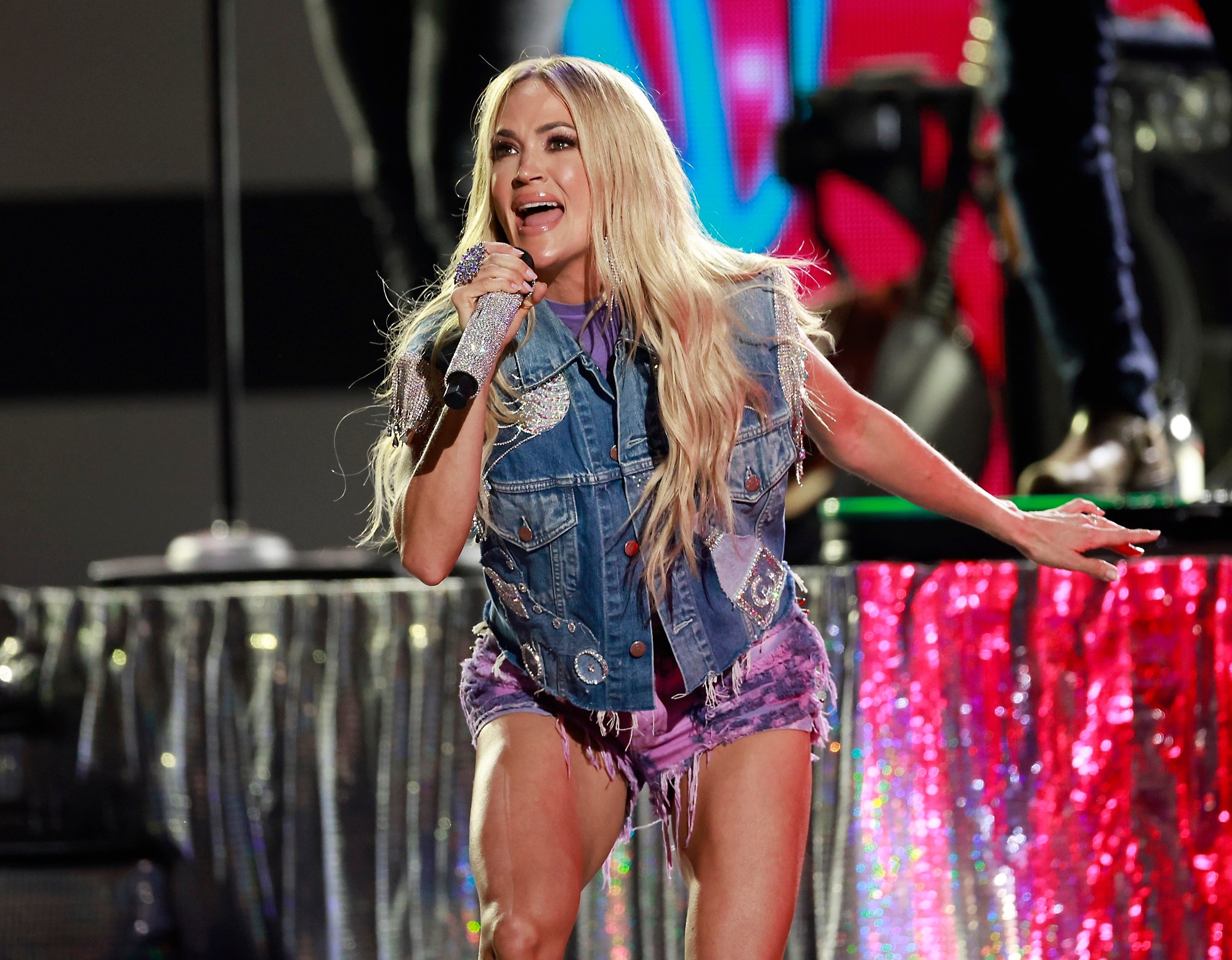 Carrie Underwood has an intense leg-day workout routine
In 2022, Underwood's trainer Eve Overland was interviewed by Shape. In the interview, Overland revealed how Underwood stays in shape. The trainer also revealed Underwood's exact workout routine on leg day. According to Shape, Underwood's leg-day routine consists of multiple exercises.
In the first superset, Underwood does "12 to 15 reps" of heel-elevated dumbbell squats, "10 reps on each side" of dumbbell cross-over step-ups, and "12 reps of each leg" of touchdowns. For the superset, Underwood repeats each exercise three times.
The singer then moves on to a second superset. For this portion of the workout, Underwood completes "12 to 15 reps" of dumbbell deficit sumo deadlifts, "10 reps on each leg" of Bosu dome-up bodyweight single-leg deadlifts, and "12 reps on each leg" of Bosu up and overs. Like the first superset, Underwood does three rounds of each exercise.
The third and final superset has three rounds of two exercises. The singer completes "8 to 10 reps on each leg" of single-leg dumbbell box squats to forward lunge combo and "12 reps on each side" of log hops.
Carrie Underwood works out with a trainer
According to Shape, Overland revealed that Underwood will work out "almost every day" including when she is traveling.
Overland told Shape, "Carrie understands that staying strong, mobile, and conditioned is so important in all aspects of her life, on and off the stage. Working out is self care and her me time."
While Underwood works out nearly every day, she does not work out her lower body every day. Instead, she completes a variety of exercises throughout the week.
"Each workout incorporates both upper-body as well as lower-body exercises," Overland told Shape. "Most commonly, we will work with opposing muscle groups, so she gets a lot of frequency with lower-body exercises without overworking it on any given day. This approach has contributed to her amazing strength as well as sculpted physique." 
The singer takes her health and performance seriously
In 2012, Underwood's website published excerpts from her interview with Nightline detailing Underwood's touring routine.
In addition to traveling with a personal trainer, Underwood also tries to eat healthily whenever possible.
"I bring pots and pans and little burners and things like that so I can cook food while I'm on the bus," she said according to her website. "I'm always buying groceries on my days off."
Years later, Overland confirmed that healthy living is still a priority for Underwood.
"Working out and staying healthy is just a way of life for Carrie. It is who she is, what she does," Overland told Shape.
Since releasing her 2022 album Denim & Rhinestones, Underwood has been putting on The Denim & Rhinestones Tour to support the album. The singer is also expected to resume her REFLECTION: The Las Vegas Residency in 2023.