Carrie Underwood's Music Video for 'Two Black Cadillacs' is Based on a Stephen King Novel
Carrie Underwood is a huge horror fan and loves Stephen King. So, when Underwood wrote a dark song, she had to consult the king of horror and his novels. "Two Black Cadillacs" tells the story of what happens to a man who's been lying to his wife and mistress. In the end, they kill him by running him over with a Cadillac. But is it them who killed him, or the car? The answer may lie with King.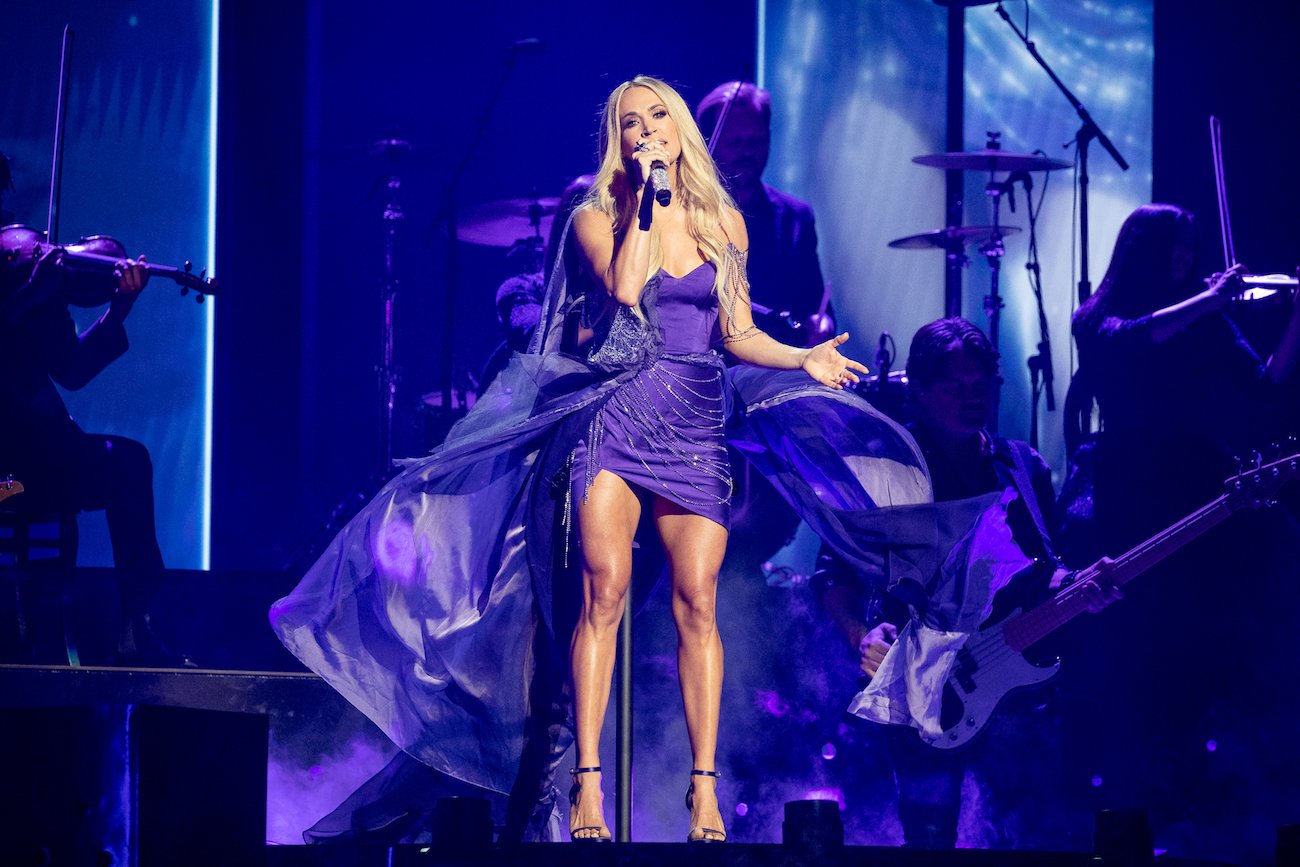 Carrie Underwood's lyrics for 'Two Black Cadillacs' came from a dark place
Sometimes, a songwriter has to go to a dark place to write a good song. That's exactly what Underwood did when she wrote 2012's "Two Black Cadillacs" with Hillary Lindsey and Josh Kear.
"It was the first time that the three of us had written a song together," Kear told Taste of Country. "I had written with both Carrie and Hillary separately, but never in this particular combination. You assume that it's going to work, but you never truly know.
"Carrie had told me in an earlier writing appointment that she was expecting this album to have darker tones than any of her earlier records. So I remember sitting at the piano while writing the song thinking that if Carrie really wanted something dark, this was what she was after."
The song's lyrics include, "Two black Cadillacs driving in a slow parade/ Headlights shining bright in the middle of the day/ One for his wife/ The other for the woman who loved him at night.
"Two months ago his wife called the number on his phone/ Turns out he been lying to both of them for oh so long/ They decided then he'd never get away with doing this to them/ Two black Cadillacs waiting for the right time, right time."
Kear continued, "Carrie really got into the story and making sure we didn't give away how the two women got rid of the man the song is about. This kind of song is really tricky because you need enough detail to tell the story and keep it interesting without it becoming so graphic that it's unpleasant to listen to more than once.
"I think we managed to pull that off. Either way, it was certainly fun choosing which elements of the story to put in and which ones to leave out."
Shooting the song's music video also seemed fun for the eight-time Grammy winner.
RELATED: Carrie Underwood Revealed The Reason She Almost Chickened Out on Doing 'American Idol'
Underwood based the music video for 'Two Black Cadillacs' on Stephen King's 'Christine'
The music video for "Two Black Cadillacs" is just as dark as its lyrics. While shooting it, Stephen King's 1983 novel Christine inspired Underwood.
In a behind-the-scenes featurette about the video, Underwood said, "I really don't know why I've always loved horror movies. But I know why I've always loved Stephen King. My mom was such a huge fan. I guarantee you she's read everything he's ever written. I would borrow her books and read her books. This is great reading material for, like, you know, a grade-schooler, right?"
The film adaptation of Christine followed shortly after the novel's release. The main character, Arnie Cunningham, buys a classic red and white 1958 Plymouth Fury named Christine, which is somehow possessed. It has feelings that start to have a negative impact on Arnie.
At the end of the music video, Underwood and her lover's mistress kill him by running him over with the Cadillac. Then, they walk away, and the car repairs itself like Christine. After his funeral, the women get in the Cadillac, and it drives them away.
"Before I knew 'Two Black Cadillacs' was going to be a single, I had this idea of a cool movie tie-in," Underwood continued. "If the car did the killing, because we never say how it happens, a la Christine, the Stephen King movie and book. I just thought that would be a cool little twist to the story."
Underwood even got permission from the famous novelist himself.
RELATED: Carrie Underwood Built a Mobile Gym to Bring On Tour
The singer reached out to King for his blessing
Underwood went straight to King himself to ask for his blessing since Christine inspired the video.
"I did reach out to ask if he might give his blessing, and I told him, 'I would never want to do this if you didn't sign off on it first,'" Underwood explained.
It must have been special receiving King's blessing considering how many movies and songs he's inspired. However, it must have been even more amazing when the Recording Industry Association of America (RIAA) certified "Two Black Cadillacs" 2× platinum. The song and its video were a commercial and critical success.
Maybe Underwood and King should collaborate.
RELATED: 'Before He Cheats' Was Not Written for Carrie Underwood: How the Smash Country Hit Ended Up in Her Hands