'Cash Cab' Host Ben Bailey Has 'No Problem' With Other People 'Shooting Shows in Cars': 'I Think It's Great'
Ben Bailey who hosts 'Cash Cab' says 'it's great' the game show led to other shows being filmed in cars. Bailey, a stand-up comedian, joked during an interview James Corden owes him big time for "Carpool Karaoke" segment.
Ben Bailey, the stand-up comedian and licensed cab driver who is known for hosting Cash Cab, doesn't mind all the shows on wheels that started popping up in the wake of the popular game show's debut.
Original run of 'Cash Cab' lasted 7 years 
Originally premiering in Dec. 2005 on the Discovery Channel, audiences couldn't get enough of Cash Cab's unique setting in the back of a New York City taxi. Over time, the program became a hit. Critics and audiences both responded well to the show, which resulted in Cash Cab receiving numerous accolades including five Daytime Emmy Awards.
Thanks to the show's popularity it ran from 2005 to 2012. Bailey quizzed contestants, asking them general knowledge questions for 11 seasons before the game show went off the air. After five year away, Cash Cab returned in 2017 with two new seasons. Now it's being revived yet again on Bravo, according to the show's Instagram account. New episodes are set to air in 2020 although an exact date hasn't been released. 
Ben Bailey jokes that James Corden's 'Carpool Karaoke' earnings belong to him
Not only does Bailey have some serious multitasking skills — he hosts a game show while simultaneously navigating New York City traffic — the 49-year-old jokes with contestants and is enthusiastic about every Red Light Challenge or cash cab double ride. Since the show's premiere, there's been a noticeable increase in other TV shows also set in cars. And Bailey thinks it has everything to do with Cash Cab.
During a Dec. 2017 interview with Entertainment Weekly that took place, where else but the show's set aka a minivan, Bailey answered some questions about Cash Cab.
When asked, "What percentage cut of "Carpool Karaoke" do you feel James Corden owes you?," Bailey didn't hesitate to jokingly say he deserves all the credit. "100 percent! Everything he's made should be mine!," he said with a laugh before adding, "I'm flattered."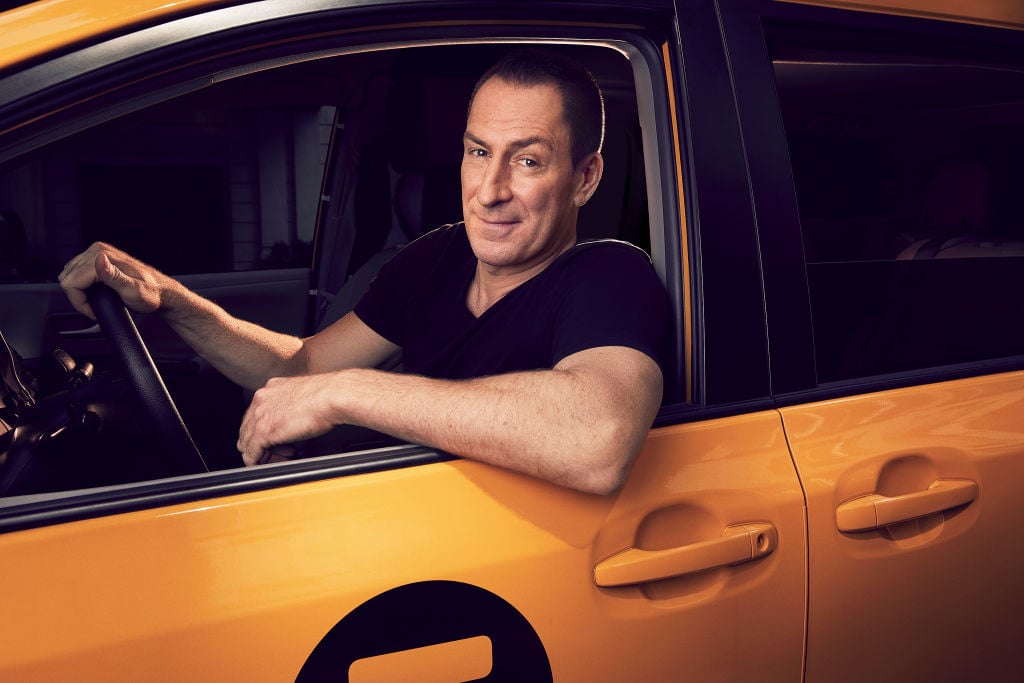 "Carpool Karaoke" is a recurring segment on The Late Late Show with James Corden, where Corden along with a performing artist, sing songs together. While Corden originally had trouble getting people to appear in the segment, it's now a fixture on late-night TV. 
Bailey also commented that to him it seemed Cash Cab ushered in a wave of TV shows based in cars. 
"It seems like Cash Cab sort of brought about this whole new genre of TV where people are shooting shows in cars," he said. "I don't want to name any others — Jerry Seinfeld — but I think it's great. I have no problem with it."
In 2012, Seinfeld who is a car enthusiast, debuted his own Netflix series called, Comedians in Cars Getting Coffee, which as the title suggests, is all about him and another comedian driving around in a car while sipping on coffee. A big success, the show has been on for 11 seasons.
James Corden got the idea for 'Carpool Karaoke' while writing for a BBC sitcom
Just because Corden's "Carpool Karaoke" came after Cash Cab doesn't necessarily mean the late-night host got the idea after watching the game show. During a 2016 appearance on The Late Show with Stephen Colbert, Corden shared the inspiration behind his hit segment, saying it all came about when he'd been writing for the BBC sitcom called Gavin & Stacey. 
George Michael had been Corden's first ever "Carpool Karaoke" guest. Mariah Carey joined in after she learned Michael had participated, which led to a domino effect among other celebrities. While Corden said Cash Cab had nothing to do with "Carpool Karaoke" he may have looked at the game show's success as a good sign his segment would go over well with viewers. 
Whether or not Cash Cab served as the inspiration for "Carpool Karaoke" or Comedians in Cars Getting Coffee, we're glad all three of them made it to TV just the same.