Here's How the Cast of 'Superstore' Felt About That ICE Storyline
Season 4 of 'Superstore' brought with it a compelling storyline about Mateo's undocumented status. See what the cast had to say about it at Comic-Con.
For the first time ever, the cast of the hit NBC sitcom Superstore was in attendance at San Diego Comic-Con. Their appearance comes after the show's incredible fourth season, which features a storyline involving Immigrations and Customs Enforcement. Here's what the cast and producers had to say about the shockingly realistic and essential plot.
Why Season 4 was a departure from the previous seasons
It's not that Season 1-3 of Superstore didn't feature any serious subplots. It's just that this particular storyline, along with the workers' unionization efforts, took it to another level. According to producer Justin Spitzer: they decided that because they felt things had been "remarkable static" from Season 1 through 3, "Season 4 is the time of change" for the employees of Cloud 9. 
This was a great move all around. "All of the characters started growing in different ways," said Spitzer. "It injects new fuel in the writer's room. All of a sudden you have whole new dynamics to play with. A whole new series of stories you can tell." 
The storyline meant a lot to one actor
The immigration plot surrounds Mateo Liwanag, an undocumented immigrant from the Philippines who has kept this information a secret from many of his coworkers for years. Actor Nico Santos, who plays Mateo, noted how "extremely personal" the storyline is for him as an immigrant from the Philippines himself.
"I came here when I was 16," said Santos. "I think any immigrant who comes to this country knows someone who is undocumented. Members of my own family were undocumented at some point in their lives, so doing this story was very personal, very touching, very triggering." 
The cast had strong reactions to that heartbreaking finale
Given the intense nature of the Season 4 finale, in which Mateo's status is discovered by ICE agents, this was an emotional time for the actors. Though Santos was in the loop, his castmates weren't as prepared. "When we read the finale at the table read, I was kind of just taken aback," said Santos. "And I closed the script, and looked over, and Lauren [Ash] and America [Ferrera] were just, like, a puddle. It was really hard," he continued, referring to the actors who portray Dina and Amy, respectively. 
It didn't get easier when it came to film, said Santos. "When we filmed that scene where Mateo was in the van being carted away, I could just see my entire Cloud 9 family in shock looking at me," he said. "But I remember doing a few takes where they had me say, 'It's going to be alright, it's going to be OK.' And people were just sobbing. It was really tough."
The producers on how they balance politics and humor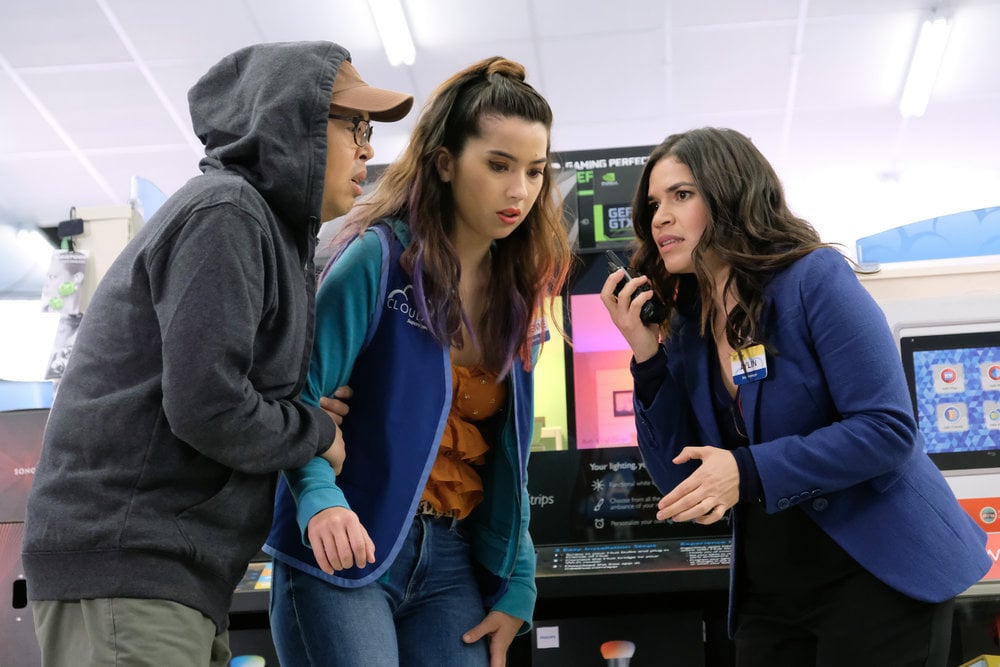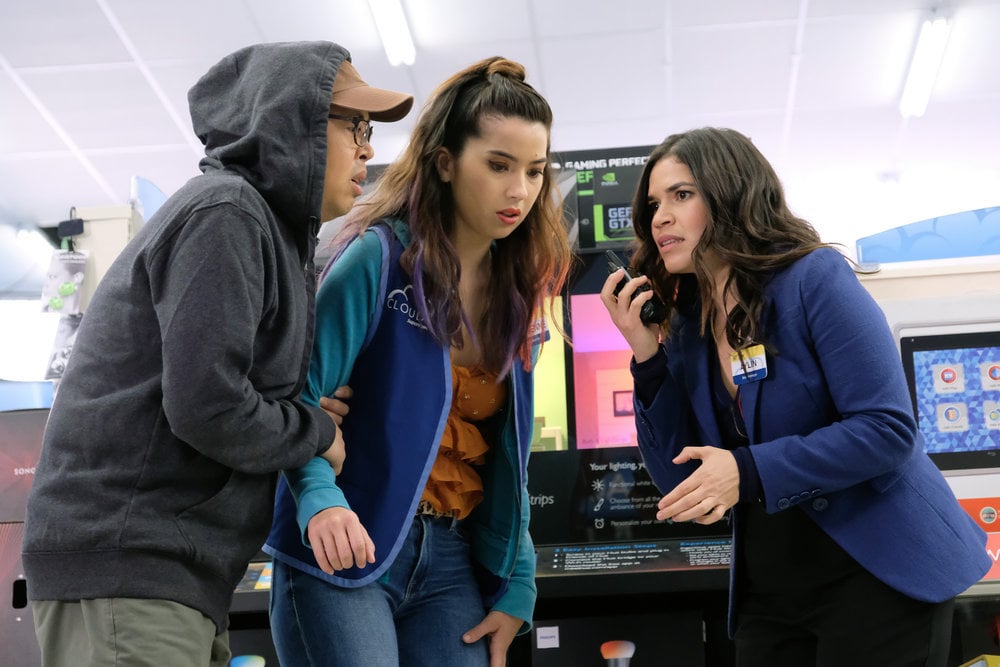 Many in the audience at Comic-Con noted how important the show's tendency to approach social and political issues is to them, and how the way in which they're handled is so balanced with the humor. "It comes from a 'wanting to be interesting' place," said Spitzer about the political storylines that refrain from being 'too preachy.' "I think it's kind of boring to write preachy stuff. I think it's boring to watch it as well." 
"We've always limited ourselves," he said of how frequently they address these issues. "Not every episode, not every other episode deals with something [political]… We don't say we have to explore all sides of it. But we don't pick a side to teach a lesson. We never want to teach a lesson. That's like, after-school special [territory]. It just comes from what's real, what these characters face."
America Ferrera on how important their diverse cast is
Another aspect of the series that resonates with people is the diversity of the cast. "We were aware of race and gender when you cast something, but really this was just for each part the best actor. That's about as much thought as we put into it. We lucked out." said Spitzer.  
Star America Ferrera, who portrays Amy, had an insightful take on how diversity makes the show. " I think that the fact that our cast is so diverse is what allows us to do the stories that we do. You can't tell stories about deportation if you have a cast of ten people who are all the same. You need diversity, and that diversity in our cast is an opportunity to throw any kind of issue at this, and know that everyone is going to be reacting from a different point-of-view, from a different life experience."  
She continued. "So the fact that this show began with this type of diversity embedded in it, the DNA of multiple perspectives, and an America that was multidimensional. I think that it isn't in spite of the diversity, it's because of the diversity that we're allowed to do what the show does really, really well."