Cate Blanchett Couldn't Contain Her Reaction to Losing the Oscar to Marion Cotillard
The 2008 Oscars saw an incredible bevy of talented women vying for Best Actress, including Cate Blanchett and Marion Cotillard.
The tension of an awards cycle can create ugly feelings between actors. At the end of the night, most nominees don't go home with a trophy. And competition can bring out the worst in people. Losing hurts when you care — unless you're Cate Blanchett.
At the 2008 Academy Awards, rather than show disappointment that it wasn't her name inside the sacred envelope, Blanchett was delighted on behalf of her fellow thespian. 
Cate Blanchett has been a brilliantly elegant performer for decades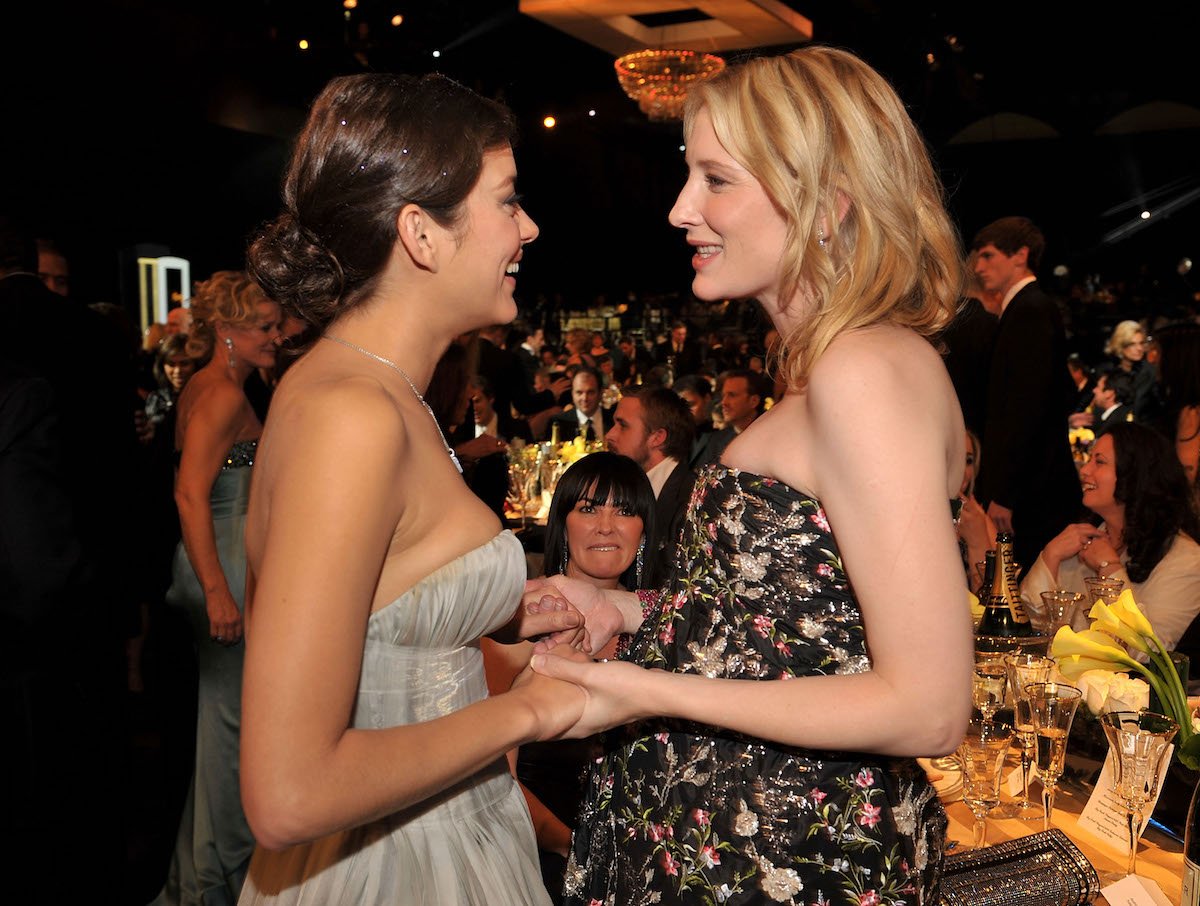 Blanchett began her acting career in the early '90s via plays and TV shows in her native Australia. Her talent was apparent from the beginning, earning critical and popular acclaim for her work with the Sydney Theatre Company. Blanchett made her movie debut in 1997's Paradise Road. By the end of the next year, she was pegged as a future star. 
She introduced herself to a global audience by playing the titular Queen of England in Elizabeth. This led to her first Oscar nomination for Best Actress. Since then, she's been one of the most consistent and highly-regarded actors of her time. 
Blanchett has won two Academy Awards: one for The Aviator in 2005 and one for Blue Jasmine in 2014. She also received nominations for her work in The Aviator, Notes on a Scandal (2007), Elizabeth: The Golden Age, I'm Not There (both in 2008), and Carol (2016). 
Blanchett has also shown an aptitude for more mainstream entertainment. She's portrayed the Elf Queen Galadriel in the Lord Of The Rings trilogy and joining the Marvel Cinematic Universe in Thor: Ragnarok. 
Blanchett was a good sport about losing to Marion Cotillard in 2008
Blanchett was as happy as anyone at the 2008 Academy Awards even though she went home empty-handed. In 2007, she was nominated alongside Julie Christie in Away from Her, Laura Linney in The Savages, Marion Cotillard in La Vie en Rose, and Ellen Page (now Elliot Page) in Juno. Cotillard won the prize. As you can see from the video above, Blanchett was ecstatic about the final decision.
It probably helps that she already had an Oscar in her name at that point. But it's nice to see that Blanchett wasn't so caught up in the rat race that she couldn't appreciate another woman's gift for the craft. Cotillard's response — short of breath and beaming with pride — is also notable. 
The awards cycle sees less prestigious shows build a consensus around certain categories. So there are very few surprises by the time the Academy Awards take place. Even accounting for the fact that the actors fundamentally need to be able to recreate emotions at the drop of a hat, it's tough to think of a scenario where an award winner would be so overcome by the moment the way Cotillard was. 
Cate Blanchett's recent roles are less serious, but she's tackling bigger topics offscreen
Blanchett has made notable comments about the difficulties that come with being an aging actor. Her disillusionment may play a role in the roles she chose in recent years. 
She is the lead in Tár, the first movie from filmmaker Todd Field since 2006. But Blanchett's next roles are targeted at a more general audience: voicing Sprezzatura the Monkey in Guillermo del Toro's Pinocchio and playing Lilith in Borderlands, an adaptation of the video game franchise. 
The 53-year-old is focusing some of her energy on a more pressing issue than the future of her career. Blanchett is the co-host of Climate of Change with her friend and clean energy businessman Danny Kennedy. 
If there's any resource the planet has in overwhelming supply, it's podcasts, something she acknowledged to The Guardian. But Blanchett is entering the space with an earnest desire to help others. "What we're trying to do with the podcast is to turn the magnet toward optimism in these incredibly pessimistic times," she said.
There are an endless amount of stories about how dire the climate situation is and the lack of substantial response from most governments and megacorporations. But Climate of Change attempts to show tangible evidence of real-life solutions that are being enacted on a smaller scale. 
Blanchett practices what she preaches by owning an electric car. She also helped push for the installation of 1,906 solar panels and other renewable programs on the buildings the Sydney Theatre Company operates out of. 
Blanchett shares the anguish of maintaining hope in an increasingly dystopic world. But she remains resolute that things can get better if we can work collectively.
"In the last two years, there's been a real emotional and psychological reckoning that we've all been through, on top of the environmental crisis. But out of that comes a chance for renewal and we'd be crazy not to take it," she explains.