Cathy Lee Crosby Was the First Woman to Play a Superhero in TV Movie 'Wonder Woman'
Learn more about Cathy Lee Crosby's role in the TV movie 'Wonder Woman' and her history-making performance.
When we think of Wonder Woman, two ladies come to mind–Gal Gadot and Lynda Carter. They both sported the iconic red, gold, and blue outfit, shining dark locks, and, of course–the Lasso of Truth. Gadot and Carter mesmerized audiences with their quick wit and their ability to lay a serious smackdown on a bunch of baddies with a flick of their wrists. 
Both women were fantastic representations of the Amazon warrior princess, and we think of them as the "new" and "old" versions of the superhero. However, there was another woman who filled the role of our favorite lasso-wielding crime-stopper–before Lynda Carter.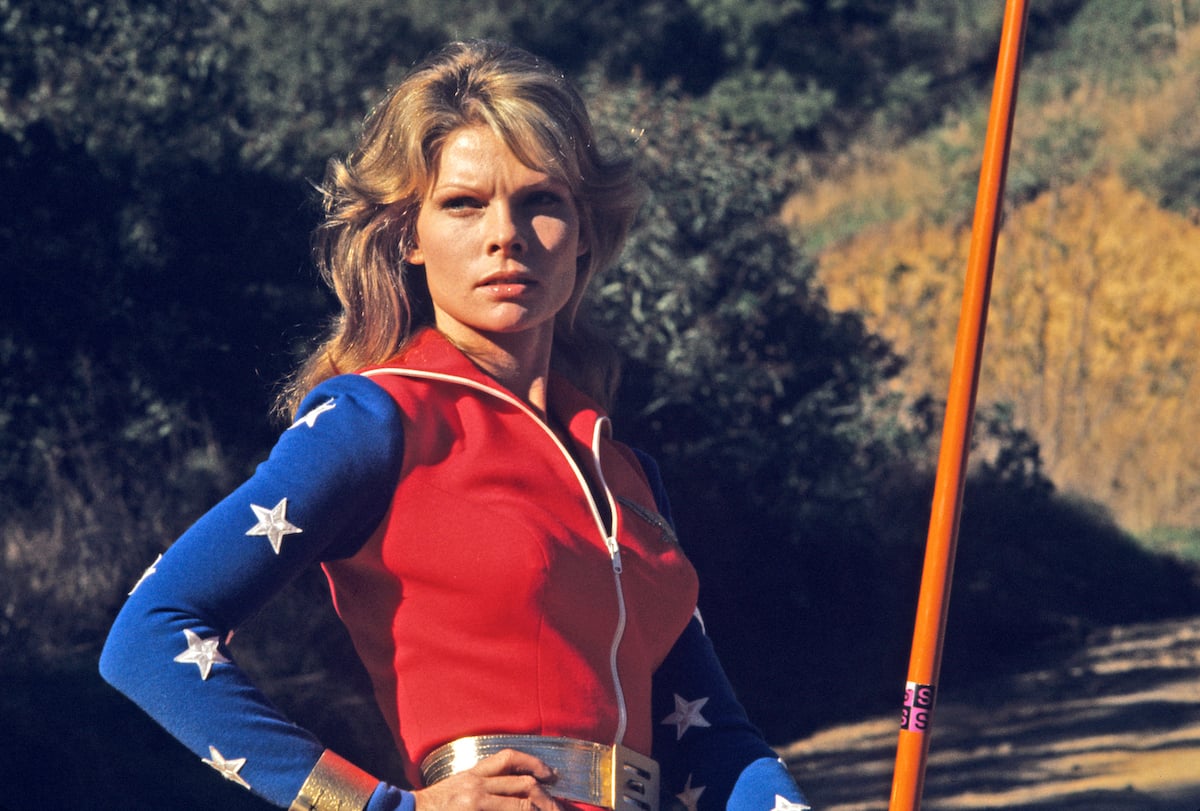 Cathy Lee Crosby: The unknown (and first) Wonder Woman
According to Insider, Lynda Carter wasn't the first woman to bring Diana Prince to life. In 1974, the Wonder Woman movie aired on television. The obscure made-for-TV flick featured Cathy Lee Crosby in the title role, and she didn't look anything like the Diana Prince we've come to know and love. Crosby's halo of golden blonde hair paired with her '70s-inspired belted jacket and blue leggings elicited a barrage of negative attention from comic book fans.
Not only did Crosby not look the part of the superhero, the movie didn't follow much of the original plot from the comics either. An article from Vocal states the two major differences between Crosby's version and the other two. The 1974 Wonder Woman didn't have any superpowers, aside from being really good at karate and fighting bad guys. Her identity is also supposed to be a secret, although it doesn't appear to be a well-guarded one. 
Although the movie received a lot of criticism from die-hard comic fans, Crosby still delivered a powerful performance. She may not have been exactly what some people think Wonder Woman should be, but that doesn't change the fact that she was the first woman to play the role of Diana Prince. 
Crosby was a tennis star
Before Crosby began her acting career, she was a talented tennis player. She began playing when she was 12 years old and continued for many years. She sometimes played doubles with her sister, and they ranked #4 in U.S. Junior Tennis. According to The Biography, she ranked #7 in singles and competed at Wimbledon twice. 
Crosby graduated from the University of Southern California in 1968 and made her first television appearance that same year. She had a supporting role in one episode of the crime series, It Takes a Thief. She made several more appearances in popular series, including Marcus Welby, M.D., Barnaby Jones, and Shaft. 
In addition to acting, Crosby's interests include art and philanthropy. Her art collection includes several pieces by incredible artists, such as Picasso and Dali. She enjoys working with children in need and was knighted by the Royal Order of Saint John. She's always been a thrill-seeker, and some of her favorite pastimes include skydiving, driving race cars, and flying planes.
Lynda Carter may be in 'Wonder Woman 3' 
According to a recent article from Vanity Fair, Warner Bros. made an announcement in November confirming a third film. Fans are now speculating whether Lynda Carter will play a role in the new story. The former superhero had an exciting cameo during the mid-credits scene of Wonder Woman 1984 that sparked this speculation. 
The mid-credits scene shows the back of a woman with voluminous dark hair and a stylish, deep blue cape. She then turns around, revealing herself to be the beloved Carter. We learn that she is Asteria, a fellow Amazonian that Diana mentioned during the movie. 
Vanity Fair shares a bit more of Asteria's background, taken from Wonder Woman 1984: The Deluxe Junior Novel. Asteria is a legendary warrior, who was ready to sacrifice herself to save her sisters. She stayed behind to fight off the men when most of the Amazonians left to take shelter in Themyscira. According to the story, she would have been around for centuries–because the Amazonians age more slowly than regular people, Carter's current age is perfect for playing Asteria. 
Not much is known about the plot for the third installment of Wonder Woman, so we'll just have to wait and see if we're lucky enough to see two of the three Wonder Women together on the big screen.