'Cats': Andrew Lloyd Webber Explains Why the Film Adaptation Was 'Ridiculous'
Andrew Lloyd Webber thought Tom Hooper's adaptation of his play, 'Cats,' was 'ridiculous' for one reason.
Andrew Lloyd Webber is a famous composer who is audiences the world over celebrate for his brilliant musicals. Webber's award-winning musical Cats was adapted into a feature-length picture by director Tom Hooper, released in December 2019. Unfortunately, Hooper's adaptation of the Broadway play was, as Webber says, "ridiculous." Here's why.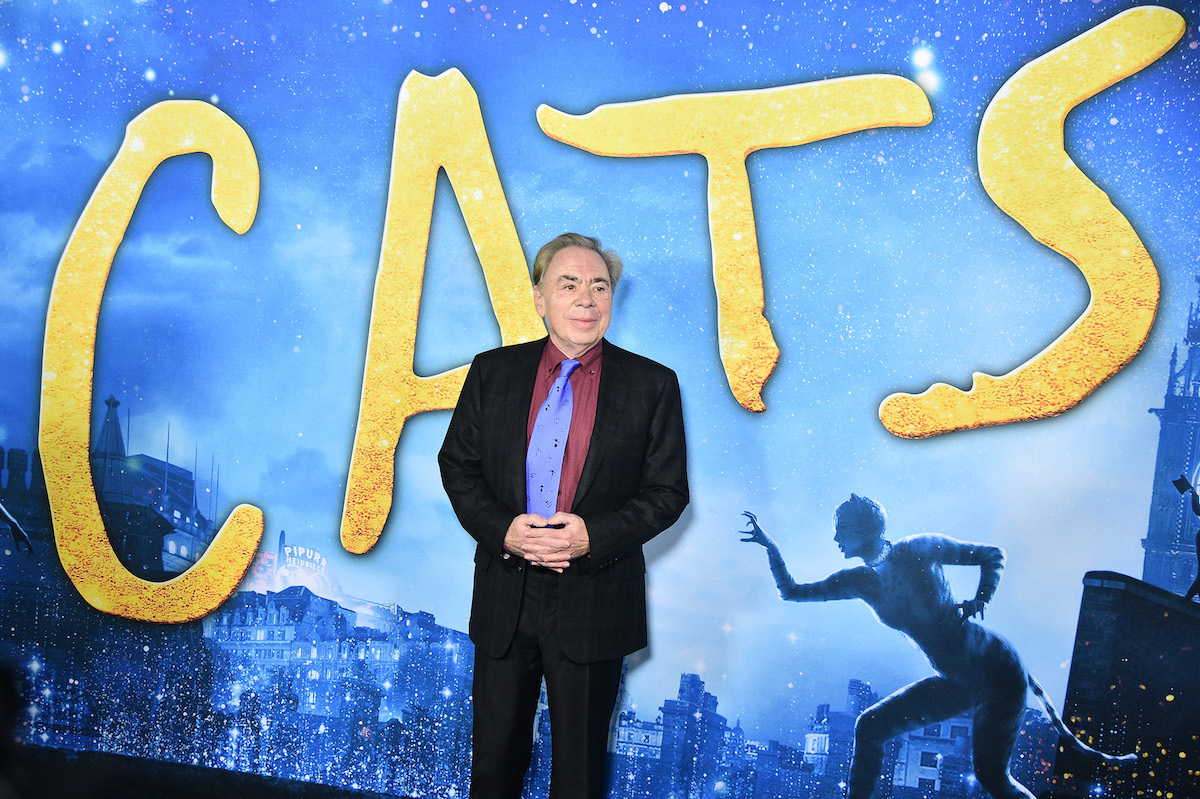 'Cats' did well on Broadway, so it has to do well in theaters, right?
Many thought Cats would do well in theaters. It excelled on Broadway, after all. The cast interacted directly with their audience, gliding through rows of seats and sitting on theater-goers laps. That interactive element, paired with captivating music and tantalizing choreography, is what made Cats a compelling Broadway production. 
With all of the elements of a great musical at play, all Hooper needed was a star-studded cast. By including Judi Dench, Taylor Swift, Rebel Wilson, and even Idris Elba, it seemed like Hooper's film adaptation was going to be a smashing success. 
But, as critic Frank Rich said of the original, "[Cats is] a musical that transports the audience into a complete fantasy world that could only exist in the theater." 
'Cats' didn't stand a chance against 'Star Wars: The Rise of Skywalker'
Historically, musicals made into motion pictures have done relatively well. Webber's Phantom of the Opera and Les Misérables made for award-winning films. Cats — which was based on T.S. Elliot's Old Possum's Book of Practical Cats poems from 1939 — had the potential to be great as a film, like its predecessors.
Sadly, that wasn't the case. 
Even before Hooper's Cats hit theaters, fans of the musical balked at the technology used to create the digital fur on the likes of James Corden, Jennifer Hudson, and Jason Derulo.
But, Hooper prevailed, releasing Cats the same weekend as Star Wars: The Rise of Skywalker. Cats only grossed $6.5 million opening weekend, thanks to scathing reviews and the competition of the Star Wars saga. 
'Cats' was almost an animated 90's movie 
Steven Spielberg initially acquired the rights to turn Cats into an animated movie. 
"It's literally a match made in heaven," Tom Pollock, president of Universal Pictures, who was going to finance the movie, told The Los Angeles Times. "Both Steven and Andrew obviously have a strong sense of just what it is that the public wants to see."
But, producers didn't like how the story rejected traditional plot structure and embraced the stage musical's character vignettes. "Unfortunately, things did not go too well with the story," production designer Hans Bacher said on his blog. After six months, the project stopped.
A feature-length Cats film was left alone until Hooper took on the project with open arms. 
Tom Hooper tried to make 'Cats' the best movie it could be
When Cats trailers came out, the criticism came pouring in. Hooper saw it as an opportunity to grow and make the movie better. 
"Reading some of the commentary was pretty entertaining," he told Entertainment Weekly. He took those criticisms to change "every single cat to some extent, whether small or large." For audiences, those changes weren't enough. 
Andew Lloyd Webber said the 'Cats' movie was 'ridiculous' because he excluded original cast members
According to Webber, Hooper's choice to exclude anyone from the original production of Cats is partly to blame for the film's flop.
"The problem with the film was that Tom Hooper decided, as he had with Les Mis, that he didn't want anybody involved in it who was involved in the original show," Webber told the U.K.'s Sunday Times. "The whole thing was ridiculous."
Today, celebrities like Dench and Wilson distance themselves from the film. Others, like Corden, make fun of their choice publicly. Though having nothing to do with Cats other than creating the source material, Webber seems happy to talk about how "ridiculous" he thinks the film really is.