CBS 'Ghosts' Actor Asher Grodman Promised Mark Hamill 'An Epic Lightsaber Battle' Between Pete and Trevor
CBS renewed 'Ghosts' for season 2, and Mark Hamill praised the cast and crew on Twitter, prompting a hilarious response from Asher Grodman involving Richie Moriarty's Pete and lightsabers.
After his adventures in Star Wars, you would think Mark Hamill had enough ghosts for a lifetime. However, when CBS renewed the comedy Ghosts for season 2, Mark Hamill rushed to Twitter to praise Rose McIver, Utkarsh Ambudkar, Asher Grodman, and the whole cast and crew. And every actor who plays the living and dead in Woodstone Manor took notice.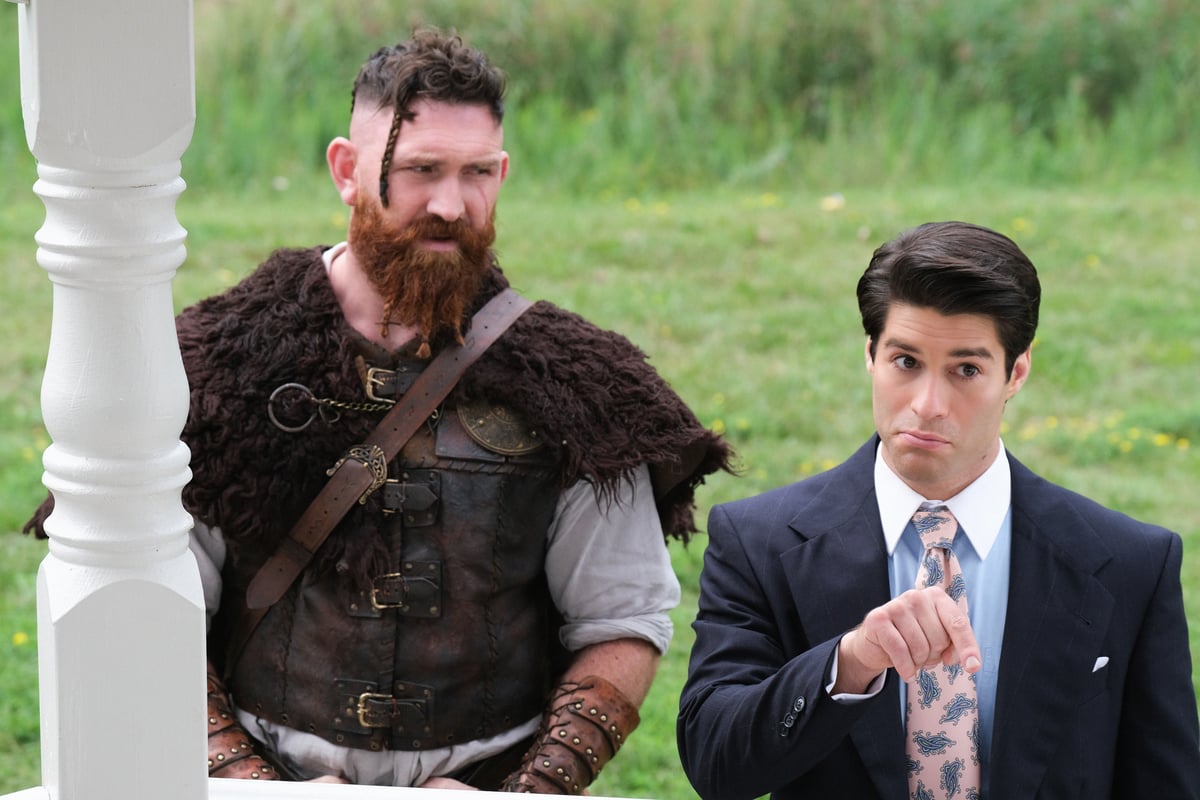 Mark Hamill said CBS renewing 'Ghosts' for season 2 came as a 'wonderful surprise'
CBS announced Bob Hearts Abishola, Ghosts, and The Neighborhood would return for Fall 2022 seasons. The actors from all three casts celebrated and posted on Twitter.
However, the CBS Ghosts cast did not expect Mark Hamill to respond just as enthusiastically.
"This IS a surprise to me (seems as though everything I like gets canceled), but a WONDERFUL surprise indeed. Ghosts is a delight," Mark Hamill tweeted. "Smart, witty, whimsical, very funny with a BRILLIANT cast that is beyond perfection!"
McIver, who plays the specter-seeing Sam, replied, "Thank you, Mark! What an incredible endorsement," People.com reported.
However, Asher Grodman and Mark Hamill bantered more about Ghosts' Season 2 renewal.
'Ghost' actor Asher Grodman tweeted Mark Hamill that Trevor and Richie Moriarty's Pete would battle with lightsabers
Grodman plays the pantless, former Wallstreet ghost Trevor in Ghosts. When responding to Mark Hamill, the Ghosts actor suggested a hilarious scene of Trevor fighting Richie Moriarty's Pete in "an epic lightsaber battle."
"This is so kind and such a thrill, especially coming from someone who has brought so much joy into our lives. Pete and Trevor will have an epic lightsaber battle to celebrate (though explaining lightsabers to the other ghosts will be … [difficult]," Grodman said with a facepalm emoji.
Each ghost comes from different eras, like Thorfinn (Devan Long) from the age of Vikings and Alberta (Danielle Pinnock) from the Prohibition era. Grodman's Trevor has gotten several headaches from trying to explain real technologies, let alone lightsabers.

"Very nice of you to say Asher, and I look forward to your battle with Pete," Hamill responded. "It can't be easy making a narcissistic womanizer so likable, but you are effortlessly terrific doing that in every episode. Have to say I'm envious of you working the way I am at home: without pants."
However, Grodman may have made the lightsaber comment as a joke. Pop culture from the 70s and 80s has become one of the common grounds for Trevor and Pete, though, like their love of Ghostbusters in the Halloween episode.
Rebecca Wisocky and several other CBS actors responded to the 'Star Wars' actor's comments
Devious Maids Rebecca Wisocky, who plays Hetty, said Hamill's praise made her 'dead again.'
"I should be thanking YOU, Rebecca," Hamill responded. "Your show is one my entire family can watch together, and there seems to be fewer and fewer of those for us these days. We ALL love Hetty, and your performance is as hilarious as it is masterful! All the best for a long, LONG run."
It is safe to say that many of the Ghosts cast felt a little starstruck from Mark Hamill reaching out. 
And the Star Wars actor hopes to see much more from Ghosts and more CBS sitcoms going forward.