CBS 'Ghosts' Asher Grodman Takes His Pants Off Long Before the Cast Films Scenes and Makes Everyone 'Uncomfortable'
The CBS Ghosts TV show has a cast of characters with some odd aspects. Rose McIver plays Sam, who interacts with all her ghostly co-stars. Meanwhile, Utkarsh Ambudkar has to rehearse pretending most are not there. However, in Ghosts, Asher Grodman had to adapt to acting every scene without pants. Asher Grodman revealed when he drops his drawers on set to give his best performance, even if it makes his Ghosts cast members a bit uncomfortable. With Ghosts Season 2 on the way, they had all better adapt to it.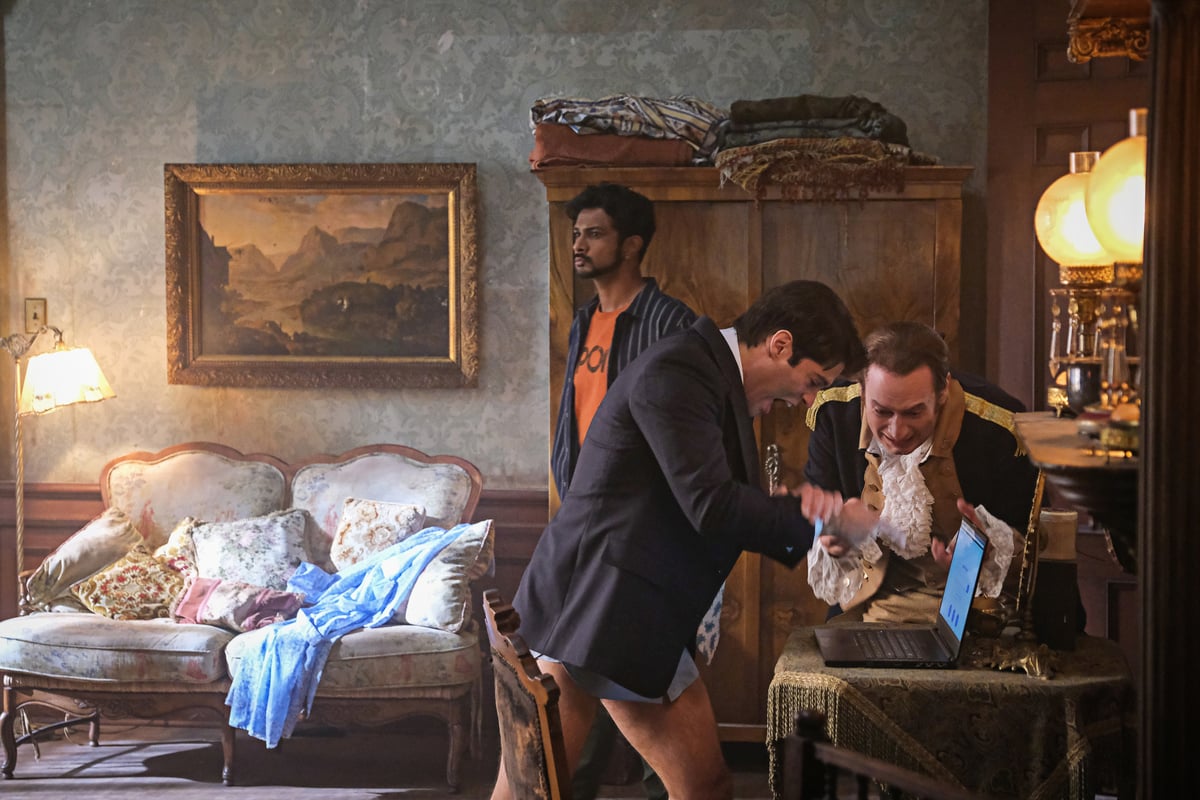 The Asher Grodman 'Ghosts' character Trevor is an adaptation of Julian Fawcett from the BBC 'Ghosts'
The CBS comedy Ghosts is a US version of the BBC Ghosts, featuring several similar spirits. Asher Grodman's Ghosts character, Trevor, died in a compromising position in a shirt, tie, and very little else. The role mirrors Julian Fawcett from the BBC show, played by Simon Farnaby (Rogue One: A Star Wars Story).
"The pant thing, it's funny, because when we got to shoot the pilot in December of 2020, Trevor's Tara Reid thing was like the first thing up," Grodman told CBS Local News just before Ghosts Season 1 premiered. "And it dawned on me the night before. I was like, 'I've never done any of this without pants on.'"
If Grodman was going to bring his best acting to the haunted Woodstone Mansion, he had to rehearse. He especially had to adapt since CBS renewed Ghosts Season 2 with a batch of other shows.
"And so suddenly, I'm in my hotel room just running through lines without pants on, trying to get used to it," Grodman said.
'Ghosts' star Asher Grodman revealed when he takes his pants off on the CBS set
While the rest of the Ghosts cast wear elaborate period costumes like Danielle Pinnock in her Prohibition Era Jazz attire, Grodman had to get over acting underdressed.
However, while he worked on acting comfortably without pants, everyone else had to deal with him acting without them.
"The trick I discovered was if I take my pants off right before we shoot, it's no good. I need like a running start," Grodman said. "So then my pants are off earlier, which makes me comfortable. Everyone else is uncomfortable, but it makes for a better performance."
While CBS revealed some of the ghosts had embarrassing deaths, like Flower (Sheila Carrasco) dying from a bear attack while high, the most recent spirits, arrow-in-the-neck Pete (Richie Moriarty) and Trevor, have the most unfortunate afterlife forms.
The most recent Woodstone Mansion spirit makes most of the pop culture references
Ghosts actor Asher Grodman continued talking about another aspect of his character in the interview. Since Trevor died recently, he makes plenty of 90s references.
Outside of Rose McIver and Utkarsh Ambudkar's Sam and Jay, those tend to be the most up-to-date references in the Ghosts episodes.
"And then in terms of the references, it's fun because I grew up in the 90s. So I get to go back and look at all those shows that I watched and stories I remember," the Ghosts actor said, "so every episode is like a scavenger hunt of memories. It's fun."
While the Asher Grodman Ghosts character might have some costume drawbacks, he still enjoys playing Trevor. And he cannot wait to continue playing him in Ghosts Season 2.
RELATED: 'Ghosts' Actor Rose McIver Said Jennifer Morrison From 'Once Upon a Time' Would 'Most Likely Believe' She Could See Ghosts