CBS' 'Ghosts': Utkarsh Ambudkar Admits He Struggles to Ignore His Co-Stars
'Ghosts' star Utkarsh Ambudkar recently revealed how hard iti is for him to pretend like he can't see or hear his fellow actors while filming ensemble scenes.
On CBS' spooky new sitcom, Ghosts, Utkarsh Ambudkar plays Jay, a man whose wife, Samantha (Rose McIver), can see and interact with the spirits living in their new home. The actor is part of a stellar ensemble cast. And he says trying to ignore his fantastic co-stars can be quite the struggle.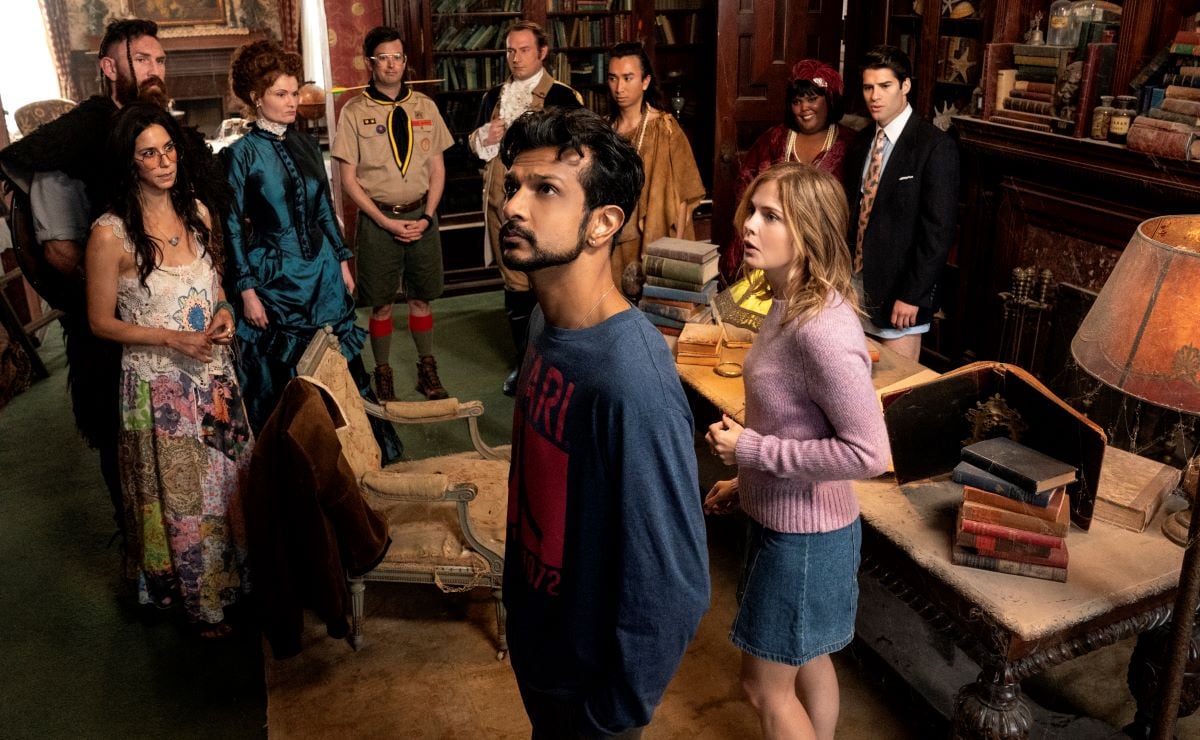 Jay can't see the spirits in his house on 'Ghosts'
Ghosts follows a young couple, Jay and Samantha, who move out of the city after inheriting a haunted mansion. When Samantha falls down the stairs and dies for three minutes, she gains the ability to see the ghosts living in her ancestral home. 
However, Samantha is the only one who can see the ghosts. Jay is only clued into what they're doing and saying through his wife. And unlike her, he can't interact or build bonds with them. 
The CBS sitcom is based on a BBC series of the same name. The British version of the show is currently in its third season and available to watch on HBO Max. 
'Ghosts' star Utkarsh Ambudkar admits it's hard to ignore his co-stars
Because Jay can't see the ghosts, in most scenes, Ambudkar must pretend like he can't see any of the other actors around him. But he recently admitted that it's not always easy, and he often finds himself gazing at his stellar co-stars.
"I was on set, and Rebecca Wisocky, who plays Hetty, our robber baron," the Ghosts star told ComicBook. "She was acting. And I was for sure not supposed to be able to see her, but in my lizard brain, I'm watching her, and I'm like, 'Oh my God, Hetty's a very good actor.' And I had to catch myself, like I do probably three to five times a day, and tell on myself."
"I'll be like, 'I was looking right at her,' and everyone's like, 'Yeah, we know. We saw you," Ambudkar continued. "And then we reset, and we go again, and I apologize profusely. And it's easier for Rose, I will say because she can see all the ghosts. But I have to find new and interesting ways to act like I can't see them every day, and with varying degrees of success."
The actor would love to see Jay interact with the spirits
Ambudkar is thrilled to be a part of such a talented ensemble. And he told ComicBook that he would love to see Jay interact with the rest of the cast someday.
"It is something I would love to do for a very selfish reason," Ambudkar said. "Because I'm a huge fan of the ensemble. I can't really interact with any of the cast, and they're major heavy hitters and improvisational wizards."
"Richie Moriarty, Brandon Scott Jones, Sheila Carrasco…to be able to work with Devan Long or Roman or Danielle, Hetty played by Rebecca or Asher," he added." So yeah, just selfishly so that I could be scene partners with them, I would love that."
New episodes of Ghosts air Thursday nights on CBS.