CBS' 'Ghosts': Will Jay Ever See the Ghosts Like Samantha Does?
CBS' new series, 'Ghosts,' centers on Jay and Samantha's ghostly adventures in their new haunted home. But fans want to know if Jay will get to see the ghosts like his wife.
CBS' new series, Ghosts, follows the story of Samantha (Rose McIver) and Jay (Utkarsh Ambudkar), a young couple who moves into a house haunted by quirky spirits. Samantha gains the ability to see the ghosts after a near-death experience. But fans want to know if Jay will ever get to join in on the spooky fun.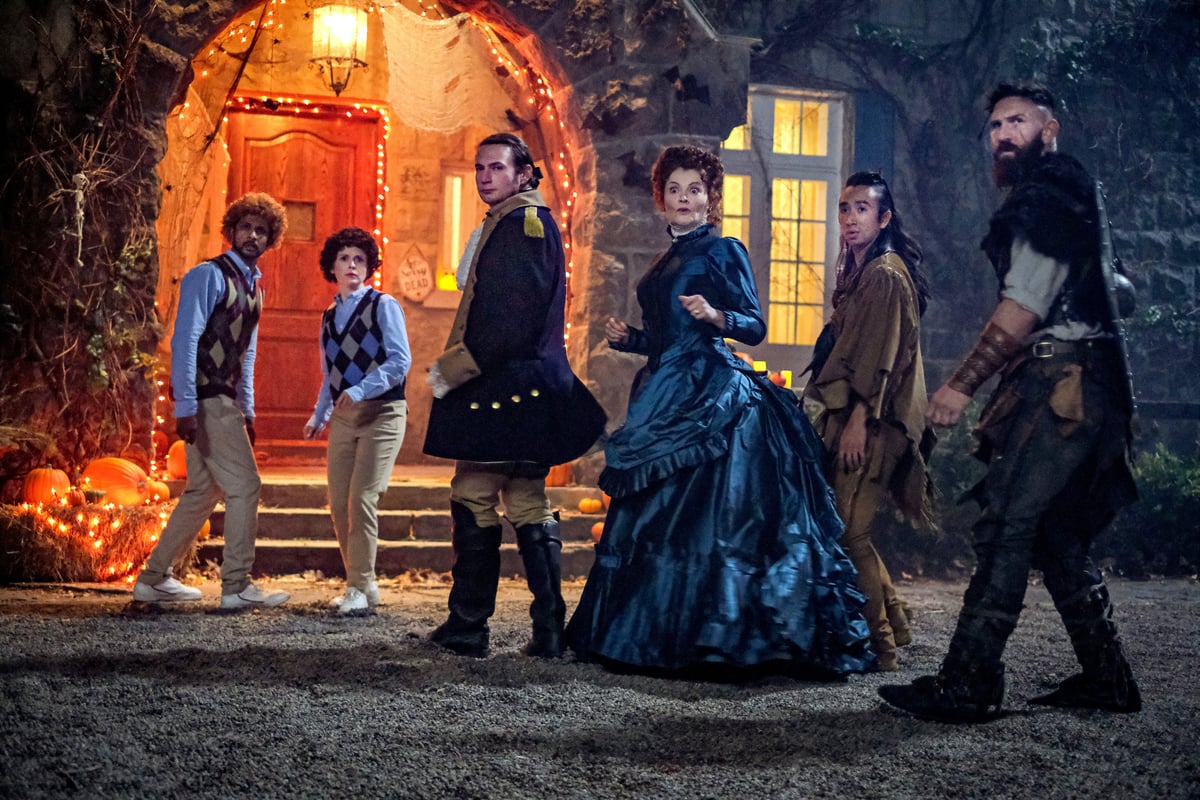 CBS' 'Ghosts' is a remake of a British series
Ghosts is set in modern-day America and follows Samantha and Jay's adventures as they adjust to rural living in their inherited haunted house. The couple decides to turn the mansion into a bed and breakfast. And they manage to convince their ghost roommates to help.
The CBS series is a remake of a 2019 BBC One sitcom of the same name. The original series centers on an English couple, Mike and Allison, who inherits a haunted manor and plan on turning it into a luxury hotel. 
BBC's Ghosts is currently in its third season. Episodes of the British series are available to stream on HBO Max. 
Will Jay ever get to see the spirits in his house?
Samantha tripped and fell down a long flight of stairs after one of the ghosts, Trevor (Asher Grodman), dropped a vase on the floor. Her near-death accident put her in a two-week coma and left her with the ability to see ghosts. 
Samantha is the only one who can interact with the spirits — she can see them, hear them, and speak to them. But Jay only knows they're around when Samantha clues him in. 

Some fans think it would be a lot of fun to see Jay interact with the ghosts as well. But if the show follows the BBC series' story arc, that may not happen soon. In the British version, as far as season 3, Mike has not yet gained the ability to see spirits. He hasn't had any near-death experiences, and his wife is still the only one interacting with their dead housemates. 
'Ghosts' star Utkarsh Ambudkar wants to see Jay interact with the spirits
In a recent interview, Ghosts star Utkarsh Ambudkar revealed how much he admires his co-stars. And he said he would love for his character to be able to interact with them someday. 
"It is something I would love to do, for a very selfish reason," Ambudkar told ComicBook.com. "Because I'm a huge fan of the ensemble. I can't really interact with any of the cast, and they're major heavy hitters and improvisational wizards."
"Richie Moriarty, Brandon Scott Jones, Sheila Carrasco," the actor continued. "To be able to work with Devan Long or Roman or Danielle, Hetty played by Rebecca, or Asher. So yeah, just selfishly so that I could be scene partners with them, I would love that."
If the CBS show takes a different approach to the story, it could bring Jay into the fold sooner or later. For now, fans will just have to wait and see how this first spooky season unfolds. New episodes of Ghosts air Thursday nights on CBS.