'CBS This Morning's' Gayle King Said This Was the Nicest Thing Oprah Ever Did for Her
What is the nicest thing Oprah Winfrey ever did for Gayle King?
CBS This Morning lead anchor Gayle King is enjoying some major success on the heels of her groundbreaking interview with musician R. Kelly, and her recent promotion to head the news desk at the network's morning news program.
It's common knowledge that King's BFF is Queen of Talk Oprah Winfrey. The two network powerhouses have been besties for over 40 years, and have helped each other through all of life's ups and downs together. King and Winfrey have shown time and again that they are far from just fair-weather friends.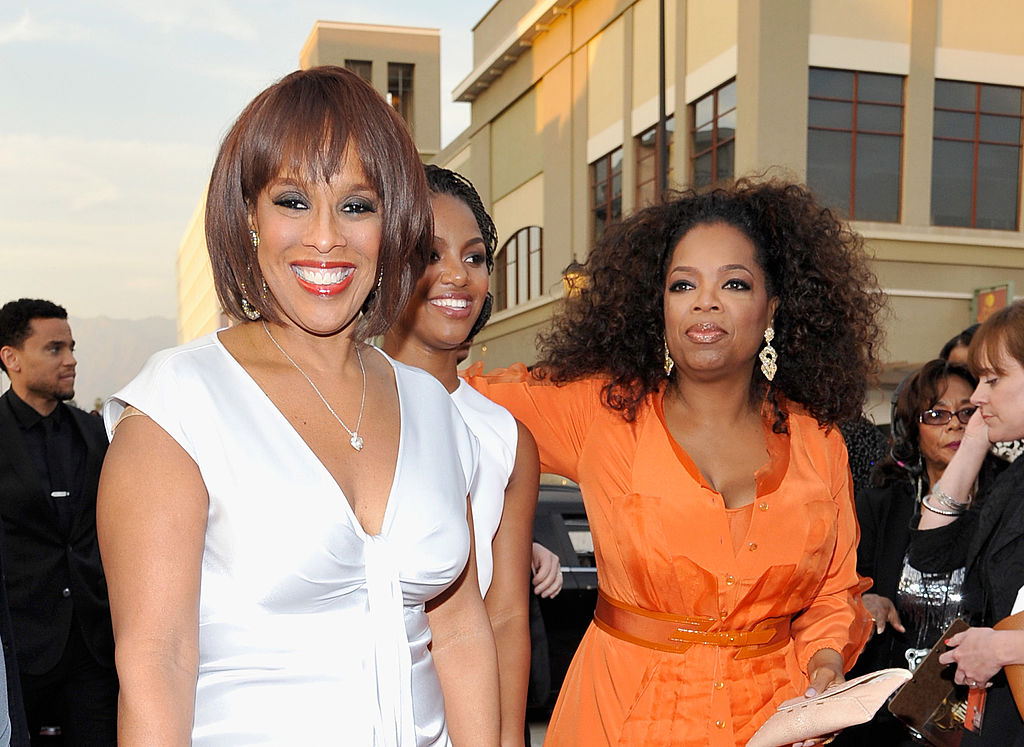 A snowstorm results in a bond
The two met while working at a Baltimore TV station in 1976, according to E! Online. On an evening when a snowstorm was headed their way, 22-year-old Winfrey, who was the 6 p.m. news anchor at the time, invited King, a 21-year-old production assistant, to stay at her house.  King remembered Winfrey's generosity. "When I said I didn't have any clothes with me, she said 'you can wear mine,' and when I said I didn't have any underwear she said, 'you can borrow mine, it's clean!" King recalled to the Huffington Post in 2015.
The two bonded the next day with a trip to the mall, where Winfrey shocked King by spending $19.99 on two-for-one sweaters, according to E! Online. "We became friends that first night because for the first time, I met somebody who I felt was like me," King said. 
A New Year's Eve to remember
Of all the fond memories King has of her decades-long friendship with Winfrey, there is one she cherishes the most. According to People, shortly after her divorce in 1993 from William Bumpus, King was the anchor at WFSB in Hartford, Connecticut, and was about to spend New Year's Eve without her kids Kirby and William. "My ex was going to have the kids," King said. "I was talking to Oprah on the phone that morning. And I said, 'What are you guys doing?' And, she told me 'something.'"
King was ready for a solo evening when, "four hours later, the doorbell rang and she and Stedman [Graham] were at the door," she told People. "She had been planning to come. I didn't know that."
They spent the evening grocery shopping due to Graham's love of spaghetti, which he cooked for the ladies. King was so moved by Winfrey's gesture of being there for her so she wouldn't have to spend the holiday alone, the memory – and gratitude – is always with her.  "I just kept saying, 'I can't believe you guys were here,'" King commented to People, "That was something that I'll never, ever, ever forget."
Their friendship is a two-way street
King not only appreciates a good friend – she knows how to be one. Winfrey also shared about a time when she was "really down. I felt wounded by a betrayal," she told People.
Just by the sound of Winfrey's voice, King knew she had to be there for her bestie. "I had been talking to her on the telephone. I could tell that she was very upset about something," King said. "And I literally, hung up the phone, and I said to the babysitter, 'I've got to go. Is there any way you can spend the night?'"
King knew she was under a time constraint, but it didn't stop her. She literally boarded a plane to get to Winfrey's home in Laporte, Indiana. "She showed up at my door and said, 'I can't stay but I just wanted to see your face,'" Winfrey said, according to People. "Then she got a glass of water and said, 'I'm going to go back and get on a plane.' I was like, 'What?' She goes, 'You said you felt wounded. I never heard you use the word wounded before.'"
Memories such as these are the reason that these two women are the living definition of best friends.